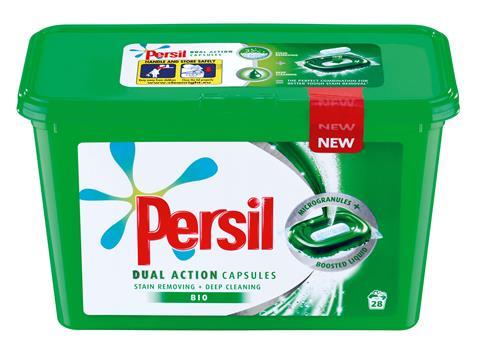 Top story
German consumer group Henkel has reported a "solid" performance in the second quarter with revenues up 13.5% to €4.7bn – +2.4% on an organic basis – driven by strong organic sales growth in emerging markets of 5.1%.
Reported operating profit at the Persil and Schwarzkopf maker also climbed by 21.4% to €715m in the three months to the end of June.
The laundry and home care business unit recorded solid organic sales growth of 4.3% in the period, which led to further market share gains, mostly thanks to the performance in emerging markets.
The beauty care division recorded a 1.9% jump in organic growth and the adhesive technologies business +1.7%.
"In a persistently challenging market environment, Henkel delivered overall a solid performance in the second quarter," CEO Kasper Rorsted said.
"We again achieved double-digit growth for both sales and earnings. The main drivers were solid organic sales growth, last year's acquisitions and, above all, the strong US dollar. Organic sales in emerging markets were strong, once again making an above-average contribution to growth."
In the first half of 2015, Henkel's sales increased by €1,06bn to €9.13bn – up 13.1% compared with the previous year.
Henkel confirmed its full-year guidance, with organic growth of 3% to 5% expected.
Rorsted added: "We expect the current difficult global economic environment to persist. Market volatility will remain high. In this context, agility and flexibility are key success factors. We will therefore continue to adapt, further simplify and accelerate our structures and processes in line with the changing market conditions."
Yesterday in the City
The listed grocers all had a hard time of it yesterday following the latest figures from the BRC-KPMG Retail sales monitor. The index showed food sales fell for the first time this year in July as a double whammy of unpredictable British weather and food price deflation hit supermarkets – along with newly flush consumers spending new-found cash elsewhere on the high street.
Sainsbury's (SBRY) was the worst affected of the big supermarkets, falling 2.3% to 258.3p, with Morrisons (MRW) down 0.8% to 181.5p and Tesco (TSCO) down 1.5% to 209.6p. The supermarkets are also under pressure from dairy farmers about the ongoing low price of milk.
Online grocer Ocado (OCDO) didn't escape the general decline in food stocks, closing the day 2.4% lower than it started it at 374.2p. The company was also affected by the growing rumours of Amazon's imminent launch of a grocery service.
Most stocks ended the day down as the FTSE 100 fell 1.1% to 6,664.5 points after China devalued the yuan in a bid to boost its economy. Companies with greater exposure to China – such as luxury firm Burberry and mining stocks – bore the brunt of the declines.
One of the rare risers was Hellenic Coke bottler Coca-Cola HBC (CCH), which was up 1.5%, ahead of its half-year results on Thursday. Dairy Crest (DCG) was another company to finish up for the day – climbing 0.6% to 606p – following news that the competition watchdog had agreed to undertakings from Muller, meaning the disposal of the dairies operation is all but certain to go ahead.