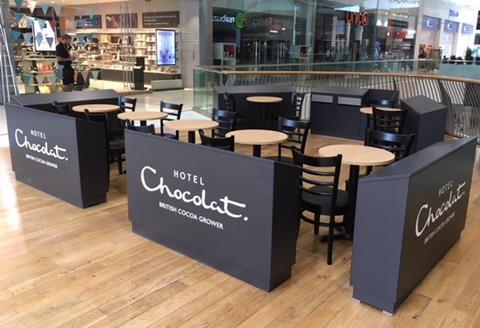 Top story
Hotel Chocolat (HOTC) has posted a double-digit rise in first half sales and 7% pre-tax profit growth driven by the opening of new stores, international expansion and growing sales of its Velvetiser hot chocolate system.
Group revenues for the six months to 29 December were up 14% to £91.7m.
In total nine new locations were opened in the UK during the period contributing three percentage points of the group's year-on-year growth, while the chocolatier posted growth across retail, digital and wholesale.
The company said that strong sales growth "reflecting continued brand appeal and ongoing product innovation".
VIP membership grew by 120% to 1.1m active members in the period.
It admitted to having "under-invested" in its digital proposition over the past few years – a situation is has tried to rectify in the first half with investment, new hires and a new suite of tools.
Its Velvetiser hot chocolate system saw sales increase by over 200% year-on-year, with a refill subscription service now launched.
Hotel Chocolat's nine new UK locations meant it ended the period with 125 UK locations
Internationally, it has opened two new locations in the USA and three in Japan. Customer reaction has been "positive" in the both countries and their respective first retail outlets are now generating a "modest EBITDA profit". In Japan, the larger gift-giving season is in the second half of the year, leading to expectations of a further improvement in its outlets' performance over the next six months.
Profit before tax (pre IFRS 16) increased by 7% to £14.9m, while reported profit before tax increased by 8% to £15.0m.
Gross margin declined by 80 basis points from 65.8% to 65.0% driven by the mix impact of Velvetiser sales. Hotel Chocolat said: "Whilst the initial sale of Velvetisers are at a lower gross margin, the recurring chocolate refills have a higher purchase frequency than our other products."
Operating expenses grew by 15%, ahead of the rate of sales growth, with additional costs of fulfilment during the winter peak.
Co-founder and CEO Angus Thirlwell commented: "This was another strong period for Hotel Chocolat. Our new store openings contributed three percentage points of the growth in the period, with the remaining balance coming from existing locations, digital and wholesale channels. While our new markets in the US and Japan are still in the early stages of development, consumer response to the brand is encouraging, sales are growing, and we believe we have a deliverable plan to achieve attractive returns.
"The Velvetiser in-home hot chocolate system achieved strong growth, with our installed Velvetiser owner base showing great loyalty and enthusiasm for our widening library of flavours, with Tasmanian Mint, Habanero Chilli, and Maple & Pecan hot chocolates becoming instant hits. Our VIP loyalty scheme continued to grow strongly and contributed to double digit EBITDA growth from our physical UK locations.
"Our strong growth came from a wider variety of sales channels than in previous years, which led to some initial challenges in our supply chain. We are now making good progress with investments and upgrades in our supply chain which will fully address these inefficiencies and increase our international and multi-channel supply capability, ensuring we continue to deliver profitable growth."
The company said trading in the early weeks of 2020 has continued to be in line with the Board's expectations. The performance of the new locations is encouraging and there is a future pipeline of similar potential locations, it said.
"In delivering these results in a context of continued macro-economic uncertainty, the business has demonstrated creativity, resilience and adaptability," the company stated.
"Delivery against the four-point strategy will result in top-line growth and improve profitability in the UK, enabling the Group to invest in the growing new markets of USA and Japan. A strongly differentiated brand which offers great products and customer service and that is priced as an affordable luxury, gives the board confidence in the group's continued progress.
Hotel Chocolat shares have jumped 9.4% to 421p after yesterday's falls.
Morning update
Tesco (TSCO) has sold its 20% share in its Chinese Gain Land joint venture to a subsidiary of its JV partner, China Resources Holdings.
Gain Land is the Chinese joint venture with CRH that was established in 2014. The disposal will result in net cash proceeds to Tesco of £275m which will be used for general corporate purposes.
Tesco said the disposal allows it to "further simplify and focus the business on its core operations".
The transaction will complete on 28 February 2020 as there are no conditions to closing or regulatory approvals required.
On the markets this morning, the FTSE 100 has recovered just 0.2% of its heavy losses yesterday to trade at 7,170.6pts.
Early risers, along with Hotel Chocolat, include Marks & Spencer (MKS), up 2.2% to 182.9p, PZ Cussons (PZC), up 2.1% to 193.8p and Domino's Pizza Group, up 1.8% to 324.9p.
This morning's fallers include Premier Foods (PFD), down 2.2% to 33.1p and B&M European Value Retail (BME), down 1% to 353.9p.
Yesterday in the City
The FTSE 100 started the week firmly on the back foot as it plunged 3.3% to 7,156.8pts – the largest one-day drop for four years – as European stocks were hit by the confirmation of seven deaths from the coronavirus in Italy.
Stocks were hit across the board, with FTSE 100 consumer stocks that suffered including British American Tobacco (BATS), down 3.5% to 3,236.5p, Compass Group (CPG), down 3.2% to 1,890.5p, Diageo (DGE), down 2.8% to 3,012p, Reckitt Benckiser (RB), down 2.6% to 6,247p and Coca-Cola HBC (CCH), down 2.5% to 2,729p.
In grocery retail, Ocado (OCDO) fell 3.5% to 1,095p, Tesco (TSCO) was down 2.5% to 249.3p, Sainsbury's (SBRY) fell 1.8% to 206.9p and Morrisons (MRW) was down 1.6% to 182.9p.
The day's biggest fallers include travel food retail specialist SSP Group (SSPG), down 7.5% to 616p on expectations of fewer air passengers during the health crisis, Eagle Eye Solutions, down 7.5% to 211p, Hotel Chocolat, down 6.1% to 385p, Carr's Group (CARR), down 5.8% to 137p, Marston's (MARS), down 5.6% to 100.7p and WH Smith (SMWH), down 5% to 2,280p.
McColl's, which will report annual figures later this week, was one of the only risers, climbing 5.2% to 44.2p.