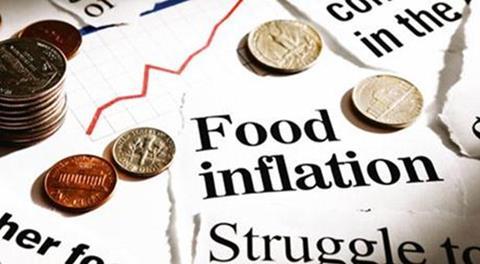 Top story
Inflation eased in April as the big four supermarkets continued to battle the discounters and keep prices low, the lastest GPI data suggests.
Annual supermarket price inflation measured by The Grocer Price Index, collated by Brand View from almost 62,000 individual SKUs, showed inflation modestly easing back to 1.1% in the month to 1 May from 1.4% the previous month.
This reversal came after six consecutive periods of an upwards trend and a dramatic reversal of the pre-Brexit deflationary environment, which saw annual prices plunge 3.1% in the month to 1 June 2016.
The more modest annual grocery inflation comes against a backdrop of escalating prices across the wider UK economy.
According to ONS, underlying inflation, measured by the consumer price index, stood at 2.3% in March, suggesting the big four are mitigating the impact of rising underlying prices. Click here to read the full story of April's GPI on thegrocer.co.uk.
Morning update
Elsewhere on thegrocer.co.uk this morning, there is an exclusive interview with Aldi CEO Matthew Barnes and the BDO annual food and drink report 2017.
Barnes opens up about analysts peddling misinformation, those contentious like-for-likes, the effect the price war is having on Aldi's profits, whether he fears a collective comeback by supermarket rivals and why if Aldi hadn't evolved from its raw basic discounter model into the chilled out operation it is today, it would have died. Click here to read the full interview.
Food and drink manufacturers remain confident for the year ahead despite the many challenges presented by Brexit uncertainty, according to an annual report into the industry by BDO. Strong business confidence, a full NPD pipeline and more opportunities overseas means more than 80% of manufacturers expected revenue growth of up to 20% in the next year. The Food and Drink Report 2017 by the accountancy firm found that 73% of those surveyed were positive about the future of the industry.
"The food sector, for a long time, has had to deal with lots of complexity, which has equipped manufacturers for hard times," said Paul Davies, head of food and drink at BDO. "They are experienced in navigating difficult trading conditions. These pressures have been there before, but it is a very robust sector; we all need to eat."
For the full story, including the biggest challenges the sector faces, see thegrocer.co.uk/finance later this morning - and this weekend's new issue.
Technology firm Eagle Eye has won a three-year contract with John Lewis to help improve the group's digital customer marketing, the group have announced to the stock exchange this morning. The share price jumped 5.3% to 228p in response to the news.
CEO Tim Mason said: "We are delighted to have won this contract and to be imbedding Eagle Eye's technology as an integral part of John Lewis's digital strategy. John Lewis is a market-leading, high-profile retailer and this win further reinforces the clear competitive benefits our solutions deliver to retailers.
"Consumers are increasingly using mobile as their preferred channel and savvy retailers are using digital promotions as a key driver to enhance customer engagement. Eagle Eye has the proven technology to capitalise on this structural industry shift."
Eagle Eye validates and redeems digital promotions in real-time for the grocery, retail and hospitality industries. Its clients include Sainsbury's, Asda, M&S, Greggs, One Stop and Molson Coors.
The FTSE 100 has continued its recent run, making further gains of 0.3% to 7,407.02 points as markets opened this morning.
TATE & Lyle (TATE) has fallen 1.6% so far to 753p, along with dips for Greencore (GNC), down 1% to 237.5p, Diageo, down 0.5% to 2,284.5p, and Dairy Crest (DCG), down 0.5% to 603.5p.
Risers this morning include SSP Group, up 1.3% to 459.9p, Ocado (OCDO), up 0.8% to 266.3p, and Sainsbury's, up 0.6% to 266.6p. B&M European Value Retail is also up another 0.6% to 356p.
Yesterday in the City
Soft drinks bottler Refresco (RFRG) saw shares rise 1.6% in Amsterdam to €17.61 after it reported strong volume growth in the first quarter of 2017.
Hellenic Coke bottler Coca-Cola HBC (CCH) nudged up 0.1% to 2,185p on the back of its first quarter trading update in which revenues rose 5.2%, driven largely by prices increases amid modest volume growth.
The FTSE 100 kept its head above water – just – ending the day 0.02% up at 7,386.63 points.
It's been a quiet week on the London Stock Exchange in terms of news flow to drive shares prices. B&M European Value Retail (BME) was one of the biggest movers yesterday, up 2.8% to 353.9p.
Premier Foods (PFD) continued to gain momentum after announcing its Cadbury licence renewal on Monday and in the run up to next week's annual results, with the stock up another 2.2% to 45.8p – 5.8% up for the week so far.
AG Barr (BAG), rose 1.3% to 655p, Diageo (DGE) was up 0.8% to 2,297p, despite being hit by a potential by £107m diverted profits tax bill, and Fever-Tree (FEVR) ended the day 0.7% higher at 1,707p.
Fallers for the day included WH Smith (SMWH), Sainsbury's, SSP Group (SSPG), Tesco (TSCO) and Marks & Spencer (MKS), down 2.7% to 1,744p, 2.4% to 265.1p, 2.2% to 454.2p, 1.6% to 180.4p and 1.6% to 377p respectively.