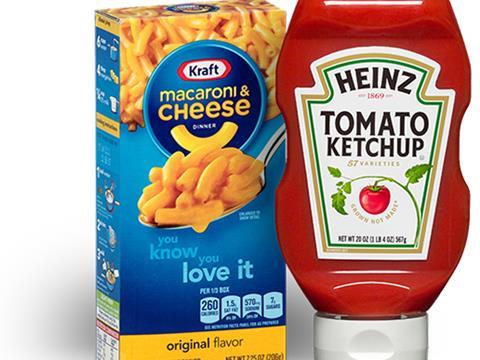 Top story
Sales have continued to decline at Kraft Heinz as the newly merged giant struggled against currency headwinds in Europe.
Net revenues slipped 1.5% to $6.3bn during the third quarter, including a 1% dip in organic sales and a 0.5% hit because of the strong US dollar, and volumes fell 0.3%.
Prices also fell 0.7 percentage points in the period driven by commodity deflation in the US, primarily in meats and coffee, as well as higher promotional costs in Europe.
European net sales plunged 14.5% year on year to $513m, including a negative 6.7 percentage point impact from currency movements. Organic net sales were 7.8% lower than a year ago and pricing was down 2.9 percentage points because of timings of promotional expenses versus the prior year.
Volumes decreased 4.9 percentage points reflecting ongoing weakness in consumption across several categories, primarily in the UK and the Netherlands.
As The Grocer reported in July, Heinz has suffered in the UK as shoppers turned their backs on its iconic beans and soups in 2015. UK sales fell 6.4% in the 52 weeks to 3 January 2016 with falling beans and soup sales major culprits, the latest Companies House showed.
The newly merged group is just one of a handful of food and drink conglomerates, including Mondelez and Kellogg, struggling to adjust a change in consumer tastes from packaged and process food to healthier products.
However, adjusted earnings increased in the quarter from $1.5bn a year ago to $1.8bn thanks to the drive to cut costs since Kraft and Heinz merged in July last year.
"Overall, our third quarter results are a good representation of where we are as a company," CEO Bernardo Hees said.
"While our financial performance is respectable, we continue to have the opportunity to improve our offerings and retail execution in several key markets and take our brands to places they don't currently compete. Our focus now is to finish 2016 strong and set the stage for another year of strong, profitable growth in 2017."
Shares fell 2.2% to $86.25 in trading on the NASDAQ yesterday as results were posted late afternoon UK time.
Morning update
Elsewhere on The Grocer this morning we have the latest Bitesize M&A review for the third quarter from Grant Thornton. Dealactivity in the industry slowed in the three months following the UK's decision to leave the EU, the report reveals.
Trefor Griffith, head of food and beverage at the firm told The Grocer that transactions could fall over in the coming months if the trading performance of suppliers is hampered by rising costs in the wake of sterling's slump in value.
"Uncertainty surrounding Brexit will inevitably have an impact on M&A, causing some transactions to fail or be postponed, and some acquisitive groups may put their agenda on hold until there is greater clarity," he warned.
For the full story see thegrocer.co.uk and this week's new issue.
The FTSE 100 continued its decline this morning, falling another 0.6% to 6,748.78 points.
Yesterday in the City
Morrisons (MRW) investors can feel happy as shares in the supermarket picked up yesterday following the Q3 trading update. The stock rose 1.2% to 223.9p as Morrisons posted its fourth consecutive quarter of like-for-like sales growth. Total sales in the third quarter fell 1.2%, excluding fuel and reflecting the impact of supermarket closures and the sale of its M Local business. However, transaction numbers were up 4.1% for the period.
The continued growth at the supermarket also lifted the sector with Tesco (TSCO) up 0.3% to 210p, Sainsbury's (SBRY) rising 2.5% to 259.3p and Ocado (OCDO) up 1.4% to 281.5p.
TATE & Lyle (TATE) jumped 4.1% to 810.5p after it reported a big boost to revenues and profits in the first half. Sales from continuing operations increased 13% to £1.32bn in the six months to 30 September thanks to currency tailwinds.
Hilton Food Group (HFG) fell back 0.7% to 590p despite a trading statement revealing it is in line with expectations.
European Coke bottle Coca-Cola HBC (CCH) kept its head above water, finishing up 0.2% to 1,772p as volumes declined 1% in Q3 against "very tough" comparatives.
Other risers included B&M (BME), Marks & Spencer (MKS) and WH Smith (SMWH), up 3.5% to 242p, 3.4% to 351.9p and 2.9% to 1,523p respectively.
The big international groups were among the fallers, with Diageo (DGE) down 2.8% to 2,072.5p, Unilever (ULVR) behind 1.7% to 3,357.5p and Reckitt Benckiser (RB) down 1.4% to 7,116p.
It meant the FTSE 100 fell again by 0.8% to 6,790.51 points. The index is down 2.9% (or 202 points this week) as the world worries that a Donald Trump presidency could be a reality.