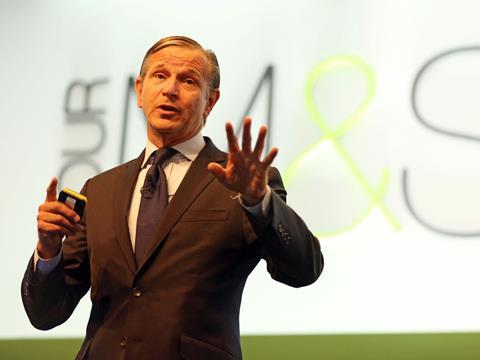 Top story
Marks and Spencer (MKS) has announced this morning that Marc Bolland will step down as CEO later this year after six years in the role.
Bolland will be succeeded as CEO by Steve Rowe, executive director of general merchandise and former head of food.
Bolland will remain CEO and on the board until the end of the current financial year on 2 April 2016 when he will hand over to Rowe and will remain available in an advisory capacity to assist the transition until 30 June 2016.
Rowe has been with M&S for over 25 years and been a board member since 2012. Before joining the Board, Steve worked in a range of senior positions across the business including director of retail and e-commerce and various positions in general merchandise. In 2012 he was appointed as executive director, food, before shifting to executive director general merchandise in July 2015.
Meanwhile, M&S also announced this morning that its food business had its best ever Christmas, significantly outperforming the market.
In the 13 weeks to 26 December food sales were up 3.7% and 0.4% on a like-for-like basis. M&S said it recorded 17% growth in the key Christmas week and has now delivered 25 consecutive quarters of like-for-like sales growth.
"Our differentiated products, market leading innovation and unrivalled quality made us the destination of choice for customers at this special time of year," M&S said.
It launched over 800 new products during the period, including 400 unique seasonal lines.
Performance in general merchandise was far less convincing, with sales over the period down by 5% and plunging 5.8% on a like-for-like basis.
"In general merchandise, we faced challenging trading conditions and fell short on availability. Unseasonal weather impacted sales across the clothing sector and resulted in unprecedented levels of promotional activity in the market, starting from Black Friday and intensifying through December. Against this backdrop we held back from the heavy discounting seen across the market especially in the run up to Christmas," M&S stated.
In a show of market faith in Steve Rowe, M&S shares were 2% up to 447.3p in early trading this morning despite the weak Christmas performance in general merchandise.
Morning update
On a busy morning, Poundland (PLND) has issued its third quarter trading statement for the 13 weeks ended 27 December 2015. The single price discounter saw revenues, excluding Spain, increase by 30.1% on a constant currency basis. Within this, Poundland's sales grew by 9 percentage points, including 3 percentage points from converted 99p Stores, whilst the acquired 99p Stores' trading throughout the period under their own fascia contributed 21.1 percentage points.
On an actual currency basis, total revenue, excluding Spain, was £424.9 million, which represented total growth of 29.4%. Poundland added that the 99p Stores' conversion programme has commenced "well and at pace" with 25 stores converted and it opened a further net 14 stores in the UK and in Ireland during Q3.
Chief Executive Jim McCarthy, said: "I am very encouraged by the sales uplifts of converted 99p Stores and by the speed and efficiency of the conversion process. I expect the store conversion programme to be substantially complete by the end of April and still expect to generate incremental EBITDA of at least £25m from the transaction."
Also Majestic Wine (MJW) has issued a trading update for the 10 weeks of Christmas trading to 4 January. Total sales growth was 42.6% compared to the same period last year, boosted by the acquisition of Naked Wines. On a pro forma basis, group sales were up 12.2%.
Majestic Retail like for like sales grew 7.3% in the period (versus decline of 1.7% in comparator period), "supported by the previously indicated strategic investments to reinvigorate sales growth with a new and simplified pricing policy and improved customer experience in store and on-line".
Chief exec Rowan Gormley commented: "This is an encouraging result. Majestic Commercial and Naked Wines continued to grow strongly, and I am particularly heartened to see the Majestic Retail business grow as the impact of our better pricing, better service and better looking stores starts to take effect. However there is still much to do. We are only three months into our three year plan and although this performance is pleasing it is too early to call it a trend."
Poundland shares plunged 9.1% this morning to 174.5p on the weak sales growth in Poundland's core estate. Conversely, Majestic Wine shares were up 6% to 346.7p on the surprising like-for-like retail growth.
Overall, the FTSE 100 has plunged another 2.8% back to 5,905.9pts as China's economic woes wipe billions more from the London Stock Exchange.
Amongst the grocery firms worst hit are those with interests in China, including Unilever (ULVR), down 2.4% to 2,749.5p, British American Tobacco (BATS), down 3,637.7p, and Diageo (DGE), down 2.2% to 1,800p.
Yesterday in the City
The FTSE 100 fell 1% to 6,073.4pts, driven lower by the miners as fears of an economic slowdown in China intensified once more.
The grocery sector escaped the worst of the falls, but Tesco (TSCO) fell back towards 140p, dropping 2% to 141.6p. Associated British Foods (ABF) was also on the slide, dropping 1.8% to 3,193p and Tate & Lyle (TATE) was 1.9% down to 578p.
Sainsbury's consolidated after the heavy losses on Tuesday in the wake of the news it had bid for Home Retail Group, but fell 0.5% back to 241p. Some of the gloss came of Home Retail's Tuesday 40%-plus share price surge, as it eased back 5% to 132.4p.
Elsewhere, Imperial Tobacco (IMT) was up 1.8% to 3,602.5p, while Marks & Spencer was up before its third quarter update (and surprise CEO announcement) this morning, rising 0.9% to 438.7p.
Ocado (OCDO) continued its recent volatility rising 1.7% to 289.3p, while Carr's Group (CARR) was up 9.2% after reassuring investors over the impact of the Cumbria floods earlier this week to 167p.
Purecircle (PURE) was up 2.4% to 425p after updating the market yesterday that first half sales were up 25%.