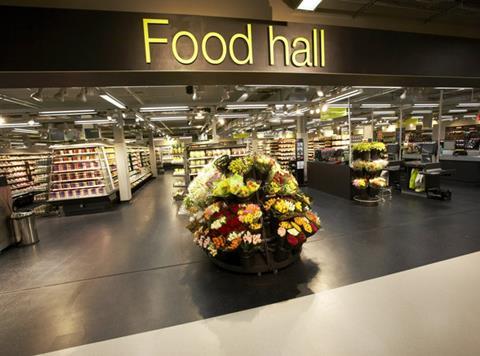 Top story
Profits crashed 18% at Marks & Spencer (MKS) in the first half as its food margins were squeezed more than expected as the retailer absorbed inflation to remain competitive in the challenging grocery market.
CEO Steve Rowe said that openings of Simply Food stores would be slowed because of the increasingly tough trading environment in a bid to reposition the food offer for future growth, with only the highest returning sites to qualify for addition to the portfolio
Food revenues rose 4.4% to £2.8bn in the 26 weeks to 30 September as 24 new Simply Food stores were opened. But like-for-like revenues declined 0.1% in the division.
The decline in gross margin of 130 basis points year-on-year to 31.3% was more than expected as M&S absorbed "significant" input cost inflation while limiting price increases for customers.
As a result of the increased costs and higher promotions in the first half, M&S said it now expected a decrease in good gross margin of between 75 and 125 basis points for the year.
"The headwinds facing our food business have intensified as competitors have encroached on some of our space with the rapid growth of convenience," M&S added.
"Online home delivery is growing share. Hard-pressed consumers are more aware of value and are careful about premium choices. Therefore, although our investment returns remain high, we are slowing our Simply Food opening programme as we reposition our food offer for future growth. Only the highest returning sites will qualify for addition to our store portfolio.
"We have already sharpened prices in core categories and will be taking further steps to bring out value in our ranges. We will increase the pace of relevant innovation, step change our availability and ranging, and continue to develop our foodhall proposition."
UK adjusted group operating profits fell 17.8% to £205.8m as operating costs across the whole business increased 4.2% to £1.7bn.
M&S halted the decline in the troubled clothing division, with revenues flat for the half and down 0.7% on a like-for-like basis, with fewer promotions and clearance sales and more sales at full price.
Total revenues rose 2.6% to £5.13bn, with UK sales up 2.7% to £4.6bn.
Separately, M&S announced the shock departure of CFO Helen Weir, who has been with the retailer since 2015. She will remain at M&S until a replacement has been found.
"We have made good progress in remedying the immediate and burning issues at M&S I outlined last year," Rowe said.
"In clothing & home early results are encouraging and in international we now have a profitable and robust business. We recognise now that we face stronger headwinds in food, which will be addressed in the year ahead.
"The business still has many structural issues to tackle as we embark on the next five years of our transformation, in the context of a very challenging retail and consumer environment. Today we are accelerating our plans to build a business with sustainable, profitable growth, making M&S special again."
Shares have fallen 2.4% to 320.1p this morning.
Morning update
Kerry Group (KYGA) has increased volumes by 4.2% in the nine months to 30 September, with both its taste & nutrition and consumer foods divisions in growth. The Irish group said in a trading update that the volume growth was ahead of category growth rates and was driven by successful innovation in response to consumer health and wellness trends.
Despite increasing inflationary pressures in the UK consumer foods market, Kerry Foods maintained good volume growth, benefiting in particular from increased snacking trends in dairy and meat categories, the group added.
Pricing increased by 1.9% in the division as Kerry sought to recoup the significant raw material price inflation in the market.
The divisional trading profit margin decreased by 70 basis points as the underlying business margin improvement was offset by adverse sterling exchange rate movements.
Group reported revenues increased by 4.5% in the period reflecting the strong business volume growth, increased pricing, adverse currency translation impact of 1.9%, adverse currency transaction impact of 0.3% and the effect of acquisitions net of disposals of 0.5%.
"The Kerry business model continues to deliver speedy innovation in response to the pace of change in the food and beverage industry," CEO Edmond Scanlon said.
"We achieved good volume growth in the first nine months of 2017 and for the full year, taking into account the 4% currency translation headwind, we expect to achieve growth in adjusted earnings per share of 4% to 6% on a reported basis to a range of 336 to 343 cent per share."
The board appointed Philip Toomey as chairman designate to succeed present chairman Michael Dowling who will retire at the group's AGM in May 2018. Dowling was appointed chairman in 2015 and has served as a director since 1998.
Shares in Kerry are up 1% to €85.73 so far this morning.
Red meat packer Hilton Food Group (HFG) said its performance from 17 July to date has been in line with expectations, with growth in the UK business. The group added that it had continued to grow the business through additional volumes and close cooperation with our retail partners.
Hilton expanded its reach into fish with the £80m acquisition of frozen and chilled supplier Seachill last months.
In Western Europe, it said it made "good progress" in a number of markets. The Irish business continued to experience "encouraging" top-line growth. Sweden and Denmark, however, were behind prior year with the Sweden comparative adversely affected by a strong barbecue season last year. Holland remained a "challenging" market. The business in Portugal continued to show "good progress", processing significant volumes to more than offset the impact of start-up costs.
In Australia, there was continued volume growth from the joint venture covering Bunbury and Victoria, and the development work in relation to the Queensland plant has continued in line with plan, with planning permission for the site now obtained.
"The group's financial position remains strong, having put in place facilities to cover current expansion plans," the trading update said. "Hilton continues to explore opportunities to invest in and to grow the business in both domestic and overseas markets."
The stock is up 1.1% to 873.8p since markets opened earlier.
Cider maker C&C Group (CCR) has appointed Jonathan Solesbury as group CFO and to the board of directors. Solesbury has been performing the role of group CFO on an interim basis since August 2017. He has served for 22 years in senior finance roles at global drinks company SABMiller.
C&C CEO Stephen Glancey said: "We are pleased to announce Jonathan's appointment as group chief financial officer on a permanent basis. During the period in which he has been performing the role on an interim basis, Jonathan has had a positive impact leading our finance function and made a strong contribution to the commercial side of our business."
Sales at Finnish group Raisio increased 5.8% to €108.8m in the third quarter, with EBIT slightly down at €13m. Rises in the top line were driven by the performance of its cholesterol lowering food brand Benecol and its fish feed business. Benecol's growth was boosted by the good sales development of consumer products in Finland and increased deliveries of plant stanol ester to licensing partners especially in Asia.
In addition, the higher world market prices in sterols – the Benecol raw materials – and the currency impact of the weakening British pound were offset by price increases, the group added.
"Raisio's €13m EBIT was a reasonable performance in a situation where the UK's confectionery business profitability continued to weaken," the business said. "Raisio will continue to work resolutely to address the operational and commercial challenges at the Leicester confectionery plant. This will, however, take clearly longer than expected."
Net sales at Dutch/Belgian supermarket group Ahold Delhaize increased by 7.4% to €15.1bn in the third quarter thanks to the continued benefit of the merger of the two groups. Net income increased by 54% to €362m in the period thanks to the synergies of the combinations of Ahold and Delhaize improving margins. However, pro-forma net sales decreased by 1.1% as the group was hit by currency fluctuations. The group also announced a new €2bn share buyback program for 2018, following completion of the €1bn program in 2017.
CEO Dick Boer said: "We reported a strong financial performance again this quarter as margins increased significantly, driven by synergies while savings from our 'save for our customers' programs are continuously being reinvested in the business. We continue to successfully implement our 'better together' strategy and expect cumulative net synergies for the full year of 2017 to increase from €220m to €250m.
Yesterday in the City
Fever-Tree (FEVR) shares leapt by £2.46 – or 12.5% – to 2,207p as it upgraded its profit expectations for the fifth time in a year. The posh tonic brand said in a trading update that it had benefitted from a continued "exceptional" performance in the UK and that 2017 profits would be "materially ahead" ahead of expectations.
Imperial Brands (IMB) also made gains as put a halt to declines in volumes of cigarettes sold in the second half of the year by focusing on power brands and keeping prices down. Shares rose 1.1% to 3,118.5p as a result.
Associated British Foods (ABF) didn't enjoy a jump despite the popularity of Primark in the UK and a recovery in the sugar business helping pre-tax profits to rise 51% leap to £1.5bn in the year to 16 September. The group was among the biggest daily fallers on the FTSE as investors were left unimpressed by US worries for Primark, sending shares down 4% to 3,210p.
Drinks group Conviviality (CVR) slipped 3.4% to 408.8p after it reported a 9.2% rise in unaudited revenues from the 26 weeks to 29 October 2017.
Hilton Food Group (HFG) and Marks & Spencer (MKS) both fell ahead of updates this morning, down 1.8% to 864p and 0.6% to 329p.
Retail and supermarket stocks also succumbed to general gloom over the high street, with Sainsbury's (SBRY) down 1.5% to 230.7p, WH Smith (SMWH) falling 1.2% to 2,027p, Morrisons (MRW) down 0.7% to 215.3p, B&M European Value Retail (BME) declining 0.2% to 410.1p and Tesco (TSCO) down 0.1% to 176.4p.