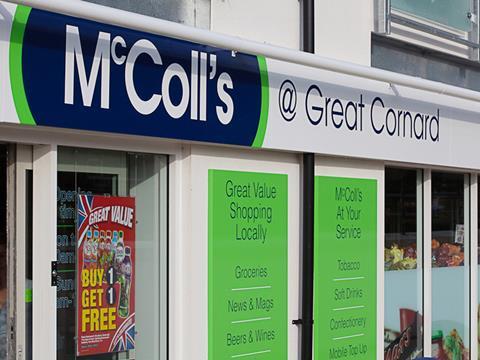 Top story
Revenues have jumped 31% at McColl's Retail Group (MCLS) in the third quarter as the convenience retailer integrated almost 300 Co-op stores into the business.
CEO Jonathan Miller said the 13 weeks ended 27 August had been "a significant quarter" thanks to the integration of the 298 stores and the "ground-breaking" supply partnership with Morrisons, which starts in January.
Total revenue was up 31.1% for the quarter and 15.8% in the year to date, with like-for-like sales growing 0.7% in the period and by 0.4% in past nine months.
McColl's added that the like-for-like performance in stores acquired or converted between 2015 and 2016 that have traded for more than 12 months was up 2.6% in the quarter.
The group also refreshed three further convenience store in the period, with 20 more planned by the end of the financial year.
"This has been a significant quarter for McColl's with the integration of all 298 of the acquired convenience stores completed and the announcement of a groundbreaking new supply partnership with Morrisons, beginning in January 2018," Miller said.
"The 298 newly integrated convenience stores have driven strong revenue growth, and our existing estate has continued to perform well, delivering a second consecutive quarter of positive like-for-like sales growth.
"We continue to look at opportunities to further enhance organic growth, and are pleased by the progress we are making with our convenience store refresh trial. Customer feedback has been positive and the early performance has been very strong, with significant sales uplifts and increased participation in key convenience categories, including fresh and chilled food.
"We're delighted to have secured Morrisons as our long-term wholesale supply partner and, with recent research confirming that the Safeway brand resonates with over two thirds of shoppers, we are excited to be relaunching it within McColl's stores.
"We're confident this partnership will significantly enhance our fresh food credentials and we expect a material sales and profit benefit in the medium term."
Shares in McColl's have edged up 0.1% to 266.5p this morning.
Morning update
Premier Foods (PFD) has completed the signing of a strategic global partnership with Mondelēz International to renew the long-standing licence to produce and market Cadbury branded cake and ambient dessert products.
It follows the announcement on 8 May 2017 that outlined the signing of a 'heads of terms' with Mondelēz.
The new partnership will start from 1 September 2017 and will run until 2022, with an option for the company to extend this to 2025, subject to meeting certain performance criteria. Total number of licenced countries have been expanded from 10 to 46 and now includes South Africa, Canada, Japan, China and India.
Premier also has the potential to use the full range of Cadbury brands in ambient cake such as Flake, Crunchie, Caramel and Marvellous Creations in addition to the Oreo brand.
Premier CEO Gavin Darby said: "Building on a relationship which now spans over 30 years, we are delighted to have completed the signing of this new strategic global partnership with Mondelēz International, and we look forward to working with them in years to come. We are particularly pleased about the expanded scope of geographies and brands, given the opportunity this provides us to further accelerate the growth of Premier Food's international business."
Glenn Caton, president of Northern Europe at Mondelēz International, added: "We are very proud of our long-term partnership with Premier Foods and are delighted to be continuing to work together to nurture and develop our well-loved portfolio of brands and products. The future is bright for Cadbury cakes and for the people that love them."
Confirmation of the agreement has boosted the Premier share price by 1.1% in the early trading to 40.1p.
Organic sales at spirits group Pernod Ricard increased 3.6% to €9bn as 11 out of its 13 strategic international brands, which include the likes of Jameson, Havana Club and The Glenlivet, recorded growth in the year to 31 August. The group highlighted a return to growth for nine of the 13 brands, in particular a 6% jump for Martell and 12% for Absolut.
The improvement was driven by the US, China, Eastern Europe and global travel retail markets. Pernod added that a third of the revenue growth stemmed from innovation. Profits in the year increased 3.3% to €2.4bn.
CEO Alexandre Ricard said: "FY17 was a strong year, delivering profit from recurring operations in line with guidance together with an excellent cash performance.
"These results demonstrate that the strategic direction the group adopted two years ago is delivering: growth is accelerating and diversifying through successful activation of our strategy.
"In FY18, we will continue to implement our roadmap, in particular focusing on digital, innovation and operational excellence. We are confident that we will continue improving our business performance. As a consequence, our guidance for FY18 is organic growth in profit from recurring operations between +3% and +5%."
Total Produce (TOT) has recorded double-digit jumps in first-half sales and profits thanks to further acquisitions in North America, which offset currency headwinds.
Revenues at the fresh produce suppliers in the six months to 30 June increased 12.2% to €2.2bn as it benefitted from taking a majority stake in North American fresh produce supplier the Oppenheimer (Oppy) and the acquisition of Keystone Fruit Marketing.
The group added the rise in sales from the acquisitions was partly offset by a negative impact on the translation to euro of the results of foreign currency denominated operations.
On a like-for-like basis, excluding acquisitions, divestments and currency translation, revenue was about 4% higher, driven by an increase in average prices with similar volumes.
Total Produce said trading conditions overall were "satisfactory" and that the unusual weather conditions in Southern Europe that led to temporary shortages of certain salad and vegetable lines did not have a material impact on results.
Adjusted EBITA rose 12% to €42.5m and pre-tax profits were up 38.6% to €35.4m.
Chairman Carl McCann said: "Total Produce has delivered a strong first half-year performance in 2017.
"The group has continued its international expansion with a number of significant North American transactions. It increased its shareholding in the Oppenheimer group from 35% to 65%. In addition, Oppy concluded important strategic agreements with the New Zealand based T&G Global. The group's Los Angeles headquartered Progressive Produce business increased its scale with the acquisition of Keystone Fruit Marketing. The group is actively pursuing further investment opportunities."
Shares in the business have increased 1.2% to 200.4p so far this morning.
Yesterday in the City
The supermarkets recovered some of their Amazon-inflicted losses yesterday, with Ocado continuing to make strong gains as investors grow more optimistic that the online grocer is best placed to benefit from disruption caused by the e-commerce giant.
Ocado (OCDO) soared 4.3% to 304.1p as the City piled in to the stock after it announced it had teamed up with Amazon's voice command service Alexa.
Sainsbury's (SBRY), Morrisons (MRW) and Tesco (TSCO) also rose 2.2% to 235.8p, 1.3% to 245.2p and 0.9% to 182.4 respectively.
Marks & Spencer (MKS) jumped 1% to 317.5p as it revealed it had started talks to sell its shops in Hong Kong and Macau to Dubai-based conglomerate Al-Futtaim.
WH Smith (SMWH) fell back 0.2% to 1,845p as it revealed in a trading update that its annual results would be as expected.
Other fallers included Unilever (ULVR), down 0.8% to 4,461.5p, Real Good Food (RGD), down another 2% to 24.5p, and AG Barr (BAG), down 1.2% to 621p.
The FTSE 100 rose 0.4% to 7,365.26 points as it shook off North Korea fears.