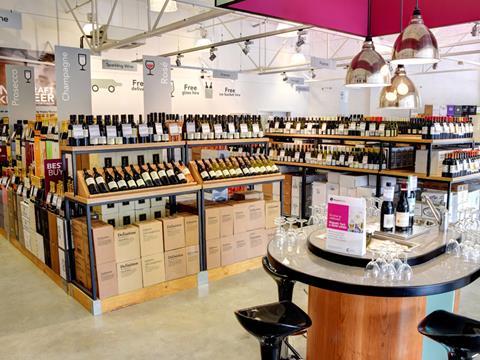 Top story
Majestic Wine (WINE) has posted underlying first half sales growth of 4.2% and a return to profitability as its Naked Wines online business grew sales by almost 15%.
Overall sales in the six months to 2 October were up 5.7% (4.2% underlying) to £217.3m
Underlying sales growth at Naked Wines was 10.9%, with headline sales rising almost 15% to £67.8m.
In particularly it saw 9.9% growth in North America and adjusted EBIT increased to £4.7m from a £2.8m loss in the same period last year.
The performance was driven by growth in its customer base, which in turn has driven growth in contribution from its "Mature Angels" by £3.8m, a 33.3% increase from first half of 2017. Investment in new customer acquisition fell by £3.2m (40.3%) from the first half of 2017.
Majestic's retail operations grew sales by 2.3% (2% underlying) to £120.6m, which marked a slowdown compared to the rate of growth in the previous financial year.
Repeat customers grew to 510,000 people from 475,000 in the same period last year, but price rises driven by the weak pound resulted in a total reduction in volumes.
However, gross margin was 35bp higher and EBIT moved from £3.5m to £4.6m.
Majestic said: "The investments made to improve our customer proposition and the capabilities of the business are delivering higher sales while one-off transformation and double-running costs are now coming out."
The group is prioritising consumer sales, which was reflected in commercial sales falling from £23.4m to £22.6m and a 36.4% reduction in EBIT from £1.6m to £1m.
Overall group adjusted EBIT jumped up £6.6m to £7.3m during the period, while reported profit before tax returned to the black at £3.1m following a £4.4m loss in the first half on 2016.
The profits improvement was driven by Naked Wines moving to profitability in all three geographical markets, and continued profitable sales growth in Majestic Retail.
Group CEO Rowan Gormley commented: "The plan is on track. Two years in and profits are growing, our foundation is solid and we are ready to accelerate growth. We have the opportunities to invest in new customers and a team excited to focus on what they do best. It's time to put our foot on the gas.
"In this half, Naked Wines has demonstrated the quality of its model, people and management, by achieving profitability in all three geographical markets. It has become a disciplined business committed to continuous improvement.
"The focus on empowering our wonderful store teams in Majestic Retail has finally borne fruit, with improved staff engagement flowing through into improved customer engagement, which means improved loyalty and retention."
Majestic said full year results should be in line with current market expectations. However, it aims to increase the rate of sales growth in the medium term, by steadily increasing investment in new customer acquisition.
Majestic has jumped 7% to 410p on the back of this morning's update.
Morning update
With the CMA provisionally clearing the Tesco-Booker merger, platinum members can read an extended version of our exclusive Q&A with Dave Lewis and Charles Wilson ahead of this Saturday's issue of The Grocer.
Read their views on the future of the combined business, the competition implications, how they can respond to the challenges of the discounters and Amazon and a host of other issues – exclusively for platinum members.
Click here for the full un-cut interview.
French drinks group Remy Cointreau has posted a 7% jump in organic sales growth for the six months to 30 September.
Sales were up 6% on a reported basis to €544.4m driven by positive momemtum by group brands – which grew 9.6% in organic terms.
The group reported growth in all three of its regions, with Greater China, Russia, UK and travel retail being the main engines.
Its current operating profit grew 11.8% in organic terms (8.2% on a reported basis) to €134.1m, with gross margin up 0.5 percentage points to 25.6%. driven by favourable mix/price benefits.
On the markets this morning, the FTSE 100 has dropped 0.5% to 7,382pts.
Majestic aside, early movers include Finsbury Food Group (FIF), up 2.3% to 105.9p, Premier Foods (PFD), up 1.8% to 41.8p and Science in Sport (SIS), up 1.8% to 74.8p.
Fallers include Greene King (GNK), down 5.1% to 491.6p and Marston's (MARS), down 3.7% to 100.2p after pub group rival Mitchells & Butlers (MAB) posted weak first half results as its own shares dropped 10% to 230p.
Other fallers include Crawshaw Group (CRAW), down 1.7% to 11.6p and TATE & Lyle (TATE), down 1.7% to 680.5p.
Yesterday in the City
The City gave a cautious welcome to Philip Hammond's budget, with the FTSE 100 edging up 7.7pts to 7,419pts and the pound strengthening marginally against the dollar, rising 0.4% to $1.3290.
The grocery market was not the main focus on the Budget, but supermarkets were on the up yesterday as the sector escaped a definitive tax on single use plastics with Tesco (TSCO) up 2.9% to 194.4p, Morrisons (MRW), up 2.8% to 215.8p and Sainsbury's (SBRY), up 1.6% to 230.4p and Booker (BOK) up 1.9% to 216.6p.
One of the sector's biggest risers was travel retail specialist SSP Group (SSPG), which jumped 8.4% to 658p after posted better than expected first half figures on strong growth in its travel outlets.
The strengthening pound saw a number of FTSE 100 fmcg groups edge back, led by British American Tobacco (BAT), down 1.2% to 5,029p, Compass Group (CPG), down 1.1% to 1,521p, Associated British Foods (ABF), down 1% to 3,067p, Unilever (ULVR), down 0.9% to 4,188.5p and Diageo (DGE), down 0.8% to 2,581.5p.
Other fallers included Hilton Food Group (HFG), down 1.8% to 844p and Devro (DVO), down 4.1% to 225p.