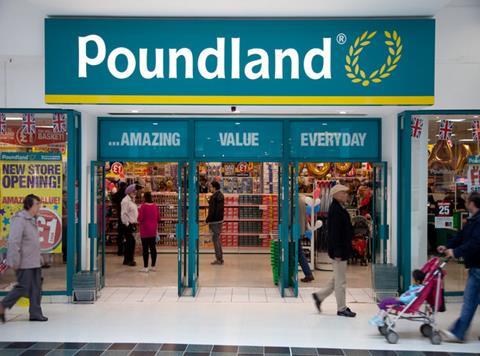 Top story
Pre-tax profits slumped 84% at Poundland (PLND) to £5.9m last year as the problems surrounding the acquisition of 99p Stores took their toll. It comes amid a possible takeover by Steinhoff which has bought up a 23% stake in the discount retailer.
Sales jumped 18.7% to £1.3bn in the year to 27 March thanks to the addition of the 250-plus shops which came with the 99p deal but like-for-like sales declined -4.1%, compared to a 3.9% rise the previous year.
Underlying EBITDA, excluding the converted 99p Stores, also fell 9.4% to £53.8m, with comparable pre-tax profits down 13.5% to £37.8m.
Outgoing CEO Jim McCarthy refused to comment in a call with journalists this morning about the implications of Steinhoff buying a 23% stake in the retailer and what it meant for the future of Poundland, despite several questions. He said he could not talk about the move while the business was in a potential offer period.
South African retail group Steinhoff announced yesterday it was considering making an offer for the discount chain after buying the entire 15.2% stake held by Warburg Pincus for 195p a share. It emerged this morning that Steinhoff has also acquired a further 20 million Poundland shares to take its holding to 23%.
In its full-year results statement this morning Poundland revealed it had been stung by £15m costs related to the 99p Stores conversion, as well as an additional £2.5m in fees. Trading losses at 99p Stores, in both pre-and post-converted stores, totalled £7.8m.
By the end of April, 190 99p Stores had been converted to Poundland after an acceleration of the programme to reverse the declining performance of the acquired business.
The Poundland estate is now 900-strong across the UK and Ireland after 60 net new stores were added to the portfolio as well as the 252 99p Stores.
"After a period of significant change, including an unprecedented integration programme at pace, Poundland now has a unified estate of over 900 stores," McCarthy said. "The retail environment remains challenging, but with our significantly enlarged store portfolio, greater scale and ability to focus fully on trading our stores, I believe we are well placed to make progress in the year ahead."
Weekly customer numbers at the core Poundland shops grew by 3.4% during the year, with average basket size increasing by 0.8% to £4.76. "Growth would have been higher were it not for a combination of changing shopping behaviour and a reduction in high street footfall, as well as availability issues experienced in Q4, due to the disruption from the 99p Stores' conversion programme," McCarthy added.
The retiring boss hands over to Kevin O'Byrne on 1 July, with the trial in Spain being extended to November as a result. Five more stores were opened in the year in Spain to take the estate to ten.
O'Byrne said: "It is very clear to me that Poundland's brand, position and focused model are real strengths and resonate strongly with our millions of customers. I'm looking forward to taking up the CEO role in two weeks' time and the committed, talented and passionate people I've encountered throughout the business give me further confidence that Poundland has a bright future at the heart of the discount sector."
Morning update
Poundland aside, the markets remained very quiet in grocery with no other newsflow of note. Shares in Poundland opened up another 2.5% this morning to 205p despite the profits plunge as the City awaits a takover offer from Steinhoff. Ocado is up again this morning, rising 0.8% to 224.4p. Yesterday's reprieve for the FTSE 100 looks short lived as the index dropped 0.6% first thing to 5,934.73 points. Marks & Spencer (MKS) has fallen 1.3% to 345.9p, as have Coca-Cola HBC (CCH) and Britvic (BVIC), both down more than 1%.
Elsewhere on The Grocer we report that the owner of frozen meal delivery business Wiltshire Farm Foods has acquired one of the business' largest franchisees WFF Crieff. Full story here.
Yesterday in the City
It was a better day for stocks yesterday, with the FTSE 100 ending a run of five days of consecutive decline.
After the massive spike earlier week, Poundland nudged up to 200p as Steinhoff was revealed to be the mystery buyer of a 22% stake with likelihood of a probable takeover offer to come.
The other listed retail chain, B&M (BME) also finished 3% higher at 269p. Tesco (TSCO) was up 2.6% to 151.2p, Ocado was up (2.3% to 222.7p after a miserable run, Morrisons (MRW) also finished up 1.2% to 176p and Sainsbury's was up 0.4% to 231.8p.