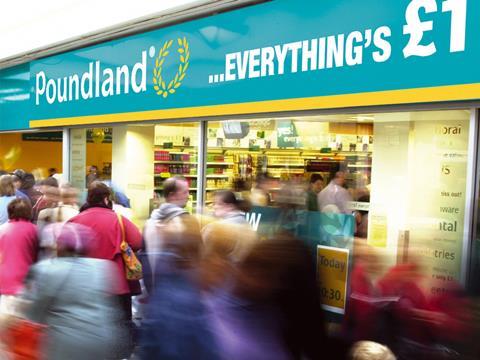 Top story
Poundland's (PLND) underlying pre-tax profits were up 18.6% to £43.7m as annual sales hit £1bn for the first time.
As Poundland previously revealed, sales for the year to the year to 29 March 2015 were up 11.8% on a constant currency basis, with like-for-like UK sales up 2.4% (also on a constant currency basis).
This translated to underlying EBITDA rising by 9.9% to £59.4m and underlying pre-tax profit growing by 18.6% to £43.7m. On a statutory basis, adding in the costs of the IPO in the previous financial year, pre-tax profit was up 68.3% to £36.2m.
Jim McCarthy, chief executive of Poundland, said: "I am pleased to report a record year of sales and profit growth for Poundland. We saw strong trading in the UK and Ireland and our international expansion plans in Spain are proceeding well with seven multi-price Dealz stores now open.
"Notwithstanding a challenging start to the year, I expect to see a year of growth for Poundland as we have a very strong opening programme and we will continue to be the standard bearer for genuine and amazing value on the UK's high streets and retail parks."
Updating on trading for the 11 weeks to 14 June, Poundland said sales were up 4.1% on a constant currency basis (3.5% actual), which "reflects last year's excellent Q1 trade".
It opened net 6 stores during the 11-week period, but expects to open at least a net 40 by the end of the first half
Poundland expects a stronger second half of the year given its strong store opening plans in the first half and far tougher first half comparables.
It said the CMA decision on its takeover of 99p Store is due to be announced on 23 October.
Morning update
Poundland shares plunged 6% to 292.1p in early trading on the gloomy trading outlook for the first six months of the financial year.
Also this morning, Poundland has announced the departure of two board members. Firstly, non-executive director Paul Best of Warburg Pincus is stepping down as a non-executive director as the investment firm has reduced its shareholding in the company to 16.4%. Secondly Richard Lancaster is leaving his executive role to become managing director of Co-operative Funeralcare.
Poundland chairman Darren Shapland said: "In the five years he has been a member of the board, Paul has been a great source of advice and technical insight, providing commercial and investment support leading to the successful IPO last March. He leaves with the appreciation and thanks of the whole company and we wish him well for the future."
Elsewhere on a quiet morning, sports nutrition specialists Science in Sport (SIS) have announced that Stamford Partners founder Raymond Duignan has joined its board as a non-exec director from 1 July 2015. He is currently a non-executive director at Finsbury Food Group, a member of the advisory board at Active Private Equity and chairman of the consumer practice at Newton Europe.
Generally it was a better start to trading in London this morning, with the FTSE 100 edging fractionally higher after yesterday's falls. SABMiller (SAB) is 1.1% up to 3,355p and Diageo is 0.8% up to 1,895.5p.
Yesterday in the City
The FTSE 100 closed at a new 2015 low yesterday as concerns mount over a Greek debt default and exit from the euro. The index closed down FTSE 100 closed 0.4% to 6,680.55pts and has now fallen by 5.5% over the last three weeks.
Few grocery shares escaped the gloomy sentiment. Tesco (TSCO) was amongst those most affected ahead of its trading update next week, falling 1.6% to 208.1p as it – together with Sainsbury's (SBRY) – scrapped its click & collect arrangement with TFL. Sainsbury's was down just 0.3% at 259.9p
Also hit were Unilever (UVLR), down 1% to 2,762p, and Marks & Spencer (MKS), down 0.9% to 542p.
Diageo (DGE) was one of the few companies to escape the share price falls, as rumours of a possible sale of its Moet Hennessy stake saw it rise 0.6% to 2,762p. Ocado (OCDO) was also 2% up to 383.6p.