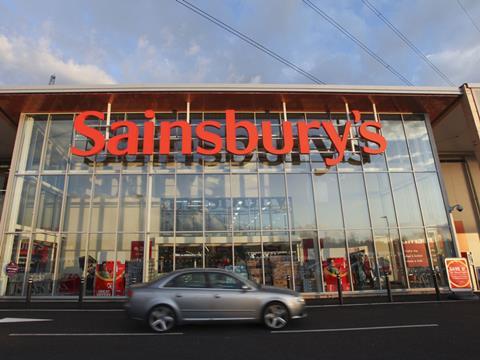 Top story
Sainsbury's (SBRY) underlying pre-tax profits have fallen almost £70m to £308m in the first half as the supermarket invested heavily in lowering prices.
The 17.9% slump in profits in the six months to 26 September came on top of a 1.6% decline in like-for-like sales.
Underlying Group sales came in 2% down on a year ago at £13.6bn and retail sales (including VAT but excluding fuel) was just 0.1% lower.
Sainsbury's said the market remained "particularly challenging" in the half, with overall market share declining marginally – by 17 basis points to 16.5% – driven by the continuing growth of the discounters.
However, the £150m investment in price helped to boost transaction growth by almost 3% and volume growth by 1%. The retailer promised it would remain competitive on price.
CEO Mike Coupe said: "We are making good progress against the strategy we outlined last November. We are delivering volume and transaction growth as customers value our quality improvements and our clearer, simpler message of lower regular prices.
"The grocery retail marketplace remains challenging but Sainsbury's is a great business, run by an experienced management team, supported by talented colleagues and strong values. I am confident we are making progress and we are looking forward to a successful Christmas, offering our customers fantastic products and great value."
Sales at supermarkets declined just more than 2% as a result of food deflation, lower like-for-like volumes and customers shopping across multiple channels. Convenience stores delivered sales growth of nearly 11% as Sainsbury's opened 37 new stores, taking the total to 741 stores at the period end.
Sainsbury's also added its cost savings programme was ahead of plan with £115m saved in the first half – and another £100m expected by the end of the financial year.
Shares in the supermarket have risen 1.6% so far this morning to 277p.
Morning update
After securing extensions from the UK Takeover Panel over the past two weeks, AB InBev (ABI) and SABMiller (SAB) have finally agreed the £71bn 'megabrew' merger. The two brewers announced this morning that they had reached an agreement on the terms of a recommended acquisition worth £44 a share for SAB. AB InBev also revealed it had today agreed to the sale of SAB's interest in the MillerCoors joint venture in the US to Molson Coors. The sale was seen a vital to appeases regulators in the US. AB InBev CEO Carlos Brito said: "We are excited about our agreement on the terms of a recommended acquisition of SABMiller to build the world's first truly global brewer. We believe this combination will generate significant growth opportunities and create enhanced value to the benefit of all stakeholders." SAB CEO Alan Clark added: "SABMiller grew from small beginnings, brewing quality cold beer for thirsty miners in the dusty streets of 19th century Johannesburg. More than 120 years later, generations of incredibly talented people have built a highly-admired, high-performing global beer and beverage business."
SAB's stock price has climbed 1.3% in early trading to 4,028.5p.
Real Good Food (RGD) has made an exceptional profit of £9.4m in the first half to 30 September thanks to the £44.4m sale of troubled sugar business Napier Brown. The deal also significantly reduced the food group's net debt from £36.3m to £3m. The business still made a loss at statutory level after finance costs of £1.2m left it £216k in the red. Revenues in the half came in more than £1m higher than a year ago at £46.7m. Executive chairman Pieter Totté said: "We will now look to use the Group's strong balance sheet to continue to invest in our three pillar markets of cake decoration, food ingredients and premium bakery, to drive EBITDA and operating profit as well as exploring further bolt-on acquisition opportunities.
"We are now well into the important third quarter, which includes the Christmas trading period and I am pleased to report positive sales trends so far at both our cake decorating businesses and at Haydens. With this context, the board is confident that the outcome for the full year will be in line with current market expectations and we look forward with confidence."
Yesterday in the City
Premier Foods (PFD) posting better-than-expected figures for the first half was the big story of the day. The Bisto and Mr Kipling owner increased quarterly branded sales in the second quarter for the first time in two years as CEO Gavin Darby's big turnaround plan took effect. The City took note of the good news with shares closing a whopping 17.4% higher at 42p – it was up as much as 21% at one point to highs not seen since May. Premier's share price fell off a cliff in March last year from 161p to 66p, wiping more than £700m off its market value. It followed Morrisons posting a slump in full-year profits to a five-year low sparking fears of an imminent industry price war. The stock has continued to falter ever since as the big four grocers have all continued to struggle.
Morrisons (MRW) faltered again yesterday to compound losses on Monday. It closed 2.9% down at 159.1p. Rival Sainsbury's (SBRY), ahead of this morning's interims, finished 0.3% down at 272.6p and Tesco (TSCO) made it a clean sweep to close 1.9% lower at 175.3p.
One of the day's big risers on the FTSE 100 was Coke bottler Coco-Cola HBC (CCH). It made gains of 2.1% to 1,545p. Sandwich maker Greencore (GNC) also made good progress, closing up 3.8% to 332p. Drinks group Diageo (DGE) also nudged up 0.2% to 1,869.1p after it reiterated its full-year guidance ahead of an investor conference in New York scheduled for 11 November.