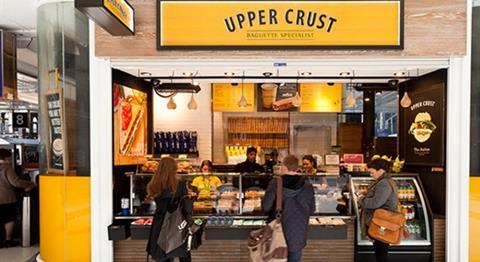 Top story
Travel retail specialist SSP Group has forecast its annual revenues will jump 37% to £3bn on the rebound in travel passenger numbers at home and abroad.
Issuing a pre-close trading update ahead of its year end on 30 September, the Upper Crust owner said that strong underlying trading momentum is expected to continue through to the end of the financial year, leading to results at the upper end of the ranges previously indicated for both revenue and EBITDA.
Revenue for the last 16 weeks of the year (from 12 June to 30 September) is expected to be at 116% of 2019 levels, on a constant currency basis.
This represents an underlying improvement in trading since our statement on the group's previous update (covering the 10-week period from 1 April to 11 June), where trading was at 112% of 2019 levels on a constant currency basis.
Overall revenue performance is being driven by the continued recovery in passenger numbers, particularly in the air sector, as well as its stronger customer offer and digital proposition as well as contract gains.
North America, which now accounts for approximately a quarter of group revenue, continues to be a key driver of performance, with sales expected to strengthen to 127% of 2019 levels, on a constant currency basis, driven by robust domestic air passenger numbers and strong like-for-like performance.
UK and Ireland, sales are expected to strengthen to 100%, reflecting both the improving performance and the higher mix of the air channel, despite the rail sector continuing to be impacted by ongoing industrial action.
In Continental Europe, revenues are expected to be at 115% of 2019 levels, on a constant currency basis, driven by strong summer air travel volume and despite the impact of protests and travel disruption in France.
In the Rest of the World, revenues are expected to rise to 132% due to further improvements in passenger numbers across the Asia Pacific region, with particularly strong performances in India and Egypt.
For the second half as a whole, group revenues are expected to rise by 22% against last year (at actual exchange rates), reflecting the strength of like-for-like performance in addition to further net gains.
In the full year, group revenues are expected to be £3bn against £2.2bn in the prior year (at actual exchange rates), representing growth of 37% year-on-year.
Revenue and EBITDA are expected to be at the upper end of the planning assumptions provided in December 2022, representing revenues of £3bn and EBITDA of £280m.
While the group continues to face into macroeconomic uncertainty and sustained elevated levels of inflation, it expects demand for travel will remain resilient to pressures on consumer spending and is well set for near and long-term structural growth.
It expects EBITDA to improve to £325m-£375m next year and capex to be in the region of £250m-£300m.
Commenting on the performance, Patrick Coveney, CEO of SSP Group, said: "We are enjoying a good finish to the year, and there is real momentum across the business as we enter FY2024. Our focus on higher growth markets such as North America and Asia Pacific, as well as our ongoing efforts to enhance our capabilities and increase efficiencies, is delivering strong results. Looking ahead, we continue to see significant opportunities for SSP to drive growth and returns."
Morning update
Cake decoration group Real Good Food has fallen to a £9m in its post recent financial year amid falling revenues and volumes.
Posting results for the year to 31 March, it said revenues decreased by 19.8% to £32.4m due to macroeconomic headwinds.
Volumes were 26% lower year-on-year, the most severe reductions being US sales (32% lower) and sales into Europe (22% lower). The reductions were market driven rather than customer losses.
Key input costs continued to rise during the year with costs on average being 30% higher.
The impact on the business was partly mitigated with prices to customers being increased, averaging 21% with increases ranging between 5% and 34% (overall in-year impact being 10.6%). Limited availability of key ingredients across the sector also affected performance.
Its EBITDA loss of £4.8m, compared to a £0.2m profit last year, reflected reduced gross margins and operating leverage.
Overall loss before tax was £9m, an improvement from the £19m loss last year which included a £16.1m goodwill impairment.
Total net debt increased to £31.2m from £25.5m.
A radical reform programme, which was launched in September 2022 to return the business to profitability, is almost complete and tracking in line with expectations.
On current trading, market conditions remain challenging albeit the self-help improvements made since September 2022 have been transformational.
After five months of trading in its current financial year, demand is higher than last year and despite sales being broadly the same due to cash constraints, EBITDA is better.
Mike Holt, executive chair commented: "Market conditions remain challenging; we are however starting to see volumes in some segments beginning to slowly rebuild and we are gradually trading our way into a better place as the busier autumn season kicks in.
"The radical reform programme we have implemented over the last year has been transformational and, with new management now in place, the Group is well positioned to make further gains, particularly in manufacturing efficiencies, sales, and customer focus. We have recently agreed a loan extension with Hilco which provides a more secure platform to continue our journey to sustainable and satisfactory profitability."
On the markets this morning, the FTSE 100 has opened down 0.4% to 7,698.1pts.
Early risers include PayPoint, up 2.4% to 551.9p, Naked Wines, up 2% to 59.2p and Kerry Group, up 1.8% to €83.20.
Fallers include Ocado, down 7.1% to 751p, SSP Group, down 6.4% to 229p and Virgin Wines, down 4.9% to 49p.
Yesterday in the City
The FTSE 100 was up 0.9% yesterday to 7,731.7pts.
Finsbury Food Group jumped 23.6% after it accepted a £143m offer from a private investor.
Other risers included Just Eat Takeaway.com, up 7.8% to 1,148p, B&M European Value Retail, up 4% to 579p, Haleon, up 2.9% to 334.6p, Pets at Home, up 2.4% to 344.4p, AG Barr, up 2.3% to 496p, WH Smith, up 1.8% to 1,381p and Greggs, up 1.6% to 2,492p.
Fallers included Naked Wines, down 6.8% to 58p, Kerry Group, down 2.3% to €81.72, Virgin Wines, down 1.9% to 51.5p, C&C Group, down 1.2% to 137.6p and Tesco, down 1% to 270.5p.