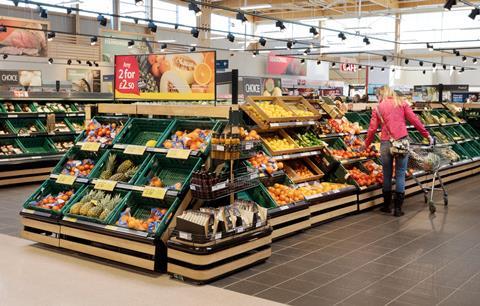 Top story
Supermarket prices are edging back into inflation – as the UN warns global food prices have risen for a fifth consecutive month.
The Grocer Price Index edged up 0.1% in May, following a 0.3% decline the previous month. It reflects another rise in the cost of some key commodities, with the UN FAO's Food Price Index – which monitors global food prices – up 1.2% in May due to the impacts of adverse weather and animal disease outbreaks.
The UK picture is one of modest inflation, however: according to the GPI, collated by Edge by Ascential from almost 65,000 individual supermarket SKUs, it's lower than the 0.4% recorded in March, and well below the 1.1% recorded in the same month in 2018 and the peak of the post-Brexit grocery inflation cycle of 2.7% in November 2017.
Overall grocery inflation has bounced along close to zero since the summer of 2018, with every period over the past ten months recording inflation within a range of +0.5% to -0.4%.
Of the 14 categories included in the GPI, six saw lower prices year on year, led by household goods (–1.1%) baby goods (–0.4%) and dairy (–0.3%).
Inflation in the GPI's largest category of dry grocery climbed to its highest level since October 2018 as prices rose 0.4%. Meat, fish & poultry also posted its highest rate of annual inflation since June 2018 at 1.5%, while other notable rises included bakery (1.6%) and frozen (1.5%).
According to the FAO, global cereal prices rose 1.4% in May after US maize crops were destroyed by rain and flooding, while global meat prices have risen every month since the beginning of the year due to the African swine fever outbreak.
Morning update
Britain's high streets suffered a disastrous May, the worst on record for in-store like-for-like sales, figures released by business advisory firm BDO reveal.
According to BDO's High Street Sales Tracker in-store sales plunged by 3.3% year-on-year in May from an already negative base of -2.2% for May last year.
BDO said the figures reflect how difficult the trading environment has become for retailers.
"Lifestyle in-store sales have not recorded growth for the past 16 months and the fashion sector have just registered its worst in-store result in 14 months," said Sophie Michael, head of retail at BDO.
"Our high streets are creaking at the seams. It's time the government took action and showed some much-needed support for retailers and to the millions of people the sector employs."
The lifestyle sector continued its collapse in May, with in-store sales falling 2.4% from an already negative base of -3.8% for May 2018. Fashion in-store sales also declined by 4.2%.
Homeware in-store sales increased by 4.3%, but did little to offset a very poor base of -15.2% for May 2018.
Meanwhile, away from the high street, non-store like-for-like sales increased by 19.8% from a middling base of 14.5% for the equivalent month last year. The result marks the highest like-for-like for the category in 17 months, though still remains below the long-run average.
"With a government mired in Brexit chaos and now further distracted by a leadership contest, our British high street is not getting the attention it desperately needs," Michael added.
"Both retailers and shoppers alike need a clear roadmap that can deliver much needed confidence for the future. Retailers know they need to adapt their physical portfolios and respond quickly to changing consumer behaviours, but they are in investment paralysis as Brexit uncertainty drags on and consumer confidence remains low.
"It is vital that the ambivalence with which the high street is currently being treated is replaced with concerted action, or the results could be catastrophic."
AG Barr (BAG) has announced today it has made a minority investment in new business start-up Elegantly Spirited Limited, the owner of the STRYYK alcohol free spirits brand.
Elegantly Spirited seeks to capitalise on the growing demand for non-alcoholic adult drinks with a new portfolio of zero proof spirits under the STRYYK brand.
As part of the Minority Investment, AG Barr subsidiary business Funkin has entered into a long-term agreement on normal market terms to act as exclusive UK distributor for all Elegantly Spirited Limited products, in addition to AG Barr Group investing an initial £1m for a 20% minority stake in the new business.
Elegantly Spirited Limited is a recently formed venture from entrepreneurs Alex Carlton and Andrew King, original founders of the Funkin business.
Funkin was acquired by AG Barr in 2016. Andrew King has continued his involvement with the Funkin business since the transfer of ownership and will remain Funkin's executive chairman.
AG Barr CEO Roger White commented: "More and more consumers are seeking a drink that adds positively to their social experience but without the side effects of alcohol. We're very excited to be involved in both investing in and growing the STRYYK brand in this new and fast moving consumer category".
On the markets this morning, the FTSE 100 has opened up another 0.6% to 7,301.5pts.
Early risers include McColl's (MCLS), up 1.9% to 82.4p, British American Tobacco (BATS), up 1.9% to 2,971p and FeverTree Drinks (FEVR), up 1.7% to 2,701p.
Fallers include Bakkavor (BAKK), down 2.4% to 121p, Pets at Home (PETS), down 1.9% to 176.6p and Marks & Spencer (MKS), down 1.1% to 221.1p.
Yesterday in the City
The FTSE 100 ended the day up 0.6% at 7,259.9pts yesterday to carry on the market's better run over the past few days.
Tonbacco giant Imperial Brands (IMB) was the FTSE 100's biggest riser yesterday, climbing 5.7% to 2,073p as the market gravitated towards defensive stocks amid continued international economic uncertainty. Fellow tobacco giant British American Tobacco (BATS) was also up 3.1% to 2,915.5p.
Other FTSE 100 risers included Compass Group (CPG), up 1.8% to 1,826p and Reckitt Benckiser (RB), up 1.2% to 6,404p.
Elsewhere, risers included Hotel Chocolate (HOTC), up 3.8% to 342.5p, Michells & Butlers (MAB), up 3.6% to 290.5p, Marston's (MARS), up 3% to 113.2p, Majestic WINE (WINE), up 287p and C&C Group (CCR), up 2.3% to €3.79.
Sainsbury's was one of the FTSE 100's biggest fallers as the stock went ex-dividend, dropping 3.8% to 193.6p.
Other fallers yesterday included Marks & Spencer (MKS), down 3% to 223.5p, Associated British Food (ABF), down 2.3% to 2,515p, PZ Cussons (PZC), down 2% to 200.5p, Ocado (OCDO), down 1.5% to 1,122p and B&M European Value Retail (BME), down 1.2% to 346.7p.
Remy Cointreau shares fell 3.1% yesterday back to €118.60 despite announcing better than expected annual sales and profits as investors were shaken by its higher than expected debts after investment in its brands.