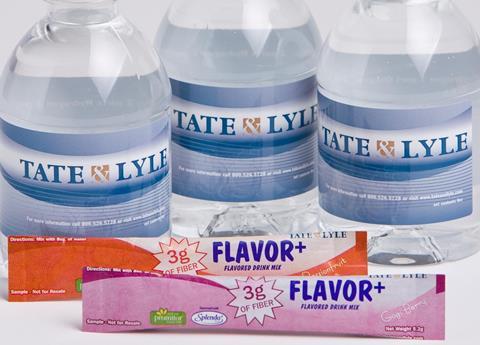 Top story
Tate & Lyle has reaffirmed its full year earnings guidance in a six month trading statement this morning after seeing volume growth in its key sucralose business.
Updating the market for the six months to 30 September, Tate & Lyle said its specialist food ingredients business had "performed encouragingly and head of the comparative period". The division returned to volume growth in Splenda Sucralose and were significantly ahead in food systems after its Gemacom acquisition.
Bulk ingredients performed "steadily and slightly ahead of the comparative period" as the vital annual bulk sweetener pricing round remains in progress.
It also added that the process of obtaining regulatory approval for the re-alignment of the Eaststarch joint venture in Europe is now concluded and it expects to complete this transaction during the third quarter of the financial year.
"Overall, before the impact of exchange rate movements and the final timing of the completion of the Eaststarch transaction, expectations for the Group's full year performance remain unchanged," it said.
Morning update
This morning has been a little quieter than the hectic day yesterday, though all eyes remain on SABMiller and AB InBev on whether there are any more developments to the developing takeover battle after the SAB board rejected AB InBev's official offer.
Potato and daffodils firm Produce Investments has issued its final results this morning. Annual revenues fell to £178m in the year to 27 June from £192m last year, while operating profit decreased to £8m from £11.1m "driven primarily by challenging market conditions".
Chief executive Angus Armstrong commented: "The group has delivered a robust performance this year against a backdrop of highly challenging market conditions with pressure felt throughout the entire supply chain. While the market is expected to remain challenging, there are signs of a more balanced supply and demand environment and consequent improved pricing."
The FTSE 100 has opened flat this morning - just 0.03% down to 6,334.2pts. Tate & Lyle has lost 2% in early trading to fall to 568p.
Yesterday in the City
Tesco's (TSCO) shares had a bit of a bumpy ride yesterday after announcing its half year results, but ended the day as one of the FTSE 100's top risers after climbing 2.5% to 197p.
The shares fell by more than 3% in early trading as it reported that operating profits (excluding exceptional items) had halved and UK like-for-like sales were down 1.1%. However, CEO Dave Lewis was bullish about the trading momentum across the business and the shares recovered during the day to hit their highest level since mid-August.
The day's other big news was SABMiller's (SAB) board rejected a £42.15 per share offer from ABInBev (ABI) – despite the offer having the support of SAB's biggest shareholder Altria. SAB jumped above 3,750p in early trading on news of the official bid, but slipped during the day as the big rejection emerged to end just 0.3% up at 3,633p. AB InBev shares were up 0.5% to $99.18 having been above $102 in early trading.
Tesco and a recovery of mining stocks helped drive the FTSE 100 to a six week high, rising 0.2% to 0.2% at 6,336.3pts after the sixth consecutive day of gains.
However, Marks & Spencer (MKS) dropped sharply on news of a broker downgrade to "neutral" from JP Morgan, falling 3.9% to 499.1p.
Other notable movers of the day including Booker Group (BOK), down 2.2% to 181.6p, Greggs (GRG), down 2.1% to 1,134p and Ocado (OCDO), up 1.9% to 357.2p.