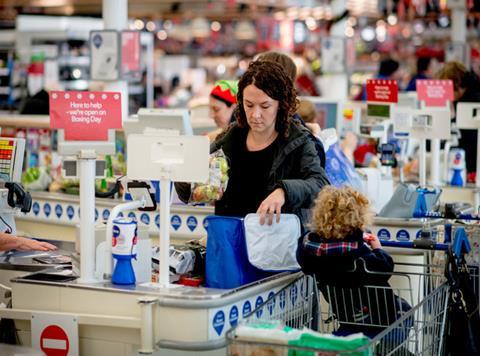 Top story
Tesco's (TSCO) growth plans are firmly "on track" after it reported a tenth consecutive quarter of growth, with group sales increases driven by its £3.7bn deal to buy Booker.
The supermarket's UK like-for-like sales rose 2.1% in the quarter to 26 May. Like-for-like sales in the companies UK and Republic of Ireland business, rose 3.5%, bumped up by Booker's strong performance.
Tesco recovered from the impact of bad weather conditions in the UK in March, with improving weather in May helping to increase sales, the supermarket said.
Group sales for the company rose 1.8% in the quarter, ahead of each quarter last year, buoyed by a 14.3% increase in sales at the newly-acquired wholesaler during the period.
Tesco said the growth at Booker was "driven by a strong underlying performance and new business wins."
Tesco chief executive Dave Lewis hailed the "initial progress" of Booker and said the group-wide growth plans were on target.
"Our growth plans are on track and we are pleased with the momentum in the business. We remain well-placed to serve our customers better and deliver on our medium-term financial ambitions," he commented.
"We are delighted with initial progress on Booker, and are focused on delivering the synergy benefits that our merger brings."
One black spot for the supermarket was sales in central Europe, which dropped 1%, despite positive growth in the previous three quarters, as regulatory changes about trading on Sundays in Poland affected sales.
The company is continuing to roll out the re-launch of over 10,000, own brand products with around 2,850 completed to date.
It added that there was further investment in price at the end of the quarter, with focus on the company's own fresh food brands.
The company said that closing Tesco Direct last month was an "essential step towards establishing a more sustainable non-food offer".
Morning update
Sales at Iceland rose 8% for the year ending 30 March 2018 driven by new store openings and improved organic growth in the fourth quarter.
Holding company Iceland Topco Limited increased like-for-like sales 2.3% for the year, adding up to a total 8% overall sales increase to £3bn.
Like-for-like sales growth for the UK supermarket over the year was driven by a strong first quarter, up 6.4% on the previous year. Sales growth waned to 2.2% and 0.3% in the following quarters, but finished the year with an improved fourth quarter.
Sales increased 1.8% for the period, which the company said was benefitted by an early Easter.
Iceland added that it suffered poor performance around the Christmas period as a results of problems within the company supply chain with inadequate supplies of best-selling lines.
The company said that it is continuing to grow in the current year but that "like-for-like sales to date are negative" because of a strong comparative quarter, and a slow period across the UK grocery market.
It said that both the first and second quarters are expected to see lower growth "than previous years" but that it sees the third quarter as an opportunity for recovery.
Earnings before tax and interest (EBITDA) dropped 1.8% to £157.1m, which the company said reflected investment into central costs and marketing over the year.
It said net capex investment increased from £65.2m in 2017 to £81.3m for 2018.
Icleands Food Warehouse arm expanded to 59 stores to 23 openings during the year, alongside 51 store refits across the group.
"This year we have continued to take a long term view and to invest for the future: expanding our store footprint, enhancing the appeal of our existing stores through a major programme of refurbishments, growing our award-winning Online business, continuing to roll out new and exciting food lines that are unique to Iceland, and developing our supply chain to support the growth of our retail estate," commented Iceland Group MD Tarsem Dhaliwal.
"To these well-established initiatives we added in the final quarter of the year a revived focus on sustainability, with the launch of our world-leading initiative to eliminate plastic packaging from our own label range by 2023."
In this week's edition of The Grocer, it's the revealed that Conviviality's retail arm went into administration with unsecured creditors of over £30m, recent Unilever purchase Pukka Herbs makes loss despite investment and strong sales, and more.
Check The Grocer's finance section later this morning for full details.
The FTSE 100 has already risen and dropped this morning and is currently just 0.1% down, at 77,60pts.
Tesco (TSCO) is up 1.7% this morning to 254.1p following its interim results, alongside other risers Marstons (MARS), up 2.4% to 101.2p and Premier Foods (PFD), up 1.7% to 39.9p.
Fallers this morning include Ocado (OCDO), down 2.3% to 1,039p, Stobart Group (STOB), down 5.8% to 251p and Paypoint (PAY) down 1.3% to 1,026p.
Yesterday in the city
The FTSE 100 had a barnstorming afternoon, moving up 0.8% for the day, despite a 50 point fall in the morning session, to rise to 7,766pts.
The ECB's decision to keep interest rates in the Eurozone on hold, means the pound has remained up on the euro, while giving up on gains against the dollar.
The Office of National Statistics released its retail sales data for May, showing a sharp increase in sales driven by warmer weather and the Royal Wedding.
Sales increased 1.3% for the month, defying expectations to generate a second consecutive month of strong growth, following a revised growth of 1.8% in April.
Fevertree Drinks (FEVR) followed yesterday's positive trend, moving up 3.8% to 3,311p.
It was also a positive day for these companies, with gains for Reckitt Benckiser (RB), up 2.5% to 6,162p, Compass Group (CPG), 2.3% to 1,623p and Sainsbury's (SBRY), up 2% to 314.5p.
Household goods manufacturer PZ Cussons (PZC) fell 5.8% to 219.4p, after indicating its recent performance has been hindered by tough trading conditions in the UK and Nigeria, as it issued a pre-close trading update to 31 May.
Unilever (ULVR) also slumped, falling 2.7% to 4,036p after it said it was "extremely" unlikely to remain in the FTSE 100 index once it consolidated its headquarters in the Netherlands after Brexit.
Other fallers yesterday included Greencore (GNC), down 2.2% to 175.9p, Treatt, down 1.7% tyo 462p and Dairy Crest (DCG), down 1.4% to 504p.