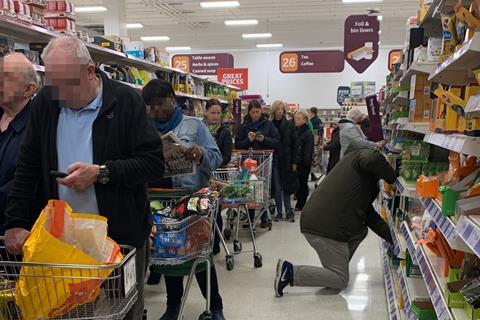 The UK grocery industry experienced its strongest four-week period on record in March, with overall industry growth of more than 20% and the sales increase of established players rivalling that of the discounters.
According to Kantar's grocery market growth figures, released this morning, year-on-year supermarket sales growth reached 7.6% in the 12 weeks to 22 March – the highest level for more than a decade.
However, the figures for the most recent four-week period to 22 March are starker still.
During that period – which saw an increase in preventative measures to dampen the spread of the coronavirus, and a subsequent spike in demand for food and everyday consumer items – total till roll sales rocketed by 20.6%, compared with 1.4% in the previous four weeks.
This growth was broad-based, with every major UK grocery player experiencing a double-digit sales uplift.
The largest sales surge by a single supermarket was Iceland, which benefited from a surge in demand for frozen goods to record a 33.8% year-on-year sales jump.
Notably, Sainsbury's (SBRY) and Waitrose (at +21.6% and +24.7% respectively) experienced similar growth to the structurally fast-growing German discounters Lidl and Aldi (27.8% and 22.1%).
Bernstein analyst Bruno Monteyne said the data suggested those supermarkets with a heavy presence in London had benefited most from the unprecedented spike in demand.
"Sainsbury's market outperformance is largely geography-based: London was growing materially faster than the rest of the country.
"Furthermore, we would expect Argos deliveries to be doing very well at the moment (as non-essential general merchandising stores are closed), which would not be captured by this data."
Fellow big four players also saw strong four-week growth, though notably lower than the overall market. Tesco's (TSCO) sales were up 17.3% on a four-week basis, with Morrisons (MRW) up 17.7% and Asda up 14.6%.
Collectively, smaller branches of the major retailers and independently-owned outlets increased their share of spend to 13.3%, growing sales by 30% compared with the same four weeks a year ago as consumers looked to shop closer to home.
The jump in convenience store sales helped the Co-op grow by 23.3% and gain share, while sales at symbols & independents grew by a staggering 45% year on year.
Shore Capital's Clive Black commented: "With the greater volume capacity, the superstores have, in the main, narrowed the sales growth differential with the German discounters throughout this period, noting the latter have the oxygen of new space, whilst capacity constrained online has predictably lagged."
Ocado (OCDO) grew its 12-week sales by a relatively modest 12.5% (compared with 10.8% in the previous 12-week period) while overall grocery spend online was 13% higher than the same period in 2019.
Black suggested the short-term boost from mass coronavirus-driven buying could already have been dissipating in the most recent week, with short-term demand likely to have lowered due to consumers stocking up.
"We could envisage more sober demand in the four weeks to mid-April, noting that this period includes an Easter where sales mix and volume may be well down year on year, with perishables being stronger.
Bernstein's Monteyne concurred: "We don't see this growth being sustained at these extraordinarily high levels (there is only so much stockpiling a household can do). Therefore, we estimate that we are at the peak of the sales uplift."
However, he also suggested the effects of the coronavirus outbreak could be supportive of supermarket sales in the longer-term.
"We still see growth in the coming months being higher than usual, albeit less so than we have seen today.
"What will continue to drive strong growth will be the channel shift as calories consumed move from out-of-home (eg restaurants, bars, schools) to in-home (eg supermarkets).
"We expect that sales growth to be around 10%. At some point in summer, we'd expect some de-stocking of pantry cupboards. This of course makes the strong assumption that there will be a single lockdown lifted by the summer."
Despite the rocketing growth recorded today, supermarket shares fell back to defy the wider market recovery as the City reacted with caution that this spike was only temporary and the newly introduced social distancing measures in-store would cap sales growth.
Tesco fell 4% to 223.9p today, with Morrisons down 2.4% to 178p and Sainsbury's down 0.9% to 208.3p despite hitting 224.8p in early trading.
| Supermarket | 12-week growth | 4-week growth |
| --- | --- | --- |
| Tesco | 5.5% | 17.3% |
| Asda | 4.9% | 14.6% |
| Sainsbury's | 7.4% | 21.6% |
| Morrisons | 4.6% | 17.7% |
| Waitrose | 7.5% | 24.7% |
| Co-op | 9.4% | 23.3% |
| Aldi | 11.0% | 22.1% |
| Lidl | 17.6% | 27.8% |
| Iceland | 11.7% | 33.8% |