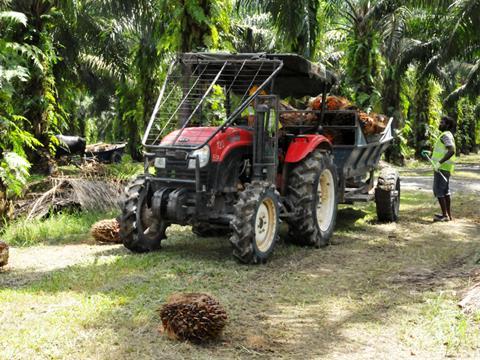 Top story
DekelOil Public (DKL) has announced it has completed the deal to buy 34.75% in its joint West African palm oil venture CS DekelOil Siva and now owns 85.75% of the project.
It bought the stake in the producing palm oil project at Ayenouan from joint venture partner Biopalm Energy.
It said: "By securing a greater proportion of Ayenouan's growing revenues and cash flows, the acquisition has the potential to accelerate the roll out of the Company's strategy to build a leading West African palm oil producer."
The remaining 14.25% of shares in the project are now subject to the second option agreement, under the terms of which DekelOil has until 20 December 2016 to buy the rest of the shares.
Lincoln Moore, executive director of DekelOil, commented: "We believe the timing of the increase in our interest in Ayenouan to 85.75% is excellent. 2016 is the second full year of operations at our 70,000 tonnes per annum extraction mill where, thanks largely to our logistics network gaining traction with local smallholders, CPO production is already ahead of the run rate achieved in 2015 which saw 35,500 tonnes produced.
"In addition, 2016 will see our kernel crushing plant make a first full year's contribution, producing value add products, while higher margin fresh fruit bunches grown from our own 1,900 hectares of mature plantations are now being used as feedstock."
Morning update
It's a quiet morning on the markets, with few company announcements of interest.
Natural resources investment firm Hunter Resources has had its shares suspended on AIM this morning due to its ongoing dispute over the Pampamali project in Peru which has been dragging on since 2014. It announced last week that arbitration efforts to secure its 51% stake in the project had so far failed and had left it short of cash.
The FTSE 100 is off again this morning, dropping 0.5% to 6,488.9pts.
Marks & Spencer (MKS) has plunged another 3.7% to 292.6p this morning. Associated British Foods (ABF) is down 2.2% to 2,617p and the supermarkets are all down, with Sainsbury's (SBRY) down 1.7% to 227.1p, Tesco (TSCO) 1.3% down to 176p and Morrisons (MRW) down 1.3% to 185.6p.
Risers so far include Premier Foods (PFD), 2.1% up to 43.9p, Hotel Chocolat (HOTC), 2.6% up to 180p and British American Tobacco (BAT), 1.2% up to 4,966.5p.
Yesterday in the City
The big news yesterday was the announcement that Sainsbury's (SBRY) is pulling its Netto joint venture with Dansk Supermarked Group and closing the 16 UK stores next month.
The move will cost Sainsbury's an estimated £10m to wind down the venture and the £20m value of the project will be written down to zero. The supermarket's shares took a 2.2% hit to close at 230.9p.
Sainsbury's was the worst performing listed supermarket, with Morrisons down 0.6% to 188p and Tesco one of the day's few risers up 0.7% to 178.5p.
It was far from the sector's worst performer though as the recent post-Brexit market recovery came to a shuddering halt.
The FTSE 100 slipped just 0.8% to 6,522.2pts, but there were a number of big fallers in the grocery/fmcg space.
Marks & Spencer (MKS) slumped 5.1% to 303.8p ahead of its Q1 trading update later this week, while FeverTree (FEVR) dropped 4.3% to 698p, Hilton Food Group (HFG) fell 4% to 550.5p. Other fallers included Booker Group (BOK), down 3.8% to 166.2p, WH Smith (SMWH), up 3.7% to 1,549p and Greencore (GNC), up 3.6% to 308.4p.
Risers include British American Tobacco (BAT), up 0.5% to 4,904.5p, Premier Foods (PFD), up 2.4% to 43p and Finsbury Food Group (FIF), up 1.8% to 113p.