Everything SABMiller does is now seen through the prism of a possible AB InBev mega-deal.
The confirmation that the Peroni brewer is to sell off its South African hotels and casino business raises the obviously question – does this make the AB InBev deal more or less likely?
Typically, the answer is rather less obvious than the question.
First the details – SABMiller announced this morning it would divest its 40% stake in Tsogo Sun, valued at around US$1.09bn (£640m), in a deal that will see around a third of the shares sold back to Tsogo Sun and the balance sold to institutional investors.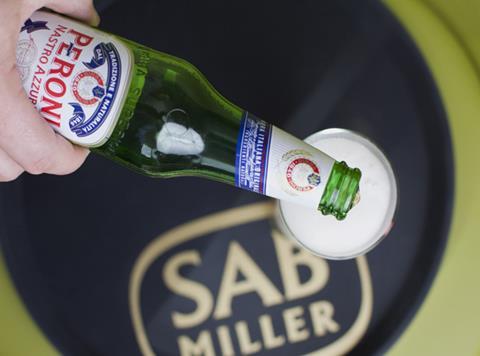 On the surface the move makes SAB more attractive for either AB InBev or its other rumoured suitor Diageo.
As chief executive Alan Clark noted: "Gaming and hotels are not core to our operations and we have concluded that the time is right for us to exit our investment… and to reinvest the proceeds in our core growth businesses."
The sell-off makes SAB a simpler, more focussed business and goes some way to easing its structural complexity, which could prove a stumbling block to any merger talk.
But that doesn't seem a story investors are buying yet. SABMiller's share price fell immediately once the market opened and was 1.2% down at 3,357p by mid-afternoon.
SABMiller's shares have rocketed so far this year – the 25% rise since February has almost entirely been off the back of bid speculation, given the subdued full-year results it reported in May.
Although the share-price fall today is modest and the sell-off had was well signposted, the market appears to think a merger is marginally less likely after the Tsogo Sun sell-off.
One possible explanation for the negative sentiment is that the brewer's hotels and gaming interests were growing at a faster rate than its overall business last year (the division saw 7% constant currency growth compared to 3% growth for the group).
Also, while the sell-off makes no difference to the size of the company (it's effectively swapping a US$1bn share investment for US$1bn cash), AB InBev could have identified divestments such as these as a way of strengthening the balance sheet once a merger was complete.
SocGen analyst Andrew Holland notes: "It's possible that ABI had that earmarked as a disposal candidate and a way of paying down debt… Now that benefit has gone to Tsogo Sun shareholders rather than ABI so it possibly makes SABMiller less of a target."
The core reason AB InBev might be interested in SABMiller – to instantly gain a dominant position in fast-growing markets in Africa – remains compelling, though such a deal is fraught with obstacles from a potential lack of Latin America synergies to SABMiller's high valuation.
Diageo six-year struggle to get its United Spirits deal over the line suggests any brewing mega-merger is likely to be far more timely and complex process than even that of brewing the perfect pint.