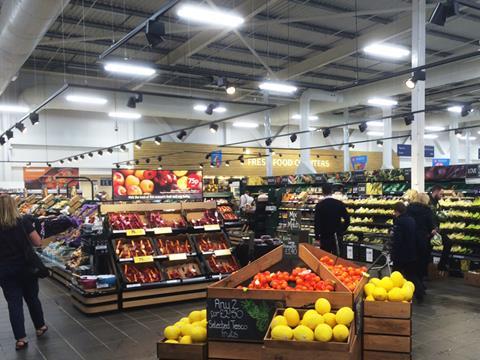 Top story
Food deflation deepened in June as the supermarkets fought it out in the fresh aisles, with fresh food prices at a nine-month low.
The latest BRC – Nielsen shop price index for June revealed that food prices were down 0.8% last month, widening from 0.3% in May.
Fresh food reported a further acceleration in its deflation rate, falling to 1.5% from 0.8% in May – the deepest deflation rate since September 2015. It comes after Tesco intensified the price war in the fresh fruit and veg section with the launch of its Farm brands early this year.
Ambient food inflation decelerated to 0.1% in June, compared with 0.4% a month earlier.
Overall shop prices reported deflation of 2% in June, deepening from the 1.8% decline in May. It is lower than the 12-month average of -1.8%. Non-food deflation fell to 2.8% in June from 2.7% in May.
Mike Watkins, head of retailer and business insight at Nielsen said that while it was good news for consumers, the falls put retailers under more pressure.
"Whilst changes in the economic landscape are anticipated next year, the current focus for the industry is the continued deflationary environment," he added. "This is good news for shoppers who benefit from falling prices but is added pressure for retailers as they balance increased costs from the national living wage and investment in multi-channel, with volatile consumer demand.
"A return to inflation is not expected just yet so it's business as usual over the summer months and encouraging shoppers to keep spending is the priority."
British Retail Consortium CEO Helen Dickinson said: "This month's figures show overall shop prices falling once again. This extraordinary 38-month run of deflation has undoubtedly been good for consumers. While it has been driven largely by falling prices for non-food items we have, from time-to-time, seen food in deflationary territory as well – which provides the real boon for household budgets. June was one of those months with food prices falling by 0.8 per cent, the deepest deflation in food for over a year.
"While the good news for household budgets continues, prices in store will eventually rise again. However, the time it takes for any price increases to make a re-appearance will depend on a combination of factors including the future value of the pound, commodity prices and any eventual impact of last week's Brexit vote on input costs. That said, there won't be any instant shocks as any changes will take time to feed through. Continuing fierce competition also means that putting up prices may not be viable for some retailers. For now, and for the short term at least, the good news for consumers is set to continue."
Morning update
Booker Group (BOK) has reported a solid first quarter in a trading update ahead of today's AGM. Revenues at the wholesaler for the 12 weeks to 17 June increased by 10%, including Budgens and Londis, but like-for-like sales (excluded the impact of the deal) fell 2.9%.
Booker Wholesale with Makro, the group's cash and carry business, had a good quarter for customer satisfaction and cash profit, CEO Charles Wilson said. But non-tobacco sales reduced by 0.7% on a like-for-like basis. "These sales were impacted by deflation in food prices and many customers reporting weak consumer demand during the period."
Tobacco sales continued to be hit by the ban on small stores displaying tobacco products, falling 7.7% like-for-like.
Wilson added: "Booker Group continues to make good progress. Our plans to focus, drive and broaden Booker Group are on track. Budgens and Londis joined the group last September and are making a solid contribution. We continue to enhance choice, price and service for our retail, catering and small business customers and look forward to growing with them in the year ahead."
Stevia producer PureCircle (PURE) said it expects sales in the year to 30 June to be not less than $138m, an increase of 9% on the previous 12 months. Margins were also expected to have strengthened "considerably" with EBITDA of $37m, compared with $23m in 2014/15, an increase of 60%. The listed group did not estimate the impact of the shipments detained by US Customs in June amid allegations of slave labour in the supply chain. However, the shipments have now been released for import into the US. PureCircle also appointed Rakesh Sinha as CFO to take over from William Mitchell who is retiring today after eight years with the business.
CEO Magomet Malsagov said: "During FY16 the market for PureCircle Stevia has continued to develop strongly with favourable regulatory developments and continued roll-out of ever larger food and beverage brands using stevia. Significant milestones in the year include the approval of high purity stevia in India and Brazil, Rebaudioside M approval in Europe and the launch of our Zeta family of new ingredients, closing the taste gap for low or no calorie applications and opening up new F&B categories adoption of stevia.
"These developments underpin our confidence in the long-term prospects for our business and support the investments we are making to increase production capacity and further product innovation.
"Our business model is robust so that we are confident that as sales increase we will report improved profitability. But as stated in prior reports, the trajectory of our sales growth will be uneven and is dependent on the pace and extent of customers' product launches hence we caution that there will be continued volatility in the development of our business."
Hilton Food Group (HFG) has signed an agreement with Modelo Continente Hipermercados (Sonae) to supply retail packaged fresh meat into stores in Portugal. It is expected to lead to the formation of a joint venture with Sonae in "due course". Hilton will cooperate with Sonae for an initial period of six to nine months to improve the production facilities in Portugal.
CEO Robert Watson said: "This is an exciting growth opportunity for Hilton Foods to work with Sonae, Portugal's leading food retailer, utilising our tried and tested business model in the Portuguese market. As we have previously demonstrated, our flexible and versatile business model enables us to meet local requirements with customers in each country and as such, we are able to enter new territories successfully. We continue to look for further opportunities for geographic expansion."
Moody's has changed the outlook on Premier Foods' (PFD) B2 rating to stable from negative.
Eric Kang, lead analyst for Premier Foods at Moody's, said: "We expect Premier Foods to be able to achieve sales growth in the low single percentage digit in 2016/17 but caution that EBITDA growth will be constrained by its increased consumer marketing spend while resuming its pension contributions will affect its cash flow generation."
PureCircle shares have fallen 1.1% this morning following the pre-close trading update to 324.5p. The market was kinder to Booker despite a drop in like-for-like sales with the share price up 0.5% to 165.2p. Hilton Food Group shares opened strongly on news of a possible jv with a Portuguese food retailer, up 2.3% to 564.50p. Premier Foods also nudged up 1.3% to 42.1p.
The FTSE 100 has also opened 0.3% up at 6,564.23 points.
Yesterday in the City
Sainsbury's fell another 3.5% yesterday to 222.9p as the markets digested what the exiting from Netto to concentrate on the Argos deal meant for the supermarket.
B&M Bargains (BME) had an even worse day as the stock slumped close to 5% to 239p after Jefferies downgraded it to 'hold' in the wake of Brexit.
Greggs (GRG), WH Smith (SMWH) and Associated British Foods (ABF) all lost ground, down 3.8% to 927p, 3.1% to 1,501p and 2.8% to 2,599p respectively.
Again it was the big global players who continued to make gains, with British American Tobacco (BAT) climbing 2.3% to 5,017p, Unilever (ULVR) up 2.2% to 3,676p and Diageo (DGE), which revealed it had took a minority stake in a small non-alcoholic drinks brand, up 2% to 2,142p.
The FTSE 100 ended the day with its head just above water – rising 0.4% to 6,545.37 points – after spending most of the morning trading in the red.