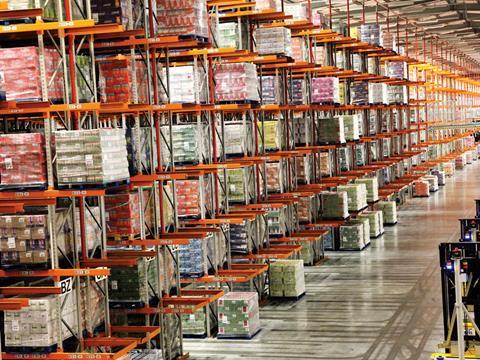 The government is considering requests from food and drink leaders and the wider insurance industry to underwrite trade credit insurance to keep supply chains moving during the coronavirus crisis.
The Association of British Insurers confirmed to The Grocer it was in discussions with the government over "temporary state support" for the trade credit insurance in light of the likelihood of a "severe reduction" in available cover.
It is also understood that the possibility of the government underwriting trade credit insurance has been raised by food and drink industry leaders in meetings with government in recent days.
Trade credit insurance covers businesses if their customers fail to pay debts, either within the timeframe of the payment terms or entirely in the event of an insolvency.
Given that the food and drink industry is a major supplier to restaurants, pubs and other food-to-go outlets shuttered by the crisis, the sector is one of those particularly affected by a wider reduction in trade credit cover or a hike in its cost.
A spokeswoman for the ABI explained: "Insurers work closely with their customers, discussing with them where credit limits can be adjusted to help avoid bad debts. But this cannot happen where there is likely to be a sharp rise in insolvencies across many business sectors, such as from Covid-19. This means that the availability of this cover is likely to be severely reduced in the future."
"We want to avoid this, so we are discussing with the government the scope for temporary state support to ensure that businesses can continue to obtain cover that meets their needs."
The ABI is calling on the government to follow models already put in place during the crisis in countries such as Germany, the Netherlands and Belgium, where states are supporting firms to maintain supply chains through a reinsurance scheme.
"This would see insurers continuing to offer cover, with limited reduction in credit limits to customers, with the government acting as a reinsurer of last resort," the ABI spokeswoman said.
In discussions with food and drink industry leaders this week, the government is understood to have said it is "considering" such a request.
Given that many European governments are already underwriting trade credit in their respective nations, there are concerns UK companies will be significantly competitively disadvantaged if the government does not step up to lend support.
In particular, SMEs, which typically have lower cash reserves and less ability to absorb debtor defaults, are likely to suffer without government aid.
"The whole purpose of trade credit insurance is to keep the wheels of commerce turning – if that is withdrawn or in doubt that will not help keeping those wheels of commerce turning in any sector," said Andrew Kuyk, director general of the Provision Trade Federation, which is part of the wider Food & Drink Round Table group in regular discussions with government.
He pointed out that a lack of (or prohibitively expensive) trade credit insurance was already affecting those food and drink manufacturers that had lost business with foodservice clients and were trying to forge new commercial relationships.
"The real issue is one of confidence, because having that insurance in place gives people the confidence to continue doing business," he said.
"Our view is that government could do some underwriting of this, which would restore confidence. If all goes smoothly there won't be a need to call on that underwriting because there won't be a problem, but having that safety net there makes it less likely a problem will arise."
Another senior industry source stressed that the situation could continue to have a deep impact on the industry even after the lockdown is eventually eased.
"What happens when the food and drink industry returns to supplying hospitality and are faced with a refusal to insure those transactions, on the basis that hospitality is clearly a bigger risk?
"The danger is that even when we've got through the lockdown this could take down not only those who had underlying financial health issues, but some who are otherwise successful."
The requests for government intervention come amid widespread reports of companies being denied payouts under business interruption policies.
Standard business interruption insurance policies do not cover companies for disruption caused by a pandemic, but even some companies with policies specifying coverage in relation to the outbreak of an illness are finding insurers will not pay out.
A number of insurers are facing potential legal action for failure to pay out on business interruption policies, including insurer Hiscox. It told The BBC: "Business interruption policies across the industry were never intended to cover pandemic risks."
Hiscox is refusing to pay out despite policies stating it will cover losses for businesses unable to use premises due to "an occurrence of any human infectious or human contagious disease, an outbreak of which must be notified to the local authority".
An insurance industry source suggested trade credit payouts were likely to be less contentious as there were typically fewer exceptions within policies – albeit the test of such policies would only be once businesses' clients have already breached payment terms. As such, the current level of credit insurance claims remained relatively low.
Speaking on the issues of both trade credit and business interruption insurance, Dick Searle, CEO of The Packaging Federation, told The Grocer: "Of course we understand the insurance industry is under huge pressure itself and so the only answer, frankly, is a degree of government intervention."