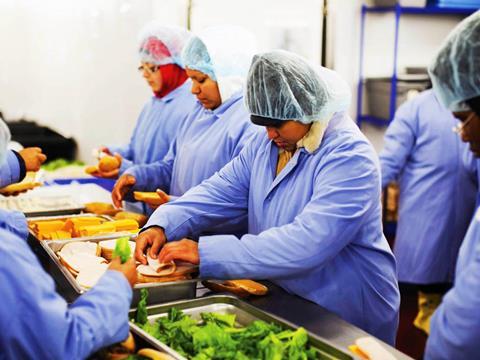 Top story
Greencore (GNC) has increased sales 5.2% to £1.34bn in the year to 25 September as its strategy to focus on food-to-go pays off.
The Irish sandwich maker said the investment behind food-to-go in the UK and US resulted in 10.4% like-for-like revenue growth, which was "well ahead" of market performance.
The convenience foods division, which also manufactures ready meals, recorded turnover of £1.29bn, up 6% like for like. Group operating profit was up 10.6% to £91.7m as a result of the growth in the top line.
CEO Patrick Coveney said: "Greencore has had another strong year and our clear food-to-go led strategy has continued to drive growth in both the UK and US markets. We delivered 6% like-for-like revenue growth in convenience foods, 11% group operating profit growth and our fifth consecutive year of double-digit growth in adjusted EPS.
"We increased our investment in major capacity and capability improvement projects during the year, in each case underpinned by long-term customer relationships. Our strategy, momentum and pipeline of opportunities leave us well placed to deliver further progress in FY16 and beyond."
Greencore also announced extra investment in its Northampton site, where it makes sandwiches for Marks & Spencer, this morning. As a result of unexpected demand at the new £30m facility, with projected future volumes higher than expected, the group this morning said it had commissioned an additional manufacturing unit at the cost of £12m. The unit will start production in Q2 of the 2017 financial year.
Despite the positive results Greencore shares opened 2.3% down at 312.9p.
Morning update
Rival ready meal giant Bakkavor also announced sales growth this morning, with revenues climbing 3% to £419.9m in the third quarter to 26 September. Like-for-like figures were up 2%, with the group attributing the growth to a strong performance in the international business. Adjusted EBITDA in the period jumped 16% to £35.9m CEO Agust Gudmundsson said: "The group has reported an excellent set of results with revenue growth, margin improvement and strong cash conversion. We expect trading conditions to remain challenging, particularly due to intense retailer competition. However, we approach the Christmas period with good momentum and we remain confident in our strategy for the future."
Compass Group (CPG) has increased revenues 5.8% to £17.8bn, with operating profit before restructuring up 6.7% to £1.3bn, in the year to 30 September. The performance at the contract foodservice, cleaning, property management and support services company was driven by a strong year in North America with sales up 7.9%. It also accelerated growth in Europe and Japan – revenue up 1.9% in the year – with emerging markets growth of 11% offsetting weakness in Australia. Our expectations for 2016 are positive and unchanged. CEO Richard Cousins said: "The pipeline of new contracts is strong, and the savings from the restructuring, together with the margin improvement in the rest of the group, are expected to offset the impact of lower volumes and pricing pressures in our fast growing and emerging region."
John Menzies (MNZS) has warned its full-year earnings are expected to be about £2m lower than previous forecasts as a result of operational issues in the aviation division. However, the group added in the trading update for the 10 months to 30 October that the distribution business was delivering ahead of forecast, with the impact of print media declines expected to be fully mitigated in this financial year. CEO Jeremy Stafford said: "During a busy period of transition, we continue to progress with the group's strategic objectives. Our Distribution business is quickly gaining traction in the UK e-logistics market, whilst continuing to deliver cost and cash improvement initiatives."
Stevia producer PureCircle (PURE) put out a short statement to notify the market that the Food Safety and Standards Authority of India has approved the use of high purity steviol glycosides, extracted from stevia leaf, in major food and beverage categories, including dairy, beverages and table top sweeteners. "This means effectively the India market is now open for high purity stevia to be used as an ingredient in food and beverage products," the group said.
Yesterday in the City
The FTSE 100 was dragged down by the three listed grocers yesterday ahead of Black Friday at the end of the week.
Tesco (TSCO) and Morrisons (MRW) both fell to new lows of 165.1p and 152.3p respectively, with the stocks two of the biggest fallers in the blue chip index (down 3.7% and 2.7%). Tesco had made gains last week after a broker upgrade from Citi but fell out of favour yesterday as investors got wind of a rights issue speculation. Morrisons is in serious danger of losing its place in the FTSE 100 if it doesn't improve the share price soon.
Sainsbury's (SBRY) fell 1.6% to 249.6p, with losses also coming for Marks & Spencer (MKS), down 1.2% to 508.5p, and Primark owner Associated British Foods (ABF), down 1.3% to 3,470p.
The FTSE 100 closed 0.5% down at 6,305 points as a result.
Poundland (PLND) shares took another pounding yesterday, slumping another 4.3% to 216p. The stock is now down almost 23% since the half-year results last week showed the multitude of challenges facing CEO Jim McCarthy.
Sandwich and read meal maker Greencore (GNC) fell back 1.3% to 320.2p ahead of this morning's full-year figures.
WH Smith (SMWH) was one of the few retailers in the black yesterday after climbing 0.5% to 1,666p, joined by online grocer Ocado (OCDO), up 2% to 358.8p. Ocado benefitted from a broker upgrade by UBS.
Premier Foods (PFD) also rose 1.3% to 40p after investment bank Investec lifted its target price to 54p following the better-than-expected second quarter two weeks ago.