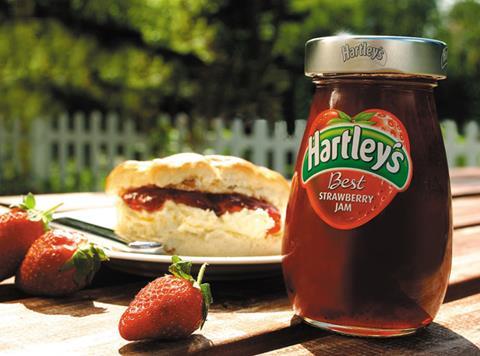 There's still been no confirmation of a Sky News report last week linking US food player Hain Celestial with a sale of its Hain Daniels portfolio of UK assets (including Robertson's marmalade, New Covent Garden Soup, Yorkshire Provender and the Linda McCartney's ready meals business) to private equity group PAI Partners, but it has sold two other businesses this week - baking and chocolate brands Arrowhead Mills and SunSpire went to Hometown Foods for $15m.

The activity - and rumours - follow Hain Celestial's sale of its Tilda rice brand for £280m in August in an effort to 'reduce exposure' to Brexit and the risk of a further crash in the pound. The divestment of Hain Daniels would represent a further retreat from its global business as part of a strategy to refocus on its US brands.

Hain shares were trading at around $55 when it revealed an internal accounting probe in 2016 that caused it to avoid posting results for over a year while the investigation was completed. Subsequently, activist investor Engaged Capital built up a stake that has now grown to 12.3% and is behind the push to shake up the business.
Last month Hain announced a 10% drop in group-wide fourth quarter net sales, while in the UK fourth quarter net sales also dropped 10% as sales dropped 14% at Hain Daniels and 7% at Ella's Kitchen.
Hain has so far sold off Pure Protein business to private equity firm Aterian Investment Partners for $80m and its WestSoy tofu business to Keystone Natural Holdings.
One City observer suggested every Hain asset was in effect for sale for the right price, commenting: "They had too many businesses which are sub-scale and are retreating down to core areas".

Hain shares are down 23% year on year to $20.11 as it continues its asset sales, while the shares are down 51% on a two-year basis and 80% on a five-year time horizon.

Elsewhere, Stock Spirits Group shares dropped a further 8.5% to 210p despite an upbeat pre-close trading update reassuring the market it was on target to hit full-year expectations.

It said the Polish and Czech spirits markets, which together deliver approximately three-quarters of the group's revenue, continued to show growth and its business continued to "perform well" in both regions.
One significant blot on the landscape is forthcoming legislation in the Czech Republic proposing a 13% increase in excise tax on spirits from 1 January 2020. Stock Spirits said it is "implementing a range of necessary actions ahead of this change". It is also appealing a judgement from the Polish tax authorities against its 2013 corporate income tax return for its subsidiary Stock Polska, which it "considers it likely that it will ultimately be successful" when the appeal is heard next year.
The shares had hit year-long highs of 241p in mid-September and remain up 5.5% year on year.