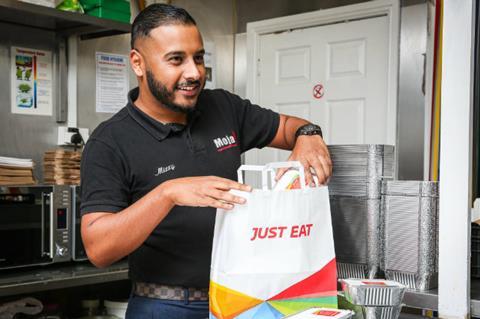 Top story
Just Eat (JE) has agreed to partner nationwide with McDonald's in the UK and Ireland to become the fast food chain's second exclusive delivery partner for McDelivery.
The partnership, which will be implemented during 2020, follows the announcement of a similar deal between Just Eat and Greggs.
Interim CEO Peter Duffy said: "This partnership, along with our recently announced relationship with Greggs, will require significant investment but will accelerate our growth ambitions and enhance our market position by offering our customers the widest choice available."
Meanwhile, Just Eat said it ended 2019 in line with the board's expectations.
The delivery firm guided for uEBITDA of around £200m and revenues of £1bn.
UK order growth in 2019 was 8%, while in order markets the company experience good momentum in Australia, Italy and Switzerland.
"We are pleased to confirm uEBITDA towards the top end and revenue broadly in line with the guidance range we provided at the start of 2019, notwithstanding the significant developments during the year," Duffy added.
Just Eat shares opened 0.4% higher at 859.20p.
Morning update
PZ Cussons (PZC) profits jumped 35% in the first half to November 30 despite a setback in revenues.
The consumer products group saw pretax profits rise to £34.7m compared to £25.8m a year ago due to exceptional profits realised on the sale of its Greek business, while turnover dipped 3.1% to £293.3m due to challenging market conditions across "key geographies".
On an adjusted basis, profits fell 13% to £28m resulting from losses in Nigeria and lower profits in the UK and Australia.
Looking ahead, the company expects a stronger second-half profit "subject to no further worsening of the economic and trading environments" across key markets.
Assuming the return to stability in the UK, increased revenues in the US Beauty business driven by investments and a return to stability in Australia and Africa, full-year revenues and profits are expected "modestly below prior year", the business added.
Chair Caroline Silver said: "The Group's adjusted results for the first half of the year were impacted by challenging market conditions across our key geographies.
"We were pleased to see that the performance of our Focus Brands was stable overall compared to prior year. Our investment remains targeted towards these Focus Brands and this will continue in the second half of the year. We have started to restructure our portfolio of activities, disposing of our business in Greece and agreeing the sale of our Polish brand. Further portfolio reshaping is underway and initiatives to improve our operating efficiency are being implemented at pace."
PZ Cussons shares opened 0.2% higher at 195p.
Greencore Group (GNC) has reported "steady progress" in the first quarter of its financial year.
The convenience foods manufacturer saw sales up 1.8% to £367.8m in the 13 weeks to December 27 despite what "continued to be a challenging trading environment".
On a pro forma basis, adjusting for acquisitions and site exits, revenues increased by 0.7% in the quarter.
Sales in the food-to-go categories jumped 4.5% to £240.9m reflecting the impact of Greencore's acquisition of Freshtime, which performed well during the quarter.
Sales in the convenience food categories however, slumped 3% to £126.9m in the period reflecting the exit from longer life ready meals manufacturing at the Kiveton facility in 2019.
Looking ahead, Greencore said it started the year in line with its plans and continues to expect a year a "profitable growth in 2020".
CEO Patrick Coveney said: "We continue to make good strides in the diverse, attractive and growing UK food to go market.
"Our strategy to drive growth, to deepen customer relevance and to pursue a distinctive and repeatable way of working is well embedded across the business. Following a steady start to 2020, we look forward to delivering a year of profitable growth."
Greencore shares opened down 0.3% at 247.50p.
AG Barr (BAG) has said it expects adjusted annual profits for its recently-ended financial year to be at the top end of market expectations to reach £37m.
Revenues at the Irn-Bru manufacturers are however expected to fall to £255m from £279m a year ago.
The company faced a combination of challenging trading conditions during the year ended January 25, including having adjusted its promotional and pricing position to align with the market.
"While this had an expected impact on volume, it has delivered an increase in average realised price, re-establishing our consumer pricing position," AG Barr added.
The business said it is now implementing recovery plans for its Rockstar and Rubicon beverages while, Irn-Bru returned to growth in the final quarter and Funkin continued to perform strongly.
CEO Roger White said: "Our focus remains the delivery of long-term value growth. We are taking action to reset our business and we enter the new financial year with confidence and a strong trading plan."
AG Barr shares opened up 14% at 621p.
The FTSE 100 opened 0.4% higher at 7,437.72 recovering from last night's slump.
Early risers included Unilever (ULVR) up 1.2% to 4,480.50p, Ocado (OCDO) up 1% at 1,294p and Britvic (BVIC) up 0.7% at 898.50p.
Fallers saw Diageo (DGE) open down 0.8% at 3,167p and Hilton Food Group (HFG) down 2.9% at 1,006p.
Yesterday in the City
The FTSE 100 closed down 2.3% at 7,412.05pts as fears of an outbreak of the Coronavirus in China prompted a sell-off on global stock markets.
As the index was mostly red-coloured, Ocado (OCDO) shares dropped 2.8% to 1,281p, Sainsbury's (SBRY) fell 2.7% to 204p, Morrisons (MRW) closed down 2.7% at 182.60p WH Smith (SMWH) down 3.2% at 2,462p, SSP Group (SSPG) down 2.7% at 640p and Marks & Spencer (MKS) dropped 2% to 180.85p.
Among the few risers, Bakkavor (BAKK) closed up 2.2% at 136.80p and Naked Wines (WINE) 0.8% at 220.75p.