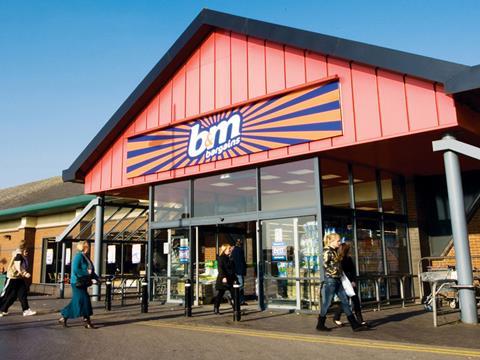 The coronavirus crisis has helped propel B&M Bargains owner B&M European Value Retail into the FTSE 100, six years after making its stock market debut.
The FTSE's quarterly review on Wednesday confirmed B&M will take the FTSE 100 place of beleaguered broadcaster ITV. That's thanks to the bargain retailer growing throughout 2020 despite Covid-19 savaging the wider retail sector.
B&M has grown its market capitalisation to £4.8bn since its 2014 IPO and is up by about 16% so far this year, as the vast majority of its estate was able to continue trading during lockdown.
B&M's sale of food, drinks and toiletries saw it named an essential retailer, meaning the chain decided to shutter just 49 stores from its estate of 656.
During the lockdown period it experienced a sales surge driven by a boom in DIY and gardening sales as rivals such as B&Q and Homebase were forced to shut their physical store estate.
The retailer revealed in July that B&M UK fascia like-for-like revenues had soared by 26.9% in its first quarter to 27 June despite a drop in customer numbers.
Its elevation comes 15 years after it was bought by the Arora family, who acquired the business when annual sales were just £65m with 21 stores.
Analysts at Barclays said the FTSE 100 elevation was "an impressive milestone" and that its strong 2020 was likely to continue. "From here, the key targets for B&M would appear to be delivering on the long-term target of more than 950 UK stores and firmer evidence that the concept can work outside the UK," the broker said.
B&M's share price growth has continued despite its retreat from Germany, where it was forced to sell its loss-making Jawoll business for just £10.8m in March this year.
The retailer will become a member of the FTSE 100 on 21 September.
Elsewhere, The Hut Group has confirmed the £4.5bn London flotation it announced last week. The company will list new shares worth about £920m, valuing the online retail platform and owner of beauty and nutrition brands at £4.5bn.
It said on Thursday it had received the £565m of backing from "cornerstone investors" to underpin the float, set to complete later this month.
The IPO has already raised a commitment of £300m from BlackRock, £100m from Henderson Global Investors, £90m from Merian Global Investors and £75m from Qatar Investment Authority.
THG said the offer would further support its growth plans by increasing its public profile and brand awareness, as well as providing a base of long-term shareholders, while also providing potential liquidity opportunities for shareholders.