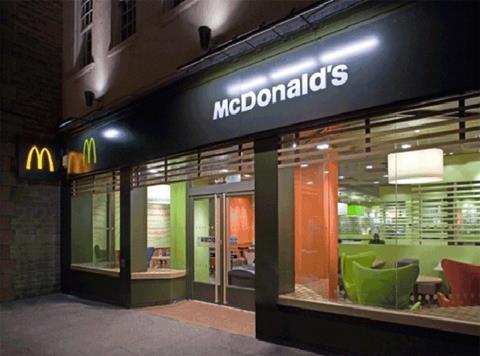 McDonald's has recorded positive sales growth despite concerns in the casual dining sector, and committed to recruiting 1,000 new managers in UK stores.
The company's global sales at stores open for at least one year – so-called 'comparable store sales' – grew by 5.5% for the first-quarter of 2018, topping analysts' estimates.
Growth was strongly driven by the international market, after comparable sales in its 'international lead' area increased by 7.8%.
The company said that positive growth in established international areas was primarily driven by good performances in the UK and Germany.
McDonald's UK today announced that over the next six months it will be employing a further 1,000 managers in its business, with many being promoted through the company.
"We have enjoyed an excellent start to 2018, thanks to ongoing investment in our restaurant experience and our people, delivering 48 consecutive quarters of sales and guest count growth," said Paul Pomroy, chief executive of McDonald's UK.
"We enter Q2 with considerable momentum, so I am pleased that we have been able to continue to invest in our people.
"Over the next six months we will need another 1,000 restaurant managers – many of whom will progress from within our business. From kitchen to counter to front of house, our people make McDonald's."
The fast-food chain says it has benefitted in the UK as a result of investment in technology and refurbishment in its restaurants, as well as its delivery service. The McDelivery service, which covers 270 restaurants, has been used by "one million unique customers" in the UK since its launch last year.
In the US, comparable sales grew by 2.9% in the quarter, largely the result of increased menu prices.
The business recorded 4.7% growth in what it describes as "high growth" areas, led by good performances in China and Italy but this was offset by "challenges in South Korea".
Globally, customer numbers increased by 0.8%, which McDonald's president and chief executive officer Steve Easterbrook said was the fifth consecutive quarter of increased customer growth.
"We continued to build upon the broad-based momentum of our business, marking 11 consecutive quarters of positive comparable sales and our fifth consecutive quarter of positive guest counts," he commented.
"More customers are recognising that we are becoming a better McDonald's, appreciating our great tasting food, fast and friendly service and compelling value as we execute our velocity growth plan."