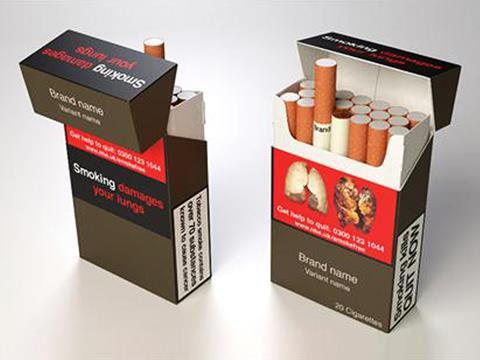 Big Tobacco is considering a last-ditch attempt to halt the introduction of plain packaging in Britain after its latest legal challenge was thrown out yesterday, writes The Times. The Court of Appeal rejected a plea by three of the world's biggest manufacturers to overturn May's High Court judgment in what health campaigners called a "crushing defeat" for the industry (The Times £). Tobacco giants will continue to oppose the regulation despite a second legal defeat. The exception to the industry-wide defiance is PMI, which said in May that it would focus on developing its smoke-free products rather than fight the case. (The Telegraph)
Motorists face paying £5 more to fill up an average family car after a Saudi-led cartel struck a rare deal to boost the price of oil. Oil prices jumped by 8.9% to $50.45 a barrel yesterday after Opec, which pumps a third of the world's oil, agreed to limit output for the first time in eight years (The Times £). Oil shares soared after an historic deal to cap production was hammered out (The Daily Mail)
Camelot, the operator of the UK's National Lottery, has been the target of cyber hackers who accessed the accounts of thousands of online customers. The company said no financial information or money was stolen during the incident. (The Financial Times £)
Greene King reported record first half sales, boosted by its acquisition of rival Spirit Pub Company, but warned that the UK's exit from the EU would knock consumer spending. The company flagged concerns over the impact of the Brexit vote and forecast that government initiatives such as the national living wage, minimum wage and proposed increase in business rates would push up costs and therefore hit margins within the hospitality industry. (The Financial Times £)
Rooney Anand, the chief executive of Suffolk-based company has been outspoken over the risk posed by the UK's exit from the European Union, and on Wednesday he piled on further warnings over rising cost pressures while likening the coming years to the downturn that followed the 2008 financial crisis (The Telegraph). Pub group Greene King has reached record sales as its takeover of rival Spirit Pub Company begins to bear fruit (The Daily Mail).
Meanwhile, the chief executive of Britain's biggest pubs group has apologised for a mistake that led to the bank details of more than 2,000 employees being emailed to computers across its network. Anand called it "a very unfortunate human error" and said that the company, Greene King, was "very, very sorry it happened". (The Times £)
Britvic, the British soft drinks group, has sought to reassure investors about higher costs by announcing new savings to combat inflation, alongside a 10 per cent increase in annual pre-tax profit (The Financial Times £). Britvic's battle to cut the sugar from its soft drinks in the face of a new tax has paid off this year with higher sales of its sugar-free fizzy drinks - although its reformulated Robinsons brand failed to cut the mustard with consumers (The Telegraph).
Supermarket shoppers can pick up everything they need for Christmas dinner for eight people for less than £20 this year, a survey has found. The cost of buying 11 Christmas dinner essentials – including a turkey, plum pudding, fresh vegetables and cranberry sauce – comes out at £19.82, or £2.48 a head, after shopping around for the best prices at Aldi, Lidl, Asda, Morrisons and Iceland (The Guardian). The survey found that of the 11 ingredients tracked, six have gone down in price - including turkey - while three remained the same as last year. (Sky News)
Brussels is this week expected to confirm a crackdown on hordes of overseas firms that are together shipping 150m small parcels a year to European online shoppers without charging VAT – often illegally. (The Guardian)
Nestlé said it had found a process to naturally reduce sugar content by as much as 40 per cent in what the maker of Kit Kats claims is a first for the industry, as pressure to produce healthier drinks and snacks ratchets up amid an obesity epidemic. (The Financial Times £)
Global firms behind popular brands such as Kit Kat, Colgate toothpaste and Dove cosmetics use palm oil produced by child workers in dangerous conditions, Amnesty International has claimed. Singapore-based Wilmar counts multinational companies including Kellogg's, Unilever, Colgate-Palmolive, Reckitt Benckiser and Nestlé among its major clients, according to Amnesty. (The Guardian)
The UK farm and food industries are demanding tariff-free access to the single market post Brexit. Farming unions and leading supermarkets have made the call to the Government in an open letter, published in the Times newspaper. (Sky News)
Disgraced retail tycoon Sir Philip Green came under fresh pressure yesterday to sort out the BHS pension crisis. More than 100,000 people have signed a petition calling on the billionaire to pay up to avoid hurting the former workers. (The Daily Mail)
China is calling for a clampdown on its companies' debt-fuelled shopping sprees. China's State Council is planning to tighten restrictions for cross-border deals worth more than $10bn (£8.1bn) and scrutinise state owned enterprises (SOEs) investments over $1bn in foreign property deals. (The Telegraph £)
Changing weather patterns could see Britain become a major wine producer and exporter by the turn of the century, according to a study. An increase in rainfall and temperature look set to transform parts of the UK into perfect growing environments for a number of grape varieties. (Sky News)
Coca-Cola and its Palestinian bottling franchisee have opened the US beverage group's first production plant in the Gaza Strip, marking a rare foreign manufacturing investment in the Israeli-blockaded, conflict-prone coastal territory. (The Financial Times £)