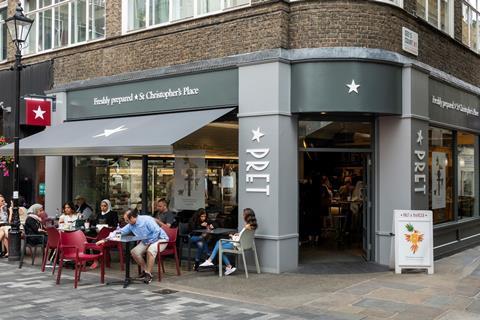 Pret A Manger has called in consultants to help overhaul its fast food business model as its core customer base of commuters remains working from home – the chain has already started selling groceries alongside its sandwiches and drinks, and launched a range of coffee on Amazon this month (The Financial Times £).
Pano Christou, the chief executive, said he had called in Alvarez & Marsal, the professional services company, and CWM, a property agent, to help overhaul its business model as its customer base of commuting office workers remain working from home (The Telegraph). Pret A Manger has hired consultants to help it renegotiate its rents as it seeks to mitigate the devastating impact of the coronavirus pandemic (The Times £). Pret a Manger, one of Britain's biggest fast-food chains, is to hold crunch talks with landlords as it prepares for a permanent shift in footfall in the city centre locations where its brand has become a ubiquitous presence over the last 25 years (Sky News). More than 300 of its 400 stores will have reopened as of next week (The BBC).
Fast-food chains Leon and Pret A Manger are demanding rent cuts from landlords as the restaurant industry fights for its life. (The Times £)
Morrisons is set for a showdown with shareholders over executive pension payouts after an influential advisory group urged investors to vote against the supermarket's pay policy (The Times £).
Tesco is facing a shareholder revolt after the supermarket chain inflated executive bonuses by axing Ocado from a list of companies used to assess its performance against. (The Times £)
Simon Roberts today officially takes the helm of Britain's second-largest supermarket a, Sainsbury's, mid a public health crisis that is plunging the UK into a deep recession. He faces a tough balancing act navigating a public health crisis as he succeeds Mike Coupe as CEO. (The Telegraph)
Shares in coffee group JDE Peet's climbed more than 12% in its first day of trading, after it raised €2.25bn to complete Europe's biggest initial public offering since 2018. (The Financial Times £)
The FT's Lex column writes: "You have to hand it to JAB. Pulling off Europe's biggest IPO since 2018 on the back of a three-day virtual roadshow is quite something. Even more impressive is the feat of selling shares in coffee shops when most of them are closed. Are the buyers of shares in JDE Peet's similarly astute?" (The Financial Times £)
Greggs is forecast to slump to a £58m loss this year as the effects of the lockdown and social distancing hit demand for its sausage rolls and sandwiches. (The Telegraph)
PizzaExpress is planning to launch a pasta brand to bring in extra revenue amid negotiations over its large debt pile and the possible closure of some of its restaurants (The Financial Times £). Restaurant chain Pizza Express is planning to launch a pasta delivery service as it scrambles to bring in sales during the virus crisis (The Telegraph).
Nestlé is to change the name of its plant-based "Incredible Burger" to "Sensational Burger" in European markets after a Dutch court granted an injunction filed by US start-up Impossible Foods. (The Financial Times £)
Discount retailer B&M has said exceptionally strong demand for DIY and gardening products in the coronavirus lockdown drove a 22.7% jump in underlying UK sales over the last eight weeks (The Guardian). Discount retailer B&M has benefited from rising demand for DIY and gardening products during lockdown as it kept most of its stores open while many rivals shut them all down (The Daily Mail). A surge in demand for DIY and gardening products during lockdown saw the tills ringing at discounter B&M Bargains (Sky News).
A Canadian investment group has disclosed a 7.3 per cent stake in British Land in the latest example of an opportunistic purchase of shares in a UK-listed property company. (The Times £)