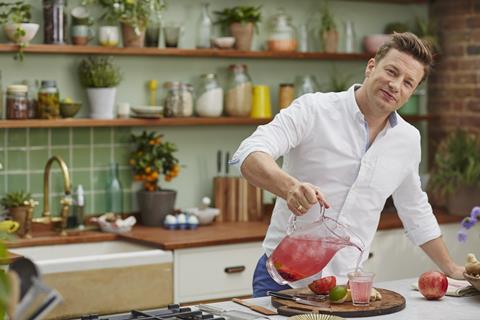 Celebrity chef Jamie Oliver has received a £5.2m dividend payout from its restaurant chain despite falling profits and the collapse into administration of its UK arm. Across the wider Jamie's Italian group, profits were down to £8m in 2018 from £14.7m due to costs associated with the administration (The Financial Times £). Jamie Oliver Holdings, of which Oliver owns 100% paid a dividend of £2 million and Jamie Oliver Licensing declared a dividend of £3.2 million (The Times).
Sales however, rose to £43.5m with the company, which includes Oliver's publishing, licensing, TV and restaurant interests delivering a "resilient performance" (The Guardian).
Oliver's dividend payment was down from £8.6m a year ago, it covers image licensing, publishing and overseas interests. The chef plunged £25m of his own money into the UK division of its restaurant chain earlier this year in an attempt to save it from failing (The Telegraph).
Waitrose is scrapping its yellow sticker reduction bays in some stores this week to "help staff manage stock and reductions more efficiently" (The Guardian). However, quoting an anonymous Waitrose worker, The Times claims that the stress of managing customers behaviour around bargains had become "too much" (The Times).
Criticism sparked among health organisations, including WHO and the NHS, against research from an international team led by Professor Bradley Johnston at Dalhousie University in Halifax, Canada, which concluded that those who like red or processed meat should not stop eating it on health grounds as it does not cause higher risk of cancer (The Guardian).
The researchers continued stating that any potential health benefit from cutting red meat will be offset by the "damage to the quality of life" resulting from cutting meat. However, they failed to take into account a large number of previous studies claiming that there is a risk associated with red or processed meat's consumption (The Times).
E-cigarette firms could face further restriction on advertising as The Advertising Standards Authority (ASA) launches an investigations into vaping marketing that could target children after receiving hundreds of complaints (The Times).
Experts have warned that coffee could soon transform into a luxury in the UK if business do not help farmers cope with climate change and low coffee prices. By 2050, experts have warned that half the land used to grow coffee globally could become unsuitable, leading to deforestation and higher prices (Sky News).
Losses at English sparkling wine producer Chapel Down mounted to £1.7m in the first half of the year as it built a new brewery and expanded its vineyards. Sales however, jumped 21% to £6.7m due to soaring demand for English wines (The Telegraph).
Among the latest retailer to suffer from the dire conditions of the UK high street, fast fashion chain Forever 21 has filed for bankrupcty protection putting 350 stores worldwide at risk (The Financial Times £). Foverever 21 has 800 stores globally of which three in the UK, London, Birmingham and Liverpool, with the latter having already shut (The Telegraph). The administration puts 290 UK jobs on the line (The Guardian).