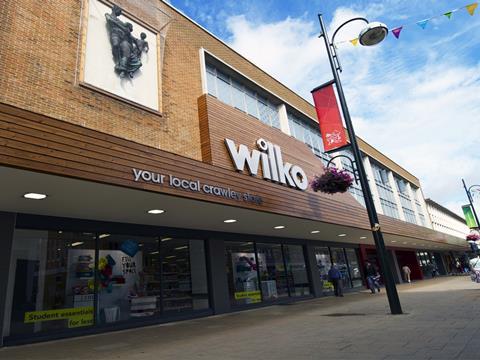 The owner of HMV is finalising a deal to rescue the majority of Wilko's operations, salvaging more than 8,000 jobs at the stricken high street retailer (Sky News). The Canadian tycoon behind HMV was last night finalising a deal to buy the majority of Wilko, the collapsed British homewares retailer (The Times £). Doug Putman plans to keep up to 300 of the current 400 Wilko shops open if he succeeds in buying the chain (BBC).
Job cuts at Wilko's head office and warehouses are to begin on Monday after a surprise £90m bid for the discount retailer fell through (The Guardian). Almost 300 staff at UK discount chain Wilko will lose their jobs after a last minute offer for the entire company collapsed, with more redundancies to follow (Financial Times £). Hopes of saving all the shops and jobs at collapsed Wilko have disappeared after the only bid for the whole business fell apart (Telegraph).
The collapse of the bid marked the latest twist in a saga that has in recent days devolved into acrimonious infighting centred around M2 Capital's bid. Mantse has accused PwC of failing to run a "fair and transparent" sale process for Wilko and he now plans to launch legal action against PwC. (The Telegraph)
Marks & Spencer has launched a legal challenge in the High Court against Michael Gove's decision last month to stop the UK retailer from rebuilding its Art Deco flagship in London's Marble Arch (The Financial Times £). Marks & Spencer has launched a legal challenge against Michael Gove's decision to prevent it from demolishing and redeveloping its landmark store on Britain's busiest shopping street (The Times £, The Guardian, Daily Mail). Sacha Berendji, operations director at M&S, accused Mr Gove of misinterpreting planning law and said the company was taking legal action (Telegraph).
The US food and drug regulator has warned Reckitt and two other baby formula makers about their manufacturing safety standards after the three companies were forced to recall potentially contaminated baby formula (Financial Times £). The London-listed consumer goods group behind the Enfamil baby formula brand is among three manufacturers to have received a warning letter from America's food regulator (The Times £).
Tesco has slashed the prices of more than 50 products, with parents seeing the "biggest benefits". A quarter of the cuts have been made in the baby aisle, with nappies, cotton buds and bubble bath seeing healthy reductions. (Sky News)
No cheer for Diageo after French rival loses its fizz. Diageo's shares are on the rocks and investors in the FTSE 100 drinks group have Pernod Ricard, its Paris-based rival, to blame. (The Times £)
Waitrose customers had their online orders cancelled just minutes before they were due to arrive because of a tech problem. (Telegraph)
This year, Prime released a new caffeinated energy drink. Along with rivals including Monster and AB InBev-backed Ghost, the Congo Brands-owned company is facing a swift backlash. US health professionals and parent groups are calling for a ban on sales of caffeinated drinks to children. US senator Chuck Schumer has asked the US Food and Drug Administration to investigate Prime drinks. (Financial Times £)
These days rural America is struggling. Tennessee-based Dollar General likes to boast in its earnings calls that 80 per cent of its 19,000-plus stores are located in towns with populations of less than 20,000. But having a large, remote footprint is no longer an advantage. The company on Thursday reported its second profit warning of the year. (Financial Times £)