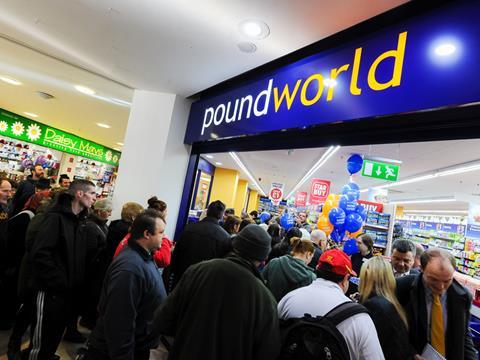 An Irish family that owned a chain of discount retailers has agreed to buy 50 Poundworld stores on the last day of trading for the collapsed business. Poundworld, which had 335 stores in Britain, went into administration in June after posting losses last year of £17 million. The Dublin-based Henderson family said it had agreed a deal with the administrators, Deloitte, to buy "the best and remaining stores" (The Times £, Daily Mail).
Some of Britain's best-known sweets brands, including Fox's Glacier Mints and Sherbet Fountain, will come under common ownership as part of a £100m-plus deal involving Blackstone, the global private equity titan. Sky News reports that Blackstone has struck a deal to sell Tangerine Confectionery to Valeo, a pan-European consumer foods producer which is partly-owned by Capvest, another private equity firm.
Coke may be its biggest brand but a big chunk of the growth reported yesterday by Coca-Cola Hellenic Bottling Company in the first half came from new products, flavours and packaging. The FTSE 100 soft drinks group, one of the world's biggest Coca-Cola bottlers, lifted its total volumes by 4.6% in the six months to June 29, with innovations contributing 3.2% (The Times £).
New Zealand dairy co-op Fonterra Cooperative Group cut the price it intends to pay farmers for milk and issued a profit warning on Friday, sending shares in the world's biggest dairy exporter down to near three year lows (Financial Times £). The world's biggest dairy exporter said it is reducing last season's forecast farm gate milk price by five cents to NZ$6.70 per kg of milk solids and warned its earnings would be at or slightly below its prior guidance of 25 – 30 cents per share.
One of Britain's oldest family brewers hit choppy waters in the first half of the year as it sank £557,000 into the red. Adnams, based in Southwold, Suffolk, said the swing from an operating profit of £177,000 the previous year was partly due to "some substantial costs of bedding-in new investments, particularly in the brewery" (The Times £).
Daniel Loeb's Third Point hedge fund has amassed a 5.65% stake in Campbell Soup and is agitating for the company to put itself up for sale (Financial Times £). Third Point, which spent $686.4m on the stake, said in a regulatory filing on Thursday that it acquired the shares after the company announced in May that Denise Morrison, its chief executive, was departing immediately and that it was launching a strategic review.
A leading Irish nutrition group has warned that global trade tensions could destabilise dairy prices and scupper its expansion plan. Shares in Glanbia fell 2.4 per cent to €14.86 yesterday after executives said new trade tariffs may have "negative impacts" on its aim to grow revenues by almost €1.5 billion by 2022 (The Times £).
The future of House of Fraser will be settled in the next 48 hours as at least four bidders tabled rescue proposals for the struggling UK department store group (Financial Times £). It has admitted to having just 11 days to save 17,000 jobs as the retailer scrambles to secure a lifeline before its cash runs dry (Telegraph).
The era of the beard has continued in 2018 and it could be bad news for the razor industry. The rise of the laid-back approach to shaving, most popular among men under the age of 45, is causing some serious problems and strategic readjustments in the razor industry (Independent).
Retailer Card Factory has warned over profits as weak consumer spending and the "extreme weather" dealt a blow to sales (Telegraph).
Curious customers lay on beds and nestled into armchairs as Ikea opened its first Indian store, hoping to attract a burgeoning middle class with offerings tweaked to local tastes, including a variation on its famous meatballs (The Guardian).