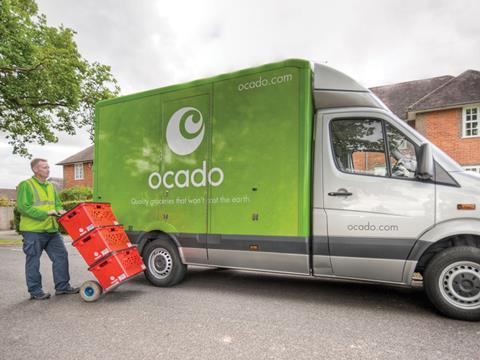 Around a quarter of Ocado shoppers would ditch the online grocer if Waitrose products were no longer available, according to a fresh poll of its customers. According to a survey of 250 Ocado customers by analysts at HSBC, 22% of shoppers said they would not shop at Ocado if Waitrose products were not available (Telegraph £). 17% would not use it if the Waitrose products were replaced by Marks & Spencer. Thirty-seven per cent thought that Ocado was owned by Waitrose (Sunday Times £). David McCarthy, head of consumer retail research at HSBC, said that the findings were "worrying" for the new Ocado and M&S joint venture.
Unilever is facing a consumer boycott in India after Hindu nationalists objected to a viral marketing video they say denigrates a holy festival (Financial Times £). The film promoting Red Label tea depicts a man deliberately losing his elderly father in the vast crowds of the Kumbh Mela, then thinking better of it and reuniting with him over a cup of tea.
Jamie Oliver's ailing restaurant empire is trying to secure additional funding, casting fresh doubts over its future (Telegraph £). The business, which runs 22 restaurants across the UK, came within hours of collapse in 2017. HSBC could be forced to write off £17m as the troubled restaurant chain Jamie's Italian tries to find a buyer (Sunday Times £).
Walmart-owned British supermarket chain Asda said it will remove single kitchen knives from sale in all its stores by the end of April (Reuters). "We know single knives are the most common knife products to be stolen and that is why we have chosen to remove these items from our stores," Asda Senior Vice President Nick Jones said in a statement.
Domino's Pizza Group is poised to reveal that it has opened just a handful of stores this year, as it fights to reverse its fortunes overseas (Sunday Times £). The FTSE 250 company, which is facing a growing rebellion from franchisees over profits, has come under pressure amid doubts that it will hit its ambitious target for new UK stores.
The Financial Times (£) has published a special report on the future of food and agriculture. Articles include coverage on the growing number of accelerators helping young people in the food sector; why entrepreneurs and investors are increasingly focusing on algae as an alternative protein source; the health campaign against sugar in Chile; coverage of eating habits across the globe; questions remain over the sustainability of organic farming; and why the future of gene-edited food is in the balance.
Italian police have seized more than 9,000 tonnes of crushed grapes as part of an investigation into the fraudulent production of balsamic vinegar (The Guardian). The fraudsters allegedly sold the common table grape must to companies which produce balsamic vinegar and passed it off as being from the prized sangiovese and trebbiano varieties.
Drinkers may be ordering "craft" beers without realising they are owned by multinational drinks giants, according to a new report, prompting concern that consumers are easily duped by artisan-style branding (The Guardian). The British craft beer report, due to be released by small brewers' trade body the Society of Independent Brewers this week, will say that 98% of drinkers do not believe a global firm such as Budweiser owner Anheuser-Busch InBev or Molson Coors can make craft beer.
A refundable "latte levy" on disposable cups is being considered by ministers after trials showed that a charge would save more than 700 million cups a year (The Times £). The University of Sussex has saved almost 100,000 cups in the past six months by imposing a 30p surcharge on each hot drink served at one of its eight cafés and restaurants.
Costco shares were heading for their biggest one-day gain in four years after reporting second-quarter earnings that blew past Wall Street forecasts and even as the wholesale retailer said it would raise its minimum wage to $15 (Financial Times £).
The future of the gin and tonic across the EU appears secure after manufacturers of the mixer beverage with its roots in the British Raj won what might turn out to be one of the last regulatory skirmishes with Brussels before Brexit (Financial Times £). After four years of wrangling, the European Commission has ruled that drink makers can continue to use the term "tonic" and its local translations in marketing their product across the bloc, in spite of the fact it has no beneficial health effects.
"Across the midwest, the rise of factory farming is destroying rural communities. And the massive corporations behind this devastation are now eyeing a post-Brexit UK market," writes Chris McGreal for The Guardian.
The freak February heatwave provided rare cheer for the struggling UK pub trade as Britons sought out beer gardens to soak up the sunshine (The Guardian). The monthly snapshot of trading at major chains, including All Bar One, Yates and Chef & Brewer, recorded growth of 1.4% at pubs open for more than one year.
Natracare founder Susie Hewson speak to the Sunday Times' Liam Kelly about surging profits at the feminine hygiene brand.
Debenhams may push up the size of its upcoming refinancing to fend off attempts by major shareholder Sports Direct to seize control of the struggling group, according to people briefed on the company's thinking (Financial Times £).
Alibaba has tightened its grip on the Chinese logistics sector with the Rmb4.66bn ($693m) purchase of nearly 15 per cent of STO Express, the Chinese technology group's fourth investment in a domestic delivery company (Financial Times £).