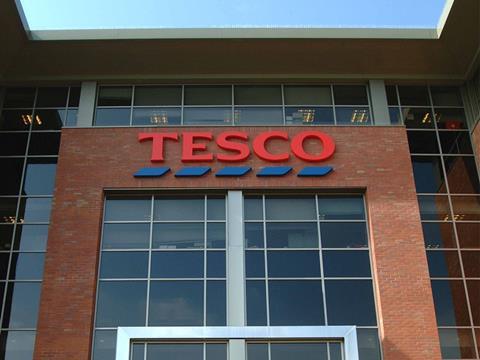 "Tesco puts (much of) its past behind it" is the headline in The Times (£) this morning as the papers absorbed Tesco's first UK sales growth for six years and a plunge in its share price.
Tesco's operating profits have broken through the £1 billion barrier again in a performance that the supermarket retailer believes should prove it is ready to take over Booker. Nevertheless the spectre of an accounting scandal three years ago dogged pre-tax profits and the share price. (The Times £)
Undeterred by the accounting scandal, public spats with major supplier Unilever over brands like Marmite and a checkered history of confusing promotions, shoppers appear to be heading back to Tesco. (The Daily Mail)
Tesco has reported its first year of sales growth in the UK since 2010, but good news for its vast domestic chain has been overshadowed by the stormy outlook for future trading as the weakness of sterling pushes up food prices (The Guardian). Investors gave a thumbs down to the results amid continuing concerns about the business, a tougher outlook for UK consumers, intensifying competition and falling profit margins in its overseas operations (Sky News).
The FT's Lex colum writes that Tesco investors "are saying that just creaking along is no longer good enough". It writes: "[The Booker deal] has unnerved some investors (and former board members) who feel that recovery in the core business needs to be entrenched before embarking on such adventures. A near 5 per cent drop in its share price on Wednesday is evidence of that concern." (The Financial Times £)
The boss of Tesco has insisted its £3.7bn merger with wholesaler Booker should go ahead, in the face of fierce opposition. Chief executive Dave Lewis said he continued to believe in the deal, claiming it would lower prices and increase Tesco's buying power. (The Daily Mail)
James Quinn in the Telegraph notes that the looming battle over the Booker deal "steals the spotlight from Lewis' success in turning round Tesco". (The Telegraph £)
Writing in the Mail, Maggie Pagano says "Drastic Dave is fighting an uphill battle persuading Tesco investors to back Booker deal". She writes: "Lewis has managed to win over customers. Now, he will need to be more than drastic to convince the CMA and investors that going broke for Booker is the right deal at the right price." (The Daily Mail)
Elsewhere, WH Smith has continued to benefit from demand for spoof humour books such as Five on Brexit Island, as it helped stem the sales decline at the newsagent chain's high street stores (The Financial Times £). The ongoing interest in spoof humour books and new airport shop openings have driven WH Smith's half-year profits 4% higher (The Telegraph). WH Smith's profits given a boost by shops in airports and railways as 'colour therapy' fad falls out of fashion (The Daily Mail).
The FT's Lombard column writes that "WH Smith reads like a bestseller on managing high-street decline". It says: "[CEO Stephen] Clarke is pushing publishers for more pocket-sized manuals. He is hoping for a boost to Christmas sales. A good topic might be "Beating the Law of Diminishing Returns"." (The Financial Times £)
The Times' Tempus column tells investors to buy WH Smith shares, writing: "Shares have come up a long way and investors could take some profits, but the WH Smith model would seem to offer more benefits to come". (The Times £)
Lidl UK, which will sell one million Easter eggs this year, will attempt to upstage rivals today when it announces that it will become the first British supermarket to move to 100 per cent sustainable cocoa in all own-brand products. (The Times £)
Healthier eating habits and weaker markets have forced Lindt and Nestlé to adapt, writes The FT. "The chocolate magic may be melting. Around the world, health-conscious consumers are cutting back on sugary products. Steep rises in the price of cocoa beans in recent years and competition among high street retailers have eroded profit margins, while sputtering economic growth in the biggest markets has dented sales." (The Financial Times £)
British American Tobacco has yet to complete a $49.4bn deal to take control of Reynolds American, but it has lined up its next acquisition. The Dunhill and Lucky Strike owner announced yesterday that it had agreed to acquire a package of leading cigarette brands from Bulgartabac, the Bulgarian group, in a deal worth more than €100m. (The Times £)
Wage growth has slipped below the rate of inflation, a development that threatens damage to living standards and the wider economy through an erosion of household spending power. (Sky News)
"Gillette feels the heat in a close shave with rivals", writes The Telegraph. "One can only imagine the horror felt in its marketing department as more and more sportsmen decided that the hipster beard was the way to go." (The Telegraph £)
The Women's Institute is urging supermarkets to do more to help consumers reduce their domestic food waste, after a survey of its own membership revealed widespread confusion about "best before" and "use by" labelling on packaging. (The Guardian)