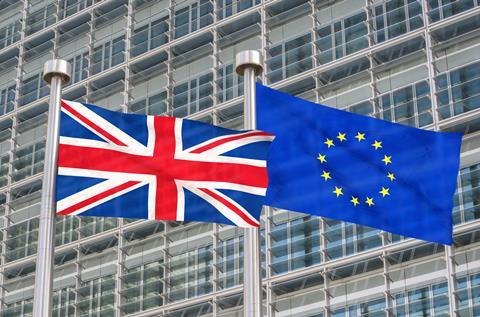 Britain would slash tariffs on the vast majority of goods entering the country in a no-deal scenario, the government has confirmed (Sky News). Ministers announced that 87% of all goods entering the country would face zero tariffs, with import taxes remaining for only 13% of incoming goods.
Business groups have urged MPs to avoid a no-deal Brexit after the prime minister suffered a further Commons defeat (Sky News). The CBI called for politicians on all sides to "stop this circus" while the City of London Corporation said the country was now "staring down the precipice".
The British economy grew more rapidly than expected in January as shoppers kept spending and firms stockpiled goods ahead of Brexit (Daily Mail). Growth was 0.5%, better than the 0.2% expected by economists, driven by a stronger performance in services, which includes everything from retail to banking.
"While Brexit goes from bad to worse, Britain's output refuses to perish," writes Alex Brummer in The Daily Mail. "What we do know is that with earnings now comfortably outstripping inflation, many households (if not those at the bottom of the pile) are feeling relatively well-off, and spending. The cash may not be showing up at Debenhams and Superdry but the sharp rise in distribution services suggests that online deliveries, be they from Amazon, Next or Just Eat, are robust."
Domino's Pizza Group experienced "growing pains" internationally in a "mixed year", biting into its overall financial performance as the UK pizza chain plans to expand at a slower rate than before (Financial Times £). The group said its performance in international markets was worse than it had anticipated last year amid a "number of challenges". The company's expansion plans have been knocked off course as its franchisees dig their heels in and demand a larger slice of the profits (Telegraph £). The group admitted yesterday that the number of new stores being opened in Britain would fall this year as a result of "tensions" with its franchisees (The Times £). Sales in stores open more than a year in the UK increased 4.6% compared with a year earlier (Daily Mail).
"In the past, Domino's defended market share through aggressive discounting. But there is less give in Domino's margins than before," writes the Financial Times' (£) Lex columnist.
GlaxoSmithKline boss Emma Walmsley has become the FTSE 100's best-paid female executive after taking home £5.9m last year (Daily Mail). The figure, revealed in drug maker Glaxo's annual report, includes a £1million salary, £4.4million in bonuses and nearly £500,000 in benefits and pension contributions.
Amazon has dropped a requirement that third-party vendors who sell their wares on its website must always offer their lowest prices there, as the company faces intensifying criticism from partners and politicians (Financial Times £). The move to end so-called price parity provisions, also known as "most favoured nation" clauses, in the US comes amid calls for the company to be investigated under antitrust laws.
"Is $40bn vaping giant Juul running out of puff," asks Olivia Feld of The Telegraph (£).
The Trump administration has appointed the director of the US national cancer institute as the acting commissioner of the Food and Drug Administration, signalling the regulator's aggressive push against ecigarettes will continue (Financial Times £).
Mothercare is to sell the Early Learning Centre to toy retailer The Entertainer for £13.5m as it grapples with its turnaround (Telegraph £).
Pharmacists at Boots, Britain's largest chain of chemists, have voted overwhelmingly to join a trade union in a long-running dispute about union recognition (The Guardian)