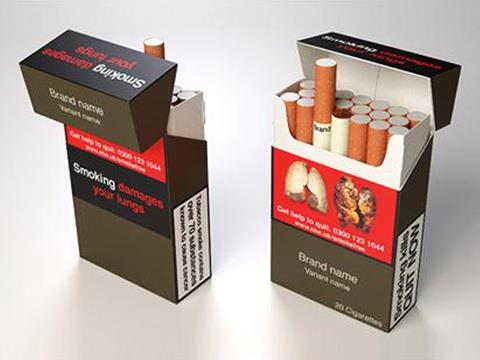 Billions of pounds were wiped off the value of two British tobacco companies yesterday after reports that American regulators plan to ban menthol cigarettes (The Times £).
Investors reacted with alarm to the possible move by the Food and Drug Administration against a product that accounts for about a third of industry sales, even though analysts played down the prospect that an outright ban could survive a legal challenge from the tobacco industry (The Financial Times £). Analysts said menthol cigarettes sales account for a quarter of BAT's earnings and a tenth of Imperial Brands' (The BBC). Uncertainty was heightened by government offices being closed yesterday for the Veterans Day public holiday, meaning that the FDA did not move to clarify its intentions (The Times £). The FDA has already announced plans to curb sales of flavoured e-cigarettes, seen as products that lure young people into smoking (Sky News).
The FT's Lex column said "regulators are serious about a crackdown but any ban is likely to be some way off". "As much as a quarter of BAT's profits are drawn from menthols… In the short run, the shares might claw back some of their losses. Even if the FDA opts for a ban, it is likely to be some way off. Changing regulations is a lengthy process, requiring debates over scientific evidence." (The Financial Times £)
Better, not more, is mantra in Diageo spirits sale as the world's biggest drinks group has sharpened the focus of its American operations on the premium sector by selling a portfolio of spirits brands for $550m (The Times £). Diageo is selling 19 brands in the "value" or lower end segment of the US market, including Seagrams Canadian whisky and Goldschlager schnapps, in an effort to boost growth in its biggest market after a period of underperformance (The Financial Times £).
"It says much about the sheer size and scale of Diageo, the world's biggest spirits company, that many of the brands it has offloaded in a $550m sale today are largely unknown in this country," says Sky News' Ian King. "This sale is all about "premiumisation", persuading consumers that as their disposable incomes rise, they can afford to drink more exclusive and up-market products."
Kellogg on Monday said it will overhaul its corporate structure in North America and explore the sale of its cookies and fruit snacks businesses. The food giant announced that it will combine its US morning foods, snacks and frozen foods divisions into a single organisation that will represent 80% of North American revenue. Kellogg also plans to build a consolidated supply chain and invest in new e-commerce capabilities. (The Financial Times £)
Artisan UK chocolate-maker Montezuma's hits sweet spot with deal. Growing from a single store to 130 employees, the UK couple who founded the business 18 years ago has sold off a majority stake. (The Guardian)
The UK company behind Splenda sweeteners has become the latest addition to a growing list of US and global companies to announce price increases across its North American products in an effort to counter higher raw materials and transportation costs. (The Financial Times £)
Beyond Meat, the US plant based meat start up, has expanded its international footprint by launching its burgers in the UK, selling its chilled and frozen products through 350 stores of Tesco, a leading UK retailer. (The Financial Times £)
The Telegraph looks at "why small retailers should avoid Black Friday". (The Telegraph)
Marks & Spencer is overhauling its clothing range as it targets customers in their 50s who want to dress like they are in their 30s. The High Street stalwart is improving the tailoring of its women's clothes in a bid to win over sceptical customers and revive its ailing fortunes. It is also preparing to unveil another Holly's Must-Haves collection selected by television presenter Holly Willoughby in time for Christmas. (The Daily Mail)