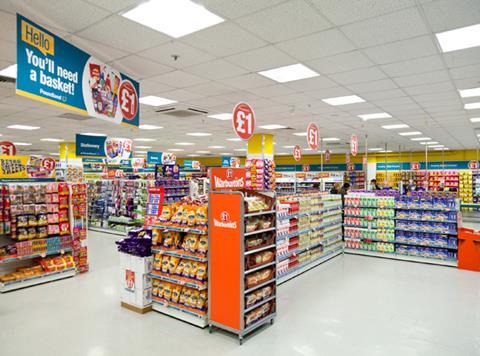 Most of the papers remark upon Poundland breaking through the £1bn sales barrier yesterday.
The Guardian's Nils Pratley looks at the Competition and Market's Authority's decision not to waive through Poundland's acquisition of 99p Stores and concludes that surely the deal would be good for UK consumers. Suggesting the CMA's ruling is "baffling" and that Poundland should fight it, he writes: "It would be fun to see the CMA attempt to defend in detail a decision that looks bizarre" (The Guardian).
The Telegraph's Questor column sees Poundland as a clear buying opportunity, given it has a number of important company announcements in the coming weeks could help the price recover. "The shares, which have fallen sharply this month, have already priced in the possibility that the [99p Stores] deal won't happen" (The Telegraph).
Elsewhere, the Office of National Statistics found that UK CPI inflation held at zero last month "giving disposable incomes a boost and leaving the country on the brink of a period of falling prices" (The Guardian). Economists, who expected inflation to remain unchanged, said there remained a "50-50 chance of deflation" in the next few months (The Telegraph).
In wider retail, four American distressed debt funds that snapped up bonds in Phones4u after its collapse last year could recover at least 20 times more than the British taxpayer. Secured creditors will receive between 20p-40p in the pound, PwC has said, while unsecured creditors such as HM Revenue & Customers and trade creditors, are set to receive just 0.4p in the pound (The Times £).
Next chief executive Lord Wolfson has pledged to raise shopfloor wages at the retailer by at least 5%, offering to share his bonus among staff if there is a shortfall in funding. The company's annual report showed Wolfson was paid £4.66m in cash and shares last year, including a £1.1m bonus. This compared with a £4.65m package the year before (The Guardian).
Alibaba, the Chinese ecommerce company, said it would tackle the prevalence of counterfeit goods sold on its websites, bowing to criticism from a US clothing industry lobbying group (The Financial Times £).
Analysis of high street retailers over the past week has revealed how sales of everyday household goods including food and drink act as a barometer of the British weather, according to The Times. The sunshine appears to have changed many people's colour preferences, with sales of pink nail varnish at Asda overtaking sales of the red version by three times. Lighter items such as salad, chicken and prosecco have been favoured over heavier food and drinks such as roast beef and red wine.