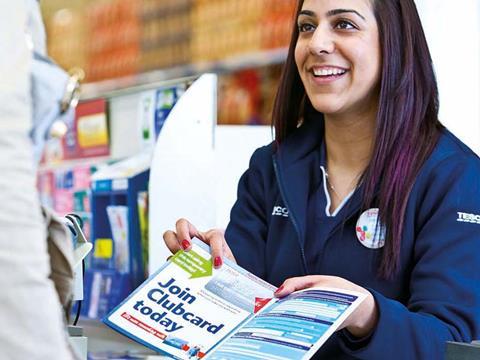 Tesco is experimenting with giving its Clubcard holders lower prices at the till, as chief executive Dave Lewis steps up plans to create an Amazon-like loyalty scheme. Tesco is understood to have lowered prices for Clubcard holders on 20 randomly selected groceries across 50 stores, in a week-long trial that will end today. (The Times £)
Will Dave Lewis stay in the saddle as grocery giant Tesco continues its journey to recovery, asks The Sunday Times. "The [turnaround] milestone led some to suggest that Lewis, who is 54 and earned £4.9m last year, might soon hop on his bike and seek out a new challenge. A rival grocer said: 'He's probably got one more big job in him and I assume he'll be looking to get back into the fmcg'." (The Times £)
Opening a hotel in America and buying 14 pubs across London and the southeast pushed cult craft beer maker BrewDog to a loss for the first time last year. (The Times £)
Unilever's quarterly results could divide opinion like Marmite, writes The Guardian. This is not new CEO Alan Jope's first appearance in front of investors, but it comes at a time when the City has rather mixed view of the business. (The Guardian)
When Rakesh Kapoor said that he would step down as chief executive of Reckitt Benckiser at the end of this year, many fully expected him to bow out on a high, writes The Times (£). However, this week a time bomb that dated back to his early years in charge exploded as a federal grand jury in the US issued a $3 billion indictment accusing Indivior, Reckitt's former pharmaceuticals subsidiary, of engaging in an "illicit nationwide scheme" from to drive sales of its blockbuster treatment for opioid addiction in the United States.
Plastic can holders and shrinkwrap are to be removed from multipacks of Guinness, its owner, Diageo, will announce on Monday. Diageo is phasing out plastic packaging from multipacks of its Guinness, Harp, Rockshore and Smithwick's beers and replacing it with 100% recyclable and biodegradable cardboard packs (The Guardian). Drinks giant Diageo has announced that it is removing plastic from multipacks of its Irish stout brand Guinness (The BBC).
Bonuses at Domino's Pizza have put in the spotlight after the chain cut payout targets. Influential proxy advisers have raised concerns on plans to reduce earnings figures that trigger share awards to bosses. (The Telegraph)
British American Tobacco is under pressure to replace its long-serving chairman to comply with new corporate governance rules. Richard Burrows will have been in the post for nine years and five months when shareholders gather for BAT's annual meeting in London this month. (The Times £)
Upstarts are putting pressure on consumer giants, writes Grahan Ruddick in The Times. "According to analysts at Barclays last week, established food brands face an unprecedented challenge to their supremacy from small, niche rivals… It is not only in food where this change is taking place, but also in drinks, personal care and homecare." (The Times £)
It had been hailed as the growth area for supermarkets but a survey has shown that online grocery shopping is losing its shine, notes Sky News. A survey for analysts Mintel found that, while younger Britons were still keen on having their groceries delivered, those in other age groups were not so enthusiastic. (Sky News)
Egg-free bakery chain Cake Box has a winning formula with turnover set to rise, writes The Mail's share tipping guide. "Investors have already seen decent returns but Cake Box should keep on delivering. The founders still own 50.1% of the business too, so they are highly incentivised to make a success of it." (The Daily Mail)
Jumia, an e-commerce company often referred to as "Africa's Amazon", has become the first start-up from the continent to be listed on the New York Stock Exchange after an initial public offering on Friday. (The Financial Times £)
The City was spooked on Friday after the second largest shareholder in Pets at Home sold its stake, sending shares in the pet supplies retailer down sharply. (The Times £)
Whitbread is expected to cut more than 100 head-office jobs as a result of its sale of Costa Coffee to the Coca-Cola Company for £3.9bn. (The Times £)
The Telegraph has an interview with Greene King boss Rooney Anand as he calls time on reign at the brewer and pub company. (The Telegraph)
The Times (£) carries an interview Imperial Brands CEO Alison Cooper, on how the FTSE 100 tobacco giant is targeting a bigger slice of the growing vaping market as smoking goes out of fashion.