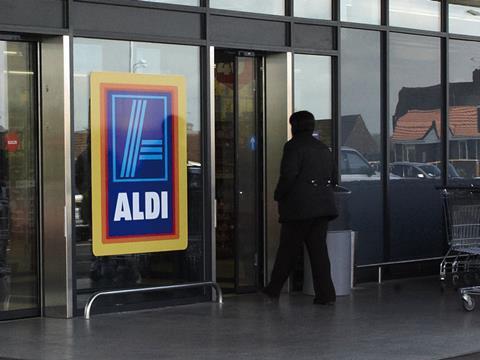 There are only two stories which dominate coverage in today's papers as far as food and drink is concerned: Aldi's plans for 80 new stores and a good year for Durex and Dettol owner Reckitt Benckiser.
The Mail notes that one of the new sites where Aldi will be opening includes Prime Minister David Cameron's home town of Chipping Norton. The supermarket told the paper it was not releasing a full list of all the new stores but said on would be in Eastbourne and one in Chipping Norton in the Cotswolds. The Financial Times writes plans to have stores in the PM's Cotswold constituency of Chipping Norton, as well as in the spa town of Harrogate in Yorkshire, highlighted the growing appeal of Aldi's formula of cut-price basics and affordable luxuries, "even in the country's more prosperous regions".
The Independent notes the expansion drive would create 5,000 jobs and take Aldi's portfolio to 700. The Times chooses the strident headline of "Aldi boosts ranks by 5,000 as it goes to war" in its coverage. It said the aggressive expansion came days after launching an advertising campaign aimed at Morrisons. "News of the recruitment drive comes after Aldi declared all-out war on its grocery rivals and pledged to be the 'cheapest for ever' in Britain."
However, Aldi isn't having it all its own way as The Telegraph reports its advert comparing its low prices to a Morrisons branded shop have been labelled "disingenuous". Bruno Monteyne at Bernstein said if both supermarkets own-branded or fresh products were compared, such as whole chickens and broccoli, the Bradford-based supermarket had actually closed the gap.
Durex and Strepsils maker Reckitt Benckiser surges 6% with profits up 4% on the back of strong sales (The Daily Mail). The Times writes the business is in the "best of health". "It may sell Nurofen painkillers, but Reckitt Benckiser was anything but a headache for City analysts and investors yesterday," the paper said. Reckitt is aiming for growth of between 4% and 5% in the coming year.
The consumer products giant defied the slowdown in emerging markets which has plagued other big multinationals to beat expectations for 2015, The FT added. In its Lex column the FT explores how Reckitt is now cleaning up with organic growth is "not just a slogan". The paper said the group once bought its growth as it stacked up brands "willy-nilly". However, CEO Rakesh Kapoor had raised the company's core growth rate and got rid of laggard divisions.
The Telegraph said despite good growth in 2015 fuelled by a strong cold and flu season, the firm warned of "tough" conditions over the next 12 months. The paper's Questor shares column added that the business' shares soared as sales accelerated but the stock – a defensive favourite among investors – was "looking expensive".