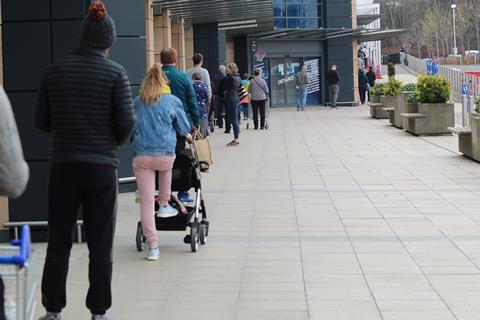 Shoppers have been queuing outside some stores on London's Oxford Street on Monday morning as non-essential shops were allowed to reopen for the first time in 12 weeks (The Financial Times £). However, not all areas of the country saw shoppers flocking back, with many high streets left half empty despite a big push from non-essential retails to encourage spending. Overall, visits were down 41% year-on-year, although high streets saw a 51% rise in footfall compared to this time last week, according to Springboard (The Telegraph).
Primark stores and Sports Direct attracted the largest numbers of shoppers yesterday (The Guardian, BBC). Shoppers were not put off by the new social distancing rules imposed on shopping as stores started to reopen, with swarms of customers rushing to the high street (Sky News).
As John Lewis reopened some of its shops' doors to shoppers on Monday, face masks, egg cups and bed linen have been the biggest sellers (The Telegraph).
However, in their rush to shop consumers seem to have forgotten social distancing rules which "went out the window" in the road to retail recover (The Telegraph). The reopening of shops "felt like the end of the 2 metre rule", writes Sky News as, once people enter the shop, social distancing is impossible to enforce (Sky News).
Deliveroo alongside the bosses of major restaurant - including Pizza Hut, Pret a Manger, Itsu and Wagamama have asked prime minister Boris Johnson for "urgent support" to prevent continued mass closures in the hospitality sector. The delivery firm and 90 of its partners wrote a letter specifying measured needed to support restaurants as they face a period of reduced capacity, including cutting VAT on restaurant food and continuing the job retention scheme for restaurant workers while physical distancing measures remain in place (The Guardian). The chains also asked for "mortgage holidays" for landlords, to face lower rents or protection from evictions until they can operate at full capacity (BBC).
The first carbon neutral coffee to arrive in the UK from Colombia by sailboat has docked in Falmouth harbour at the end of May, three months after departing (The Guardian).