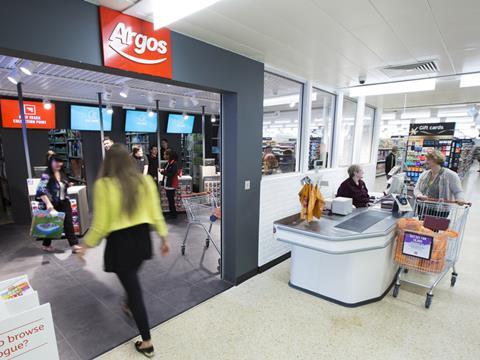 The papers are firmly focused on today's Budget but Sainsbury's results and the expected improved offer for Argos still gets plenty of coverage.
The Times and The Guardian write that the supermarket posted its first increase in sales in more than two years and held its market share as the deadline for the showdown with Steinhoff nears. The Telegraph focused in on the surprise 11% boost in entertainment sales, largely propelled by Adele's latest album. The Independent reports that CEO Mike Coupe, who is bound by strict takeover rules, refused to say why Sainsbury's would be the most suitable new owners for Argos in a media call. However, he reiterated that Sainsbury's would not overpay.
The paper also added in a separate article that Sainsbury's earned its tilt at Argos, but its period of grace wouldn't last for ever. It said Sainsbury's management team had earned their chance to takeover Home Retail thanks to it being the one member of the traditional big four supermarket groups that is more or less holding its own in the face of Aldi and Lidl. "Perhaps shareholders could even afford to provide a little leeway by allowing them to sweeten their proposal enough to see off South African rival Steinhoff (if its challenge is a realistic one) as the deadline to table a bid for Argos or walk away approaches."
The Financial Times' Lex column argues that Sainsbury's can afford to pay more for Argos than the current bid but warned it must be careful. "Shoppers trading up to premium ranges get better quality products. Sainsbury's would simply be paying more for the same thing. Its managers left themselves an exit route by saying they did not need a deal at any price. They should not be afraid to use it."
The paper's Lombard column comes at the battle for Argos using the analogy of the Gunfighter's Dilemma – the theory that the slinger who draws first is usually the one who gets shot. It urges patience from Sainsbury's as once a formal offer has been made by one hopeful acquirer, its rival gets a leisurely 53-day grace period under the Takeover Code to come back with a higher bid. "Who will lose their cool and bid first? Or will HRG use its prerogative to extend the cut-off for either or both of the gunslingers? It would spoil the fun. But Sainsbury boss Mike Coupe should beg a short extension from HRG. Friday's deadline would then only apply to Steinhoff. The seriousness of the South African is questionable, given that it may bid for white-goods retailer Darty instead. Time for Steinhoff to prove it is not all hat and no six-gun."
Ocado, which reported its Q1 results yesterday, also get a look in, with The FT writing the online grocer had increased its number of weekly orders to 250,000 for the first time in the past few weeks. The Guardian focuses on the fact that despite the jump in sales there is still no news on overseas partnerships.