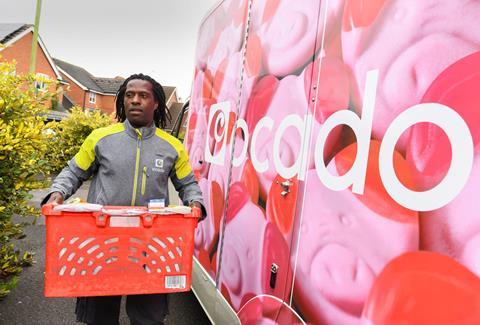 Ocado has moved to within 10% of the stock market valuation of Tesco, the UK's biggest retailer, after a share price surge linked to the online specialist's new tie-up with Marks & Spencer boosted its market value to a record £19.5bn (The Guardian). Shares in Ocado hit a record high after the online grocer revealed Marks & Spencer's products have been more popular with customers than Waitrose's were (The Daily Mail).
Shoppers are buying more Marks & Spencer groceries on Ocado than they did Waitrose products, the online grocer claimed yesterday as it reported a 52% rise in sales (The Times £).Ocado has said more shoppers are buying Marks & Spencer products in the two weeks since it launched its joint venture with the retailer than they bought Waitrose goods before the switch (The Telegrpah). Despite struggling to keep pace with orders during lockdown and facing similar issues after the M&S launch on 1 September, Ocado said 'excitement' for the new M&S range had seen an increase in the number of products bought (The Daily Mail).
Ocado has reported a 52% rise in quarterly sales in its online supermarket and expects the venture's profits to grow this year, but the grocery delivery group reiterated a warning that significant capacity increases would not come through until 2021 (The Financial Times £).
Kraft Heinz has struck a deal to sell parts of its cheese business to France's Lactalis for $3.2bn, saying it would use the proceeds to help reduce its $26bn debt burden after a protracted period of underperformance. Under the all-cash deal, Lactalis, the world's largest cheese producer, will acquire brands in the US including Cracker Barrel, Breakstone's and Knudsen, as well as production facilities in California, New York and Wisconsin (The Financial Times £). Kraft Heinz is to sell a large part of its cheese business for $3.2 billion, cut $2 billion in costs and boost marketing spending by 30 per cent as its new chief executive tries to reinvigorate the company (The Times £).
"Kraft Heinz desperately needs fresh thinking to spice up its ailing packaged food empire," writes The FT's Lex column. "Instead, the maker of Maxwell House coffee and Oscar Mayer hot dogs is reverting back to an old and familiar recipe: cost-cutting topped with asset sales." (The Financial Times £)
Britons spent £155m less in supermarkets in August than in the previous month as many returned to workplaces and the government's eat out to help out scheme encouraged visiting restaurants and cafes (The Guardian). Shoppers spent £155m less in supermarkets last month as the Eat Out To Help Out scheme tempted consumers back to restaurants and pubs, according to industry data (Sky News). The success of the Eat Out to Help Out scheme meant that people bought fewer groceries to cook meals at home last month, according to new figures (The Times £)
The Times advises investors to stick with FeverTree shares, arguing the company remains a best-in-class business with plenty of scope for international growth. "Although not immune to the closure of the on-trade in most of the countries in which it sells, its sales for home consumption mitigated the impact," it writes. (The Times £)
The same Tempus column cautions investors to avoid Greencore shares, writing: "[Greencore] will continue to grapple with sluggish demand and sporadic threats to supply for a undetermined period of time, frustratingly for the company and for shareholders. November's annual results will shine a light on how far it is along its path to recovery, but the road ahead is likely to be long." (The Times £)