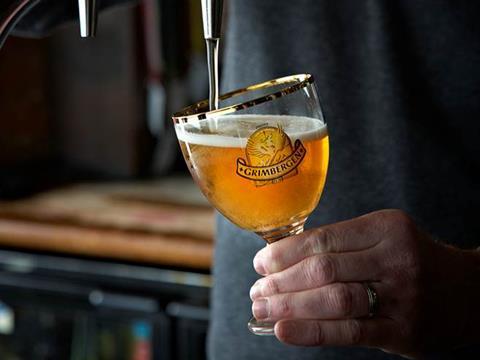 Danish brewer Carlsberg revealed it had lifted profits and revenues in its first half but volumes had declined. Profits were ahead of expectations but investors fretted about warnings of a tougher second half of the year, The Financial Times writes. The paper adds that investors were disappointed that a 20% rise in operating profits to DKr4.1bn ($645.5m) did not translate into an increase in full-year profit guidance. The Telegraph says that a thirst for expensive craft beer helped profits flow at Carlsberg. Its upmarket drinks such as Tuborg and Grimbergen meant that even though it sold less beer by volume, its revenues and profits both rose in the first six months of the year.
Poundland has claimed Toblerone's shape is no longer distinctive enough to be a valid trademark, in legal documents defending its right to launch a copycat bar, The Guardian reports.
Argos has been named and shamed for failing to pay minimum wage (The Times).
Amazon is to create another 1,000 jobs in Bristol to meet ever-increasing demand as it faces a backlash in the US after Donald Trump accused it of doing "great damage" to tax-paying retailers, says The Times.
Brexit remained in the headlines as the government said the UK would seek Irish border waivers on customs and food safety after an exit from the EU. "The government aims to avoid the need for border posts with Ireland when the UK leaves the EU, an ambitious goal seen as essential to preserving the Good Friday peace agreement," The Guardian writes. Ireland will not allow itself to be used as a "pawn" in Brexit negotiations, the country's foreign minister said on Wednesday, as the UK government published a position paper on the Irish border (The Financial Times).
Britons to throw away £428m worth of barbecue food in August, a study by Sainsbury's reveals (The Guardian). The paper writes that the nation will enjoy nearly 12 million barbecues this month, with £36.47 worth of food wasted at each event, not including drink. Salad leaves, burger rolls, hot dog buns, coleslaw and potato salad are the top five food items most likely to be wasted during barbecue season, the research by the supermarket found.
Bakery chain Greggs is in talks to join a multibillion-pound legal case against a group of truckmakers fined for price-fixing over a 14-year period, according to Sky News.
The Financial Times writes that consumer companies are wrestling with how to respond to President Trump in the wake of his comments following the violence in Charlottesville. Walmart and PepsiCo came under fire from opposite ends of the political spectrum this week, with the companies' situation reflecting the especially awkward position of trying to sell household brands to diverse groups across the US.