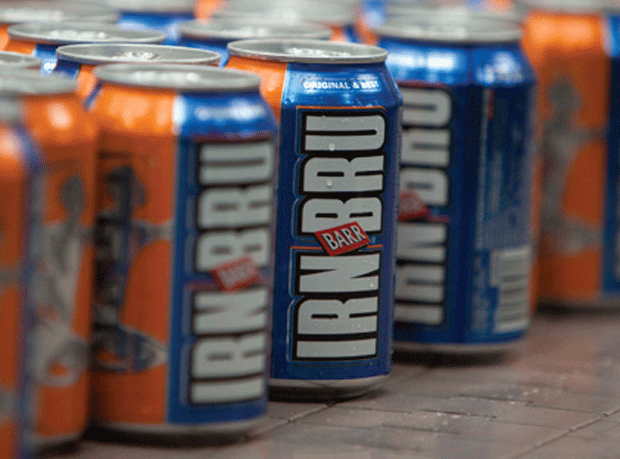 AG Barr shares collapsed 28% to 623p after the Irn-Bru maker blamed a lack of Scottish sunshine for an expected 10% fall in sales to £123m in the six months to 27 July and 20% fall in profits to about £36m (Financial Times £).
Lex in the Financial Times (£) says the company also seems to have underestimated how much it benefited last year from sidestepping problems that hit competitors. Some hurdles lie ahead including the consumer deposit scheme for plastic bottles and a risk from a switch in consumer tastes towards healthier, more natural drinks.
The Telegraph says AG Barr had previously been credited with successfully navigating the introduction of the sugar tax last year. The Times (£) notes that Boris Johnson has hinted he might reverse the soft drinks levy. Roger White, chief executive, said such share price falls were not abnormal where there were these sort of guidance updates.
The Daily Mail and Sky News quote a couple of analysts, including one who says specific brand challenges with Rockstar and Rubicon are "slightly concerning" and another who says consumer goods companies are supposed to be "reliable compounders, with sales that turn up come rain or shine".
Everyone in the UK could be given a monthly dividend to spend on fresh, healthy, locally produced food as part of radical proposals to reform the farming system and avert the twin crises of climate change and deteriorating public health, says a report from a the Royal Society of Arts' Farming & Countryside Commission The Independent.
It says the UK farming and food system must be urgently and radically reformed if we are to stem rising temperatures and rates of obesity and diabetes.
Sky News notes the Our Future in the Land report says the government must put rural countryside at the heart of decisions and policies relating to the green economy.
Wholefoods employees have complained about a marked decline in working conditions since Amazon took over two years ago, amid pressure to push Amazon Prime deals and memberships (The Guardian). They also cite widespread understaffing, increased workloads and labour budget cuts.
Blue Apron's shares climbed as much as 70% on news that the US meal kit delivery service will start selling Beyond Meat's vegan burgers. Blue Apron has been one of the worst performing initial public offerings (IPOs) of the past decade (Financial Times £). Alphaville in the Financial Times (£) says for those investors who got in at the IPO, it may seem all a little late. The stock listed with a capitalisation of $1.9bn. Today it trades at $151m.
The European Union is set to launch a formal investigation into Amazon's use of merchants' data on is website (Financial Times £). Reuters explains that it is alleged that Amazon competed against its own sellers and pushed them to buy advertising and fulfilment services.
Alternatives to dairy-based foods are growing faster than plant-based meat, the latest consumer data shows. Plant-based milk, such as soya and almond, is the biggest plant-based food category (Financial Times £).
Camelot has attacked the Department for Culture Media and Sport's move to increase the maximum prize draw allowed in other "society" lotteries (Financial Times £). It says it will affect the amount it generates for good causes. The plans also include an increase to the minimum age allowed for playing National Lottery scratch cards and instant win games from 16 to 18.
Office for National Statistics data shows wages grew 3.6% in the three months to May – the fastest acceleration since 2008 (The Times £) and The Independent
Lady Gaga has launched Haus Laboratories, her new beauty brand on Amazon Prime, enabling fans to pre-order lip gloss and colour for delivery in September (Financial Times £).