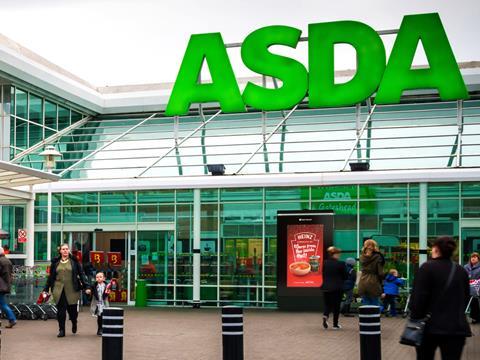 Asda has toasted its first increase in quarterly sales for three years on the back of a successful Easter, the return of inflation and early signs that its turnaround efforts are beginning to work (The Telegraph). Asda's turnaround strategy of cutting prices and refreshing its stores is paying off as quarterly sales at Britain's third biggest supermarket rose for the first time in three years (The Daily Mail). Asda has reported its first quarterly rise in sales for three years as the UK's third largest supermarket chain said customers were responding to price cuts and store improvements (The Guardian). Asda has reported its first positive quarterly sales in three years as the struggling grocer finally starts to turnaround its business (The Times £).
It is a big turnaround when compared to this time last year, when the supermarket chain suffered its worst ever quarterly result with sales plummeting by 7.5% (Sky News). There's finally some growth in shopper numbers and volumes coming through, writes The BBC, but Asda's growth is still way behind the other main players. This is a business that's still got a huge amount to do (The BBC)
A price war with Lidl, Aldi and other discount supermarkets squeezed profit margins at Walmart's American supermarkets in the second quarter and forced it to trim its forecast for the next three months (The Times £). Walmart's digital investments continued to pay off in its latest quarter, lifting sales for the world's largest retailer as it battles with Amazon for dominance of shopping. The Arkansas-based retailer, which has made a string of ecommerce acquisitions to catch up with rival Amazon, said its US online sales rose 60 per cent on the same period in 2016 (The Financial Times £).
A state-backed Singaporean fund is joining forces with one of the world's biggest buyout firms in an effort to trump rivals' £6bn bids for Unilever's spreads operations. The Asian city-state's Government Investment Corporation (GIC) has agreed to back KKR's interest in buying brands such as Flora and I Can't Believe It's Not Butter. (Sky News)
There may be growing concerns about Britain's economy but the country's food and drink manufacturers are doing their best to boost exports (The Times £). Soaring demand for British craft beers in South Korea helped UK food and drink exports top £10bn in the first six months of 2017, the best first half figures ever (The Guardian). Sales of British salmon helped the UK export a record amount of food and drink in the first half of the year, according to industry figures (The BBC).
British shoppers bought more than expected in July, stocking up on extra food and household goods to give the economy a lift. But families are also suffering from the recent surge in prices, which forced them to spend more on clothes even as they brought home fewer garments (The Telegraph). Britain's consumers are taking a more cautious approach to shopping as higher inflation above the level of earnings eats into their spending power (The Guardian).
The UK government has announced plans to crack down on high-calorie foods including burgers and ready meals as part of its efforts to reduce childhood obesity, following its move to introduce a sugar tax last year. Public Health England has been asked to examine children's calorie consumption and come up with a programme to remove excess calories from "the foods children consume the most" by the beginning of 2018. (The Financial Times £)