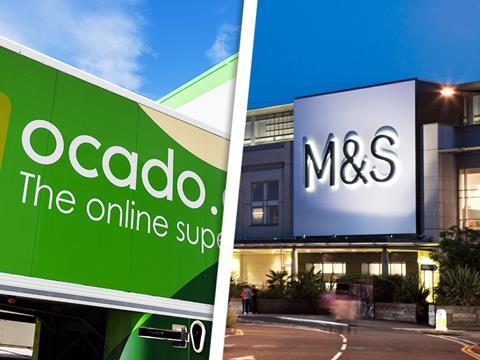 After a year of preparation and a blaze of publicity, the inaugural day for the Ocado and M&S partnership turned sour as the business was forced to apologise to grumbling customers for cancelling orders at the last minute, blaming a "surge in demand" (The Times £).
Numerous shoppers said on social media that their orders had been cancelled within hours of the expected delivery despite having been booked for weeks (The Guardian). Some said they could not get a new delivery slot for nearly a week and others mentioned a high number of substituted items. Others said they were planning to switch to Waitrose.com.
Teething problems mar first day of Ocado tie-up with Marks & Spencer (The Telegraph).
Unilever is planning to spend €1bn changing what it puts in its laundry and cleaning products to cut out ingredients made from fossil fuels (The Financial Times £).
B&M, a discount store chain that has never advertised on television, is set to replace commercial broadcaster ITV in the FTSE 100 index (The Financial Times £). The group has been among the retail winners during the Covid-19 pandemic.
Walmart is revamping and rebranding its rival to Amazon's Prime service as the world's biggest bricks-and-mortar retailer steps up efforts to cement loyalty among the shoppers it has won over during the pandemic (The Financial Times £).
American tariffs on Scottish shortbread have been lifted after Washington yesterday abandoned duties on Greek cheese and British biscuits. However, it imposed levies on French and German jams in a protracted dispute with Brussels over state support for the aerospace industry (The Times £).
Morrisons is more than doubling the number of flower stalls in its supermarkets and taking on 180 professional florists to create fresh bouquets to meet rising demand (The Guardian).
Demand boomed for Morrisons' blooms as customers sought to cheer themselves up during lockdown (The Telegraph).
Investors in Cake Box Holdings discovered yesterday that they could have their cake and eat it after the shares rose faster than a Mary Berry chocolate sponge (The Times £). Cake Box said that in the three months since its shops had reopened, trading had been very strong, with like-for-like sales growth of 14.1% in its franchised estate. Online sales rose by 74% over the same period.
China cracks down on waste to ensure food security (The Financial Times £). Xi Jinping launches 'operation empty plates' in face of virus, floods and trade tensions.