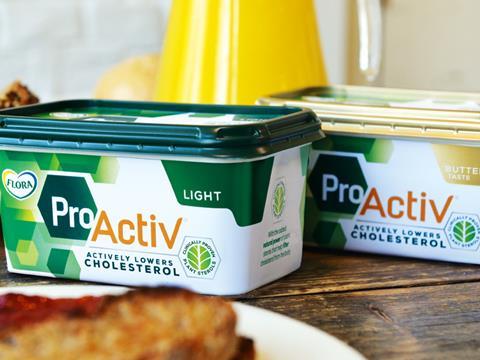 Unilever is eyeing a break-up of its margarines business to get the best price in an auction that could kick off as early as June.
Graeme Pitkethly, finance director, said on Thursday: "It's a very big business and we will probably offer it in totality and as packages because we are looking to attract the right buyer, in the right set of circumstances for the right parts of the business." He said the spreads operations in North America and South Africa could be sold separately from the rest. (The Financial Times £)
Unilever shows it can go it alone in wake of Kraft Heinz approach with sales boost, writes The Telegraph. Unilever posted better-than-expected quarterly sales as it forced through price rises and attempted to bounce back from a surprise takeover approach by Kraft Heinz (The Times £). Strong demand for ice cream boosted sales at Unilever - but a slump in the Flora spreads business underlined why the struggling division is up for sale. (The Daily Mail)
The FT's Lombard column notes Unilever suggested many emerging markets' currencies were bottoming out — bringing a more normalised pricing dynamic. It ponders: "Might this inspire one more innovation: keeping hold of its still-growing spreads business in emerging markets, which it had planned to sell? Probably not — but it would be one product development no one has yet foreseen." (The Financial Times £)
Marks & Spencer has unveiled plans to open 36 new UK stores over the next six months but close six shops. Over 1,400 new jobs will be created by the new openings, 34 of which will be dedicated to its booming food business (The Telegraph). City analysts have said M&S has too many stores at a time when sales are transferring to the internet (The Guardian).
"M&S plan to shut stores sparks high street anger" as M&S has been urged to reconsider plans to shut six big regional stores, dealing a serious blow for town centres from Portsmouth to Warrington (The Times £). The plan follows the group's decision in November, taken under Steve Rowe, the chief executive who was appointed a year ago, to undertake a review of its store estate and embark on a five-year programme of closures and openings (The Times £).
Switzerland's Nestlé has signalled it could follow Unilever in taking action to boost profitability as the world's largest food and drinks company also reacts to pressures unleashed by Kraft Heinz's failed $143bn takeover approach this year for its Anglo-Dutch rival. (The Financial Times £)
Drinks giant Diageo has announced plans to cut more than 100 jobs in Scotland as it shifts roles to Italy. The Smirnoff-maker said 'external volatility' meant it wanted to keep three spirit bottling sites in Europe despite selling its wine business and ending a wine-bottling contract (The Daily Mail). Diageo, the FTSE 100 drinks giant, has rounded on union claims that it is shifting Scottish vodka production to Italy and the US because of Brexit. (Sky News)
Danone upgrades earnings guidance on back of WhiteWave deal as chief exec Emmanuel Faber looks to US market to boost growth. (The Financial Times £)
Strong demand in America for Jameson Irish whiskey and Absolut Lime vodka boosted third-quarter sales at Pernod Ricard, although the French drinks group warned that it was being affected by new alcohol laws in India. (The Times £)
The tobacco group behind Marlboro will say today that it is restructuring its British operations as part of a strategy to phase out conventional cigarettes by shifting the focus on to less harmful smoke-free alternatives (The Times £). Philip Morris International, the world's largest publicly traded tobacco company, saw more than $6.5bn sliced off its market value on Thursday after it delivered first quarter sales and earnings that missed analyst expectations. (The Financial Times £)
Upstart tonic maker Fever-Tree Drinks is worth more than Britvic - despite being in business for little over a decade. Fever-Tree is Britain's most valuable soft drinks firm - valued at £1.8 billion - while Britvic, in business since 1845, is worth £1.7 billion. (The Daily Mail)
Sugary soft drinks will be banned in hospital shops if retailers fail to cut their sales over the next 12 months. NHS England has set shops a target in a bid to make our hospitals healthier. (Sky News)
Ferrero's chocolate fortunes face consumer taste test, writes The FT. Nutella maker is changing strategy amid higher competition and healthier diets. (The Financial Times £)