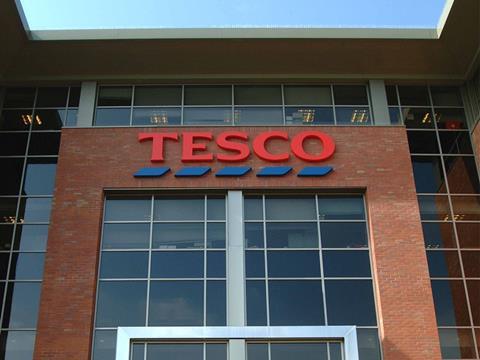 "Managers in firing line as Tesco jobs go" is the leading story in this morning's edition of The Times.
Hundreds of jobs at Tesco are under threat after it announced sweeping changes to management in an attempt to reduce costs and hit strict targets. The supermarkets group is seeking to make £1.5 billion of savings over three years and to turn around its core British business (The Times £). Tesco is stripping out a layer of management from its stores in a move that puts up to 1,700 jobs at risk, in the latest effort by the UK's biggest supermarket chain to cut costs by £1.5bn (The Guardian). The UK's largest supermarket chain said the 1,700 people affected would be able to apply for 900 new jobs with "broader remits" (Sky News).
Tesco is cutting 800 jobs in a shake-up of junior management roles as it bids to boost profits and improve efficiency at its large stores and warehouses (The Telegraph). Tesco is to cut hundreds jobs from its UK operations, after Britain's biggest retailer concluded it could operate more efficiently without its army of 1,700 "people managers", "compliance managers" and "customer experience managers" (The Financial Times £). Britain's largest retailer said it is looking to 'simplify' its operational structure and said the changes will 'improve efficiency' (The Daily Mail). The cuts will be made both in the UK and in the group's international business (The BBC).
Shares in online supermarket Ocado soared 28% today as investors betting against it rushed to close their short positions after it signed a second crucial international supply deal in just two months (The Telegraph). In a huge blow to hedge funds who are shorting the online supermarket's stock, its shares rose to four-year highs – adding nearly £720m to its value (The Daily Mail).
The FT writes tha the British internet supermarket is reinventing itself as a supplier of robotic warehouses to retailers around the world after signing its second deal with an international supermarket chain in less than two months (The Financial Times £). Signing a second international partnership with an overseas grocer has put Ocado closer to realising its dream of being a dominant global technology company (The Times £).
The FT's Lex column writes: "Either Ocado is a plucky underdog in the UK grocery business with unfounded confidence in its technology. Or it is on the cusp of a key role in the global revolution in online food shopping. A deal with Sobeys of Canada offers limited proof either way." (The Financial Times £)
Daniel Loeb's activist hedge fund Third Point is keeping up the pressure on Nestlé following chief executive Mark Schneider's first year at the company, urging further changes including selling more divisions, better defining its corporate strategy and buying back more shares. (The Financial Times £)
Struggling South-African furniture conglomerate Steinhoff International on Monday raised €478m by selling down a 16% stake in investment company PSG Group, as part of a wider attempt to ramp up liquidity ahead of a crucial meeting with lenders on January 26. (The Financial Times £)
Up to 450 jobs are at risk after Jamie Oliver announced plans to close a dozen loss-making Jamie's Italian restaurants in Britain while seeking rent reductions on another eight. (The Times £)
Thailand's billion-dollar seafood export industry remains infested with human rights abuses despite government pledges to stamp out slavery in its fishing industry, according to research by Human Rights Watch. (The Guardian)