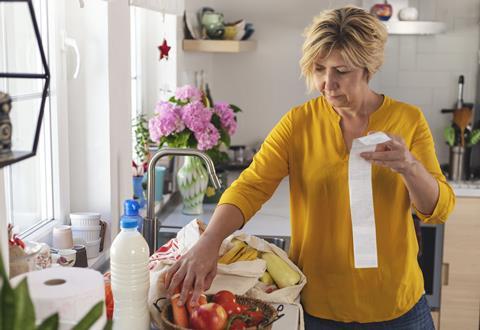 Jeremy Hunt is stepping up pressure on the grocery sector to rein in soaring prices, in advance of data likely to show food is becoming a bigger factor than energy in driving high inflation (Financial Times £).
The chancellor is due to meet representatives of some of the country's biggest producers and he will call on them to "do what they can" to support consumers (The Times £).
The price of bread, milk and cheese might finally be easing but another staple of middle-class kitchens is set to see further cost increases. A drought in Spain has pushed the price of olive oil to a record high, with farmers warning of even worse crop yields later this year (The Times £).
Tesco has pulled 800g jars of Hellmann's mayonnaise from its shelves and replaced them with 600g versions in the latest case of "shrinkflation" in the supermarkets (Telegraph). The 600g products cost £3.75, compared to £4.30 for the bigger jars that have been axed, an extra 9p per 100g for the mayonnaise.
People in the UK are among the least confident that the financial authorities will bring inflation under control quickly, according to an Ipsos Mori survey of 29 countries around the world seen by the Financial Times (£).
Voters overwhelmingly support the imposition of tougher curbs on junk food to tackle obesity, research shows. Eighty per cent of adults back the idea of new laws to prevent the advertising of unhealthy food to children on television and online, according to a YouGov poll for the Obesity Health Alliance (The Times £).
Ireland says it will become the world's first country to label alcoholic drinks with comprehensive health warnings, linking them to several fatal illnesses and stating their calorie count, in a move that has incensed some of its trading partners and set up a clash at the World Trade Organization (Financial Times £).
The country that brought the world Guinness and Jameson whiskey has introduced stricter rules in an effort to address what Irish Taoiseach Leo Varadkar called the country's "deeply problematic" relationship with drinking (Telegraph).
Top investors in British American Tobacco are calling on the new chief executive to restart its share buyback programme in order to speed up the return of capital to shareholders and boost the cigarette maker's ailing stock price (Financial Times £).
Logistics firm Wincanton saw annual profits tumble 30% after some corporate customers insourced their warehouse and delivery needs to cut costs (Mail).
Mike Ashley's Frasers Group is to buy a cycling goods specialist from THG. The group, which owns Sports Direct and Flannels, is close to buying the stock and intellectual property assets of ProBikeKit from the London-listed online nutrition and beauty retailer (The Times £).