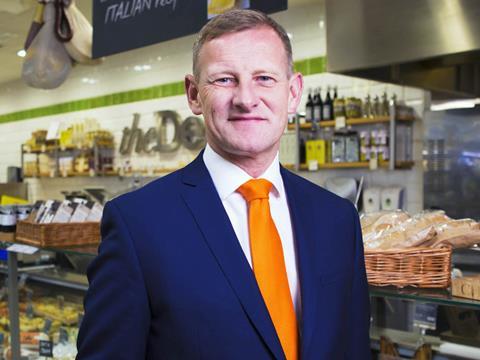 Marks & Spencer's new boss Steve Rowe is set to reveal on Wednesday his plans to breathe life into the company's struggling clothing division on Wednesday. Rowe, who took over from Marc Bolland last month, is expected to focus on turning round the fashion business. Analysts predict full-year pre-tax profits of £673m from M&S this week, up 1.8% on last year. (The Times £)
One of Marks & Spencer's largest shareholders has called on the retailer to shed some of its underused stores, as new boss Steve Rowe prepares to unveil an overhaul of the company. A senior source said the chain's vast shop estate is proving one of the biggest "headaches" for senior management. (The Telegraph)
The Telegraph also has an article on new boss Steve Rowe asking: "Can a former M&S Saturday boy fashion the chain's revival?" (The Telegraph).
The Tesco boss Dave Lewis was standing by the head of its fast-growing bank over the weekend amid a furore over expenses claims. It emerged on Friday that Benny Higgins, chief executive of Tesco Bank since 2008, claimed more than £18,000 in taxi fares over eight months last year. The revelation came as an embarrassment to Lewis, who is having to slash costs to shore up the embattled supermarket giant. (The Times £)
Anheuser-Busch Inbev will kick-start a £5bn auction for some of Europe's best-selling lagers this week as last year's £71bn takeover of SAB Miller gets the green light from Brussels. AB-InBev, the owner of Stella Artois, is set to offload SAB beers including Pilsner Urquell and Lech in order to squeeze its deal for the FTSE 100 stalwart past the European Commission. (The Times £)
The famous staff bonuses at John Lewis could be hit if Britain quits the EU, according to sources close to the group. Annual payouts to employees at John Lewis department stores – and its upmarket sister supermarket business Waitrose – have been falling for the last three years. Staff could now face the prospect of further bonus cuts in the event of Brexit vote, which could damage the business and cut earnings. (The Daily Mail)
In BHS news over the weekend, a rescue deal for BHS is expected within days, as MPs prepare to grill Goldman Sachs on its links to former owner Sir Philip Green (The Daily Mail). The BHS inquiry will put spotlight on Goldman's links to Philip Green, writes The Financial Times (£).The former owner of BHS is facing legal action after allegedly failing to co- operate with the administrator of the failed department store (The Times £).
The Co-operative Group is going back to its roots with a return of the membership "divi" and the clover logo famous in its 1960s heyday (The Financial Times £), The Co-operative Group has announced a major overhaul of its branding and membership structure as Britain's largest mutual attempts to restore its battered reputation (The Telegraph), The Co-operative Group is going back to the future, and its chosen destination is 1968 (The Guardian).
The Times (£) has an article on the "awkward shopkeeper who steered Co-op out of crisis". It writes "Chief executive Richard Pennycook led the mutual out of financial trouble. Now he has to show that he can plot a course back to growth and into new markets".
Simon Watkins in the Mail on Sunday says the new look Co-op "might stand a chance of once again being both cuddly and commercially savvy". (The Daily Mail)
The convenience of one-stop shops has kept customers loyal to the biggest general retailers even in the vast and varied realm of online commerce. The top ten general merchandise websites attract nearly two-thirds of all online visits from UK shoppers, and overall traffic for general merchandise sites is up 2% on a year ago. (The Telegraph)
Tobacco companies will sue the British government for billions of pounds in compensation after plain packaging of cigarettes became law last week. Four of the world's biggest cigarette makers tried to derail the proposals on the grounds that they were unlawful, but had their claims rejected in the High Court. Now at least two of them plan to take the government to court for loss of earnings and confiscation of their property without compensation. (The Times £)
One of Britain's biggest bakeries is slashing pay for Sundays and breaks following the introduction of the National Living Wage, confidential documents reveal. Bradgate Bakery, part of catering giant Samworth Brothers which owns Ginsters pasties and makes half of the UK's pork pies, is to cut back on overtime, paid breaks and weekend perks for its 5,000 staff after legal changes introduced last month. (The Daily Mail)
The maker of Wrigley's chewing gum has gone green. The company is to power its factory and head office in Plymouth with renewable energy from the 20-turbine Moy wind farm in Scotland. The deal was signed between Wrigley's parent company, Mars, and Eneco UK, which owns the wind farm. (The Times £)
Heston Blumenthal has received a £1m dividend from his company, despite it making only a £177,000 profit. Accounts show SL6, the holding company of the celebrity chef's businesses, paid him out in a year where profits were hit by the closure of its Berkshire Fat Duck restaurant for refurbishment. (The Daily Mail)