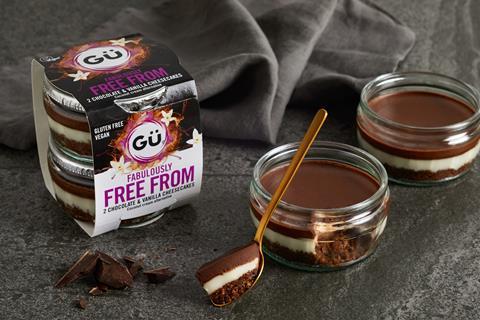 Gu Puds, one of Britain's best-known desserts brands, is being put up for sale by giant egg producer Noble Foods as homebound consumers comfort-eat their way through the coronavirus pandemic. (Sky News)
Food and drink manufacturers have pleaded with the prime minister to meet them to discuss alternatives to far-reaching plans for a total ban on online junk food advertising (The Guardian). Some of the UK's biggest food companies have attacked a plan that could see all online junk food advertising banned to tackle childhood obesity (The BBC).
Under government plans to tackle obesity, tough new rules could stop brands using online ads for any food seen as being too high in fat, salt and sugar. The consultation, launched this month and due to close by the end of the year, has sparked a backlash from the world's biggest consumer goods brands, which want more time to respond (The Times £)
It's crunch week for Britain's retailers — and the crunch has never felt tighter or more challenging. Black Friday, the discounting frenzy that changed the old shopping timetable and brought forward billions of pounds of consumer spending to late November, is coinciding with the current lockdown (The Times £).
Europe's retailers fret over crucial Christmas period as lockdowns bite, writes The FT. Critical weeks that start with Black Friday can generate up to half of sales. (The Financial Times £)
Amazon and other major retailers have agreed to postpone Black Friday in France after the government came under intense pressure from local shopkeepers to end their enforced closure before the discount bonanza begins. (The Telegraph)
A boom in pandemic pet ownership has helped Pets At Home to a sales surge. The retailer is set to reveal the increase in revenue over the past six months, with investors hopeful that the chain will report strong continued demand in recent months after England entered lockdown. (The Daily Mail)
Marks & Spencer discussed a possible deal to buy British fashion label Jaeger just days before the company collapsed into administration on Thursday. (The Daily Mail)
Amazon has been accused of bullying in a "David versus Goliath" trademark battle that raises the prospect of the US tech giant launching its new pharmacy service in Britain. (The Times £)
One of Britain's leading restaurateurs has urged the government to abandon blanket Covid-19 restrictions or face "an atomic bomb" of unemployment in January. (The Times £)
Drive-through restaurants have become one of the most hotly contested parts of the UK property market as food-to-go businesses from Greggs to Starbucks battle it out for sites away from deserted high streets. (The Financial Times £)
High street retailers and websites in the UK are returning to traditional catalogues and leaflets to grab the attention – and spending power – of shoppers stuck at home during the biggest shopping period of the year. (The Guardian)
Sainsbury's bows out of financial services after supermarket banks challenge fails, writes The Telegraph. The retail giant had high hopes for its banking branch, but the big players are still in control. (The Telegraph)
The FT has an interview with Henkel's chief on "guarding family spirit in a global group". It writes that as the pandemic struck, CEO Carsten Knobel was planning for the long term and reassured employees their jobs were safe. (The Financial Times £)
The Times looks at how the Hut tycoon Matt Moulding landed a £900m payday. Moulding has kept an iron grip on the group he founded and is set to pocket one of the biggest payouts in corporate history after a bumper listing. (The Times £)
The Hut Group's billionaire boss attended several exclusive 'donor club' dinners with ministers after his firm donated £300,000 to the Conservative Party. (The Daily Mail)
Grant Thornton has been slapped with a legal claim by the liquidators of Patisserie Valerie for damages during its role as auditor of the cake chain until it collapsed due to suspected fraud. (The Telegraph)
Hershey has resorted to the unusual tactic of buying cocoa on the futures market as tensions build between chocolate companies and west African producers over premiums charged on the beans. (The Financial Times £)
An £18 own-brand champagne from Morrisons has claimed top place in an annual champagne taste test, beating competition from premium champagne houses, including Moët & Chandon, Veuve Clicquot and Lanson. (The Guardian)