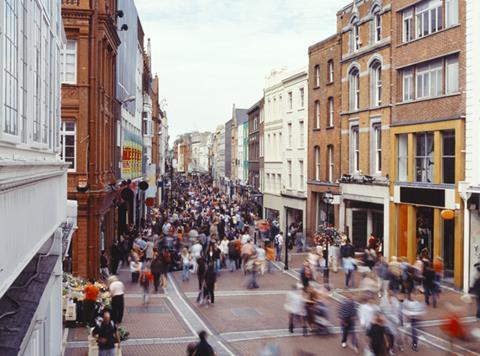 Government figures showing a boost in retail spending in September are the heavily covered in this morning's papers.
Britons' response to falling prices and rising wages has been to go on a "shopping binge", writes The Financial Times (£) according to official figures that economists called "astonishingly strong". The Daily Mail pointed to late August bank holiday, the Rugby World Cup and falling prices as the catalyst for the 6.5% year-on-year growth.
However, The Guardian warned "all that glitters is not gold" – arguing that retail growth has been dependent on consistent and heavy discounting and that bigger sales volumes do not necessarily help the bottom line.
Dominating the health pages rather than the business pages is the escalating row over what measures the UK should take to curb the country's sugar intake. The Times (£) splashes on the story that the head of the NHS has warned David Cameron to take "comprehensive action" over a report calling for a sugar tax alongside an end to junk food advertising and special offers on unhealthy snacks.
The Telegraph examines the 'Sugar tax report', published yesterday which its says "was suppressed by Government", while The Daily Mail looks at how "Percy Pig and friends target children", using popular characters to market sugar-laden products.
The Guardian quotes Cadbury arguing that a levy on sweet food and drinks will not make people overhaul their diets, but the paper's editorial thunders "There's no way to sugar this pill. The UK government must act". (The Guardian)
Back to business, and McDonald's showed the first signs of a recovery in its home market, with third-quarter sales there rising for the first time in two years. Comparable US sales at the world's largest fast-food chain rose 0.9 per cent in the three months to September, helped by sales of new items on its menu, including the premium buttermilk crispy chicken deluxe sandwich. (The Financial Times £)
Tesco has parted company with Deutsche Bank after 17 years as corporate broker as part of the continued shake-up at the retailer following last year's £263m fraud. The supermarket giant has instead hired Citigroup to work with existing broker Barclays, following what is understood to have been an extensive pitch process. (The Telegraph)
Suntory may consider entering the US premium beer market with a strategic partner in the wake of a £68bn merger agreement between the world's two largest brewers. (The Financial Times £)
In wider retail, Monsoon has been named and shamed by the government for failing to pay more than 1,400 workers the minimum wage. The privately owned fashion retailer is one of 115 companies caught in the latest swoop by HM Revenue and Customs, which oversees implementation of the pay regulations. (The Guardian)
Hamleys, the British toy store, is to be sold to China's C.banner International for about £100m in a deal announced on Thursday. The deal is the latest of many being announced during the state visit of Chinese president Xi Jinping to the UK. (The Financial Times £, The Guardian)